The Ways of the Dead (Hardcover)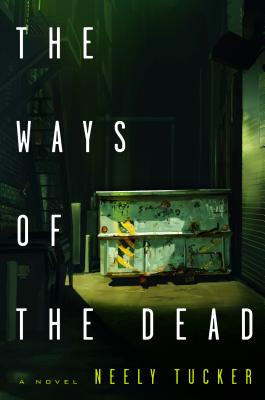 Email or call for price
Hard to Find - Email or Call for Availability
Staff Reviews
---
Native Mississippian and veteran Washington Post journalist, Neely Tucker, shines in this debut novel. When the teenage daughter of a powerful Washington, D.C. judge is found dead, three local black kids are quickly charged with the crime. Reporter Sully Carter sees a larger story revolving around three missing women and a dead prostitute, all from the same neighborhood. Based on the Princeton Place murders that took place in the late 1990s, Tucker delivers a taut thriller with the grit of George Pelecanos and the aplomb of Pete Hamill.
— Cody
Description
---
"An exciting first novel that echoes the best writing of Pete Hamill and George Pelecanos, mixed with bit ofThe WireandTrue Detective."
The Miami Herald
The electrifying first novel in a new crime series from a veteran Washington, D.C., reporter
Sarah Reese, the teenage daughter of a powerful Washington, D.C. judge, is dead, her body discovered in a slum in the shadow of the Capitol. Though the police promptly arrest three local black kids, newspaper reporter Sully Carter suspects there's more to the case. Reese's slaying might be related to a string of cold cases the police barely investigated, among them the recent disappearance of a gorgeous university student.
A journalist brought home from war-torn Bosnia and hobbled by loss, rage, and alcohol, Sully encounters a city rife with its own brand of treachery and intrigue. Weaving through D.C.'s broad avenues and shady backstreets on his Ducati 916 motorcycle, Sully comes to know not just the city's pristine monuments of power but the blighted neighborhoods beyond the reach of the Metro. With the city clamoring for a conviction, Sully pursues the truth about the murders all against pressure from government officials, police brass, suspicious locals, and even his own bosses at the paper.
A wry, street-smart hero with a serious authority problem, Sully delves into a deeply layered mystery, revealing vivid portraits of the nation's capital from the highest corridors of power to D.C.'s seedy underbelly, where violence and corruption reign supreme and where Sully must confront the back-breaking line between what you think and what you know, and what you know and what you can print. Inspired by the real-life 1990s Princeton Place murders and set in the last glory days of the American newspaper, The Ways of the Dead is a wickedly entertaining story of race, crime, the law, and the power of the media. Neely Tucker delivers a flawless rendering of a fast-paced, scoop-driven newsroom investigative journalism at its grittiest.
About the Author
---
Neely Tucker'sjournalism career spans twenty-five years, fourteen of which he's spent at The Washington Post. His 2004 memoir, Love in the Driest Season, was named one of the Best 25 Books of the Year by Publishers Weekly. Born in Mississippi, Tucker lives with his family in Bethesda, Maryland."
Praise For…
---
"Crisp, crafty and sharply observed . . . Rich yet taut description, edgy storytelling, rock-and-rolling dialogue, and a deeply flawed but compelling hero add up to a luminous first novel."
—Kirkus Reviews (starred review)
 
"With the emphasis on gritty urban life in a city rife with racism and blight, [The Ways of the Dead] evokes the Washington, D.C. of George Pelecanos. This riveting debut novel should spawn a terrific series."
—Booklist (starred review)
 
"[An] exciting fiction debut . . . The brisk plot is punctuated by an insightful view of journalism and manipulative editors, shady politicians, and apathetic cops, while also showing residents working to create a better neighborhood. Readers will be pleased that Tucker leaves room for a sequel."
—Publishers Weekly
 
"The Ways of the Dead is a great read. Deep characters, pitch perfect dialogue and a plot with as many curves as the Rock Creek Parkway as it moves through the side of Washington D.C. far away from the Smithsonian. Neely Tucker takes this novel up an even further notch with a story framed around the hot button issues of our time, including race, justice and the media. If this is Tucker's first novel, I can't wait for what's coming next."
—Michael Connelly
 
"From the powerful opening to the shocking finale, The Ways of the Dead delivers the very best in gritty, hard-edged suspense.  Complex characters, taut dialogue, and a riveting plot all add up to one extremely excellent novel."
—Lisa Gardner  
"Tough, exciting, always intelligent, Neely Tucker's The Ways of the Dead captures the multi-layered corruption and cynicism—and the edge-of-the-ledge danger—of a hard-nosed former war reporter digging out a serial killer in the backstreets of Washington, D.C."
—John Sandford
 
"In a textured, wholly believable Washington, D.C., simultaneously near and far from the corridors of power, Neely Tucker, in his accomplished mystery debut, has created a gripping tale of secrets and lies, malice and mayhem . . . and very dead young women."
—Otto Penzler, Co-editor of The Best American Noir of the Century  
"The Ways Of The Dead has everything you'd want from a book noir—enveloping atmosphere, flavorful characters, evocative writing, and a serpentine plot which seems to make the pages turn themselves. Neely Tucker is an impressive new talent."
—Richard North Patterson