Fierce Kingdom: A Novel (Paperback)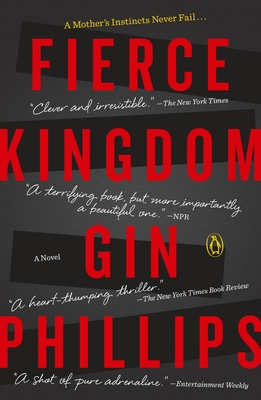 $16.00
Email or call for price.
Staff Reviews
---
A mother and her four year old son spend the afternoon at the zoo. Over the course of the next few hours, their benign play place becomes a frightening jungle when they are trapped within when shooters take it over. An exploration into the depth and width of maternal bond, it is also a thrilling page turner that will give your heart a workout.
— From
Lyn
August 2017 Indie Next List
---
"Joan and her four-year-old son, Lincoln, are just about to conclude a day at the zoo when Joan notices an unnatural stillness and a lack of other people. She hears sounds, loud popping noises, and cannot quite determine what they might be. Then she notices the bodies. How quickly life shifts from a dream to a nightmare. She shushes Lincoln and hurries away, back into the zoo she knows so well, intent on finding a hiding spot until help arrives. This is an absolutely gripping exploration of what it is like to be hunted, to be trapped and awaiting rescue but still able to connect, with cell phone glimpses, to that other life that now seems so tenuous in the midst of real danger."
— Deon Stonehouse, Sunriver Books, Sunriver, OR
Description
---
One of the New York Times Book Review's Best Crime Novels of 2017

"Warning: you'll finish this in one sitting." —TheSkimm  

"Expertly made thriller . . . clever and irresistible." —The New York Times

An electrifying novel about the primal and unyielding bond between a mother and her son, and the lengths she'll go to protect him.

The zoo is nearly empty as Joan and her four-year-old son soak up the last few moments of playtime. They are happy, and the day has been close to perfect. But what Joan sees as she hustles her son toward the exit gate minutes before closing time sends her sprinting back into the zoo, her child in her arms. And for the next three hours—the entire scope of the novel—she keeps on running.
 
Joan's intimate knowledge of her son and of the zoo itself—the hidden pathways and under-renovation exhibits, the best spots on the carousel and overstocked snack machines—is all that keeps them a step ahead of danger.

A masterful thrill ride and an exploration of motherhood itself—from its tender moments of grace to its savage power—Fierce Kingdom asks where the boundary is between our animal instinct to survive and our human duty to protect one another. For whom should a mother risk her life?
About the Author
---
Gin Phillips is the award-winning author of The Well and the Mine and Come In and Cover Me. She lives in Birmingham, Alabama, with her family.
Praise For…
---
"A heart-thumping thriller . . . The story flies by like a gazelle being chased by a lion and is easily consumed in a single sitting."
—The New York Times Book Review

"Heart-stopping . . . A stunning novel you'll be talking about all summer long."
—Bustle

"A shot of pure adrenaline. But it's not just the action that will keep you turning pages: Fierce Kingdom is a moving story too."
—Entertainment Weekly

"Gin Phillips's heartpounding novel will have readers questioning what lengths a mother would go to in order to save her child . . . or someone else's."
—Real Simple 

"A page-turning, adrenaline-soaked read."
—The Guardian

"Extreme heart-pounding adventure, right this way. Fierce Kingdom is the perfect summer thriller."
—HelloGiggles

"The premise of this novel will send chills down the spine of any parent—and keep them turning pages into the wee hours."
—Newsday

"Fierce Kingdom is gripping and almost impossible to put down."
—The Atlanta Journal-Constitution

"Because we make fun of helicopter parents for the lengths they go to to keep perfectly safe children even safer, we can can forget that, for children, safety is a kind of love—and that makes Fierce Kingdom a terrifying book, but more importantly, a beautiful one."
—NPR

"By introducing the threat of violence, the book amplifies everyday domestic concerns, producing a kind of crystallization of the experience of parenthood."
—The New Yorker

"Fierce Kingdom unfolds at a rapid-fire pace with each chapter upping the tension and danger."
—BookPage

"A powerhouse of a read that balances empathy and fear as it poses complex questions about human nature."
—Washington Independent Review of Books

"This heroine proves that a mom protecting her son is indisputably the fiercest creature in the animal world."
—RedBook

"Fierce Kingdom is a novel that crackles with tension and danger. . . . Do yourself a favor and devour this book before the inevitable movie premiere."
—New York Journal of Books

"This adrenaline-fueled thriller shows the animal instinct of one mother's love and the ferocity with which she fights to protect her son."
—Read it Forward

"It tore at every maternal fiber in my body. I couldn't put it down." 
—Fiona Barton, New York Times bestselling author of The Widow

"Fierce Kingdom is a bold exploration of the ferocity of a mother's love—riveting and beautiful, and all too real. You'll find yourself asking, what would I do? It's brilliant."
—Shari Lapena, New York Times bestselling author of The Couple Next Door

"I devoured it in one breathless sitting. Outstanding."
—Clare Mackintosh, New York Times bestselling author of I Let You Go

"This is an elegant, taut, and tense survival story that explores the boundaries of parental love. By pitting love against fear, Gin Phillips questions the opposing forces of family bonds and shows how fierce one mother's love can be."
 —Claire Cameron, author of The Last Neanderthal and The Bear
 
"I loved this book not only as a mother, but as a woman—and a feminist—living in a world teeming with pressing domestic details along with unpredictable, casual violence."
 —Susanna Daniel, award-winning author of Sea Creatures

"Phillips' characters are exquisitely rendered, her prose is artful and evocative . . . Poignant and profound, this adrenaline-fueled thriller will shatter readers like a bullet through bone."
—Kirkus Reviews (starred review)

"A searing exploration of motherhood at its most basic."
—Publishers Weekly (starred review)

"Phillips manages to combine beautiful imagery with heart-pounding, nerve-fraying intensity. . . . Fans of literary page-turners, like Sunil Yapa's Your Heart Is a Muscle the Size of a Fist, won't want to miss this."
—Booklist (starred review)

"Fierce Kingdom is stunning and extraordinary; keep the defibrillator handy."
—Shelf Awareness (starred review)