I Want to Show You More (Hardcover)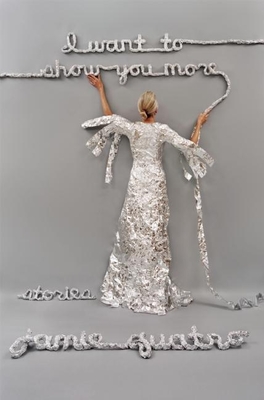 $24.00
Email or call for price.
March 2013 Indie Next List
---
"With her wild and dark imagination, Quatro has crafted highly original, thought-provoking, and deeply moving stories about faith, marriage, infidelity, sex, and death. This is bold, daring fiction that will not leave readers indifferent. Quatro is a very talented author who is willing to take risks, and I am looking forward to reading more by her."
— Pierre Camy, Schuler Books & Music, Okemos, MI
Description
---
"A brilliant new voice in American fiction has arrived. Bright, sharp, startling, utterly distinctive, passionate, and secretive, Quatro's stories are missives from deep within the landscape of American womanhood. . . . She has earned a place alongside Amy Hempel, Lydia Davis, and Alice Munro."--David Means "Fasten your seat belt: Jamie Quatro is a writer of great talent who knows how to take a dark turn without ever tapping the brakes and then bring you back into daylight with breathtaking precision. These amazing stories explore the human boundaries between the physical world and the spiritual--lust, betrayal, and loss in perfect balance with love, redemption, and grace."--Jill McCorkle Sharp-edged and fearless, mixing white-hot yearning with daring humor, Jamie Quatro's debut collection is a beautiful and disquieting portrait of infidelity, faith, and family. The hypnotically intimate, urgent stories in I Want to Show You More are about lives stretched between spirituality and sexuality in the New American South. In narrative modes ranging from the traditional to the fabulist, these stories are interconnected explorations of God, illicit sex, raising children--and running. Jamie Quatro's stories confront us with dark theological complexities, fractured marriages, and mercurial temptations: a wife comes home with her husband to find her lover's corpse in their bed; a teenager attends a Bible Camp where he seduces a young cancer survivor with hopes of curing his own rare condition; marathon runners on a Civil War battlefield must carry phallic statues and are punished if they choose to unload their burdens; a girl's embarrassment over attending a pool party with her quadriplegic mother turns to fierce devotion under the pitying gaze of other guests; and a husband asks his wife to show him how she would make love to another man. I Want to Show You More unleashes Quatro's exhilarating talent for exposing the quiet terrors of modern life with stunning and subversive energy.
About the Author
---
Jamie Quatro's work has appeared or is forthcoming in Tin House, McSweeney's, Oxford American, Ploughshares, The Kenyon Review, and elsewhere. A finalist for the Katherine Anne Porter Prize in Short Fiction and the winner of the 2011 American Short Fiction Story Contest, she is the recipient of fellowships from Yaddo and the MacDowell Colony, and was the Georges and Anne Borchardt Scholar at the 2011 Sewanee Writers' Conference. Quatro holds graduate degrees from the College of William and Mary and Bennington College. www.jamiequatro.com
Praise For…
---
"[With its] impressive agility and inventiveness . . . I Want to Show You More is an obsessive first collection that feels like a fifth or sixth. It is a dogged, brutally thoughtful piece of work, and gives us a writer of great originality and apparent artistic maturity who seems to have come out of nowhere. . . . Strange, thrilling, and disarmingly honest . . . Quatro hits the right balance, giving us the closet thing I've seen in years to Donald Barthelme's insouciance, sweetness, and ominousness. . . . Provides the most engaging literary treatment of Christianity since O'Connor, without a hint of the condescension the subject often receives in contemporary fiction. . . . [Quatro's] flights of fancy are never ostentatious or arbitrary; instead they grow naturally out of the emotional and psychological states of her characters. Readers may hope to see more of this hallucinatory mode from her, butif they're like methey will welcome whatever they can get."The New York Times Book Review

"The best stories in Jamie Quatro's first collection, I Want to Show You More, are about adultery. They are passionate, sensuous, savagely intense, and remarkable for their brave dualism. . . . Moves between carnality and spirit like some franker, modernized Flannery O'Connor tale . . . Quatro has a poet's compound eye . . . [and] fearless lyricism. . . . Expansive, joyful, with forgiveness supplanting ruination. Who needs the New Testament? In Quatro's world, hard Genesis is always making way for the softer Song of Solomon: 'I sat down under his shadow with great delight, and his fruit was sweet to my taste.'"The New Yorker

"Vivid . . . Arresting . . . Quatro very much establishes her own distinctive voice and style. . . . A luminous collection that announces a unique literary talent. Quatro's stories dazzle and shine."San Francisco Chronicle

"Haunting and sharp . . . [reminiscent] of the dark-meets-light style of Lydia Davis or Alice Munrobut it leaves room for zingers, too. Quatro is so good . . . the title of this debut collection isn't just a tease."Elle

"Delicious reading . . . [An] impressive debutabout the shortcomings of people who wrestle with angels, and usually lose."Chicago Tribune

"Shattering and exceptional . . . The effect of this intersection of the domestic with sex and with ecstatic faith was, for me, a freakily new reading experience. . . . Quatro shoves us close to the grotesqueness of our desires. . . . Tense and musical."The Plain Dealer (Cleveland)

"Occasionally, a first book of short stories can shake the world awake with its extraordinarily singular vision and voice, reinvigorating language. Jamie Quatro's I Want to Show You More is such a bookand holy fuck, is it. . . . Startling, heartrending, and extraordinarily sexy . . . [with] allegorical scene[s] worthy of Kafka or Donald Barthelme."Baltimore City Paper

Dark, bizarre, and highly sexual . . . Some stories are uncomfortable, pushing the limit with their sheer oddity and disregard for social norms. But isn't that the point?"USA Today (3 stars)

"Much of the tension in these stories stems from characters realizing that what they've long considered God's plan can theoretically be molded to match their own desires. What Quatro renders so accurately is the power and pain that comes with such a realization. . . . These stories are bold (and wise) in their portrayal of how, when we want to find a sign, we can usually make ourselves find it. Many comparisons will be made between Quatro's and Flannery O'Connor's treatments of religion and faith; they are all accurate and deserved. But this book pushes past that inheritance by examining how it holds up it in our time, when we're effortlessly connected by technology, when affairs (or almost-affairs) can be conducted safely (or almost safely) from hundreds of miles away."The L Magazine

"Deeply intriguing . . . Subtly metamorphosing . . . Shimmers with touches of Flannery O'Connor and George Saunders . . . [Quatro's] compelling moral dilemmas yoke bizarreness with authenticity."Booklist

"A brilliant new voice in American fiction has arrived. Bright, sharp, startling, utterly distinctive, passionate, and secretive, Jamie Quatro's stories are missives from deep within the landscape of American womanhood. They take you by the heart and throat, shake you awake, and ask you to ponder the mysteries of love, parenthood, and marriage. She has earned a place alongside Amy Hempel, Lydia Davis, and Alice Munro."David Means

"Fasten your seat belt: Jamie Quatro is a writer of great talent who knows how to take a dark turn without ever tapping the brakes and then bring you back into daylight with breathtaking precision. These amazing stories explore the human boundaries between the physical world and the spirituallust, betrayal, and loss in perfect balance with love, redemption, and grace."Jill McCorkle

"Quatro maps a twinkling constellation of modern-day desire, paranoia, and grief against an inky background of Souther religious and historical fervor. But the gothic beauty and bittersweet humor of her style are the real stars of this arresting debut."NY1

"The characters in these absolutely unique stories live at a nearly intolerable level of intensity, stretched on a self-created rack between faith and sexualityand they're even smart enough to be conflicted about whether or not there's a conflict. Jamie Quatro spares us neither the strangeness of their experience nor its discomfiting familiarity. She observes them with a cool, comic yet compassionate eye, and shapes the raw material of their passionate strivings with a steady, skillful handa miracle in which any reader can believe."David Gates

"Yowza . . . This one is going to be big. . . . It's so good, I kind of want to lick it."Book Riot

"These are stories that make you stop whatever you're doing and read. They show us who we are, at our better moments and those other moments, too. These are delightful stories for this brand new century, from a writer unafraid to face it. I salute a brilliant new American writer."Tom Franklin

"With her wild and dark imagination, Quatro has crafted highly original, thought-provoking, and deeply moving stories about faith, marriage, infidelity, sex, and death. This is bold, daring fiction."The Columbus Dispatch

"Each one of the stories in this astonishing collection is exquisitely crafted, the characters here as complex, real, and finely drawn as you'll find. No hyperbole here: Jamie Quatro is simply an outstanding new talent."Elizabeth Crane

"Jamie Quatro's stories are about religion and children and sex and death and infidelity and God, and together they create one of the most authentically horrifying portraits of modern American adulthood I've ever read. Did I mention these stories are also very, very funny? Ladies and gentlemen, this is what short fiction is for."Tom Bissell

"Quatro has mastered the art of the double-takethat whiplash of recognition that gets the reader first at the level of the sentence, then, with extra reward, at story's end. The author pushes fearlessly, cape close to horns, blade held high and at risky angles. An impressive debut."Sven Birkerts

"From under the placid surface of Jamie Quarto's stories sentences of astonishing strangeness startle the pond and serve as reminders of the dangerous, unknowable human heart. Waves of tenderness and humor also figure in the experience of reading this first collection. Here is a new talent with work made to last."Christine Schutt

"A remarkable debut by an important new voice . . . Quatro [has] a mature understanding of how we handle disappointment and how, quite often, we take refuge in the most unhelpful places. How we feel doesn't affect our lives nearly so much as where we take our feelings."The Toronto Star