Jane, Unlimited (Hardcover)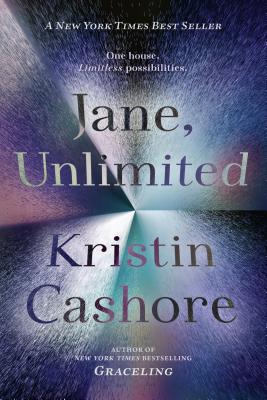 $18.99
Usually Arrives in Store in 1-5 Days
Staff Reviews
---
As incandescent as it is wholly original, Jane Unlimited is Kristin Cashore's most ambitious project to date-and it completely pays off. Starting with a Gothic novel-esque framework, we follow cautious and grief ridden Jane to Tu Reviens, a mysterious manor where she has been invited to stay after the loss of her aunt. Immediately, Jane perceives that the house is full of mystery, with stolen artwork, shifty characters, and missing people. In an astonishing twist, the novel breaks into five different endings as Jane follows five different versions of events. To say any more would give away some of the most creative and incredible writing of Cashore's career; each version plays off the other one with amazing plot twists, beautiful character building, and truly unlimited potential mysteries.
— From
Sami's 2017 Picks
Description
---
An instant New York Times bestseller—from the award-winning author of the Graceling Realm series—about adventure, grief, storytelling, and finding yourself in a world of seemingly infinite choices.

"A wild gift for readers who like books that take them to unexpected places."—Melissa Albert, author of The Hazel Wood

Jane has lived a mostly ordinary life, raised by her recently deceased aunt Magnolia, whom she counted on to turn life into an adventure. Without Aunt Magnolia, Jane is lost. So she's easily swept away when a glamorous, capricious, and wealthy acquaintance from years ago asks Jane to accompany her to a gala at the extravagant island mansion called Tu Reviens.
Jane remembers her aunt telling her: "If anyone ever invites to you to Tu Reviens, promise me that you'll go." What Jane doesn't know is that the house will offer her five choices that could ultimately determine the course of her life.
One choice leads Jane into a heist mystery. Another takes her into a spy thriller. She finds herself in a gothic horror story, a space opera, and an extraordinary fantasy realm. She might fall in love, she might lose her life, she might come face-to-face with herself. Every choice comes with a price. But together, all the choices will lead her to the truth.

One house. Five choices. Limitless possibilities.

Read Jane, Unlimited and remember why The New York Times has raved, "Some authors can tell a good story; some can write well. Cashore is one of the rare novelists who do both."
About the Author
---
Kristin Cashore grew up in northeast Pennsylvania and has a master's degree from the Center for the Study of Children's Literature at Simmons College. She lives in the Boston area. Her epic fantasy novels set in the Graceling Realm—Graceling, Fire, and Bitterblue—are all New York Times bestsellers and have won many awards and much high praise, including picks as ALA Best Books for Young Adults, School Library Journal Best Book of the Year, Booklist Editors Choice, and Publishers Weekly Best Book of the Year. In addition, Graceling was shortlisted for the William C. Morris Debut Award and Fire is an Amelia Elizabeth Walden Book Award Winner.
Praise For…
---
***An instant New York Times bestseller***
***An IndieNext Top Ten Pick***

"[A] defiantly weird, genre-obliterating book — it all but rewires your brain as you read it. . . . [Cashore is] a vivid, inclusive writer, and everything serves an empowering subtext: Don't let anyone tell you who you're supposed to be, and don't let anyone tell you what a novel is supposed to be, either." —The New York Times Book Review

"[U]nlike anything I've read—mysterious, precise, and possessed of a pure, clear mood that stays intact even through the genre shifts. It's a wild gift for readers who like books that take them to unexpected places, by unexplored avenues, reminding us of the thrillingly infinite possibilities of story."—Melissa Albert, B&N Blog, author of Hazelwood

"As soon as I'd finished the first page of Jane, Unlimited, I was hooked, and the minute I finished the novel, I wanted to begin it again. The story held me enthralled with its unexpected twists, hidden identities, and secrets revealed. Once again, the brilliant Kristin Cashore has created a mesmerizing, unforgettable world."—Gretchen Rubin, bestselling author of Better Than Before

"Absolutely addictive and fascinating, Jane, Unlimited is storytelling at its best. Filled with spies, stolen artwork, cute dinosaurs, new worlds, and delicious romance, this book is everything you could hope for and more than you can imagine."—Marie Rutkoski, author of The Winner's Curse

"This excellent, genre-bending title is a great pick for teens looking for something challenging to take them off the well-beaten path of standard YA fare."—School Library Journal (starred review)

"This is a true tour de force of genre mashups, and it will satisfy a wide range of readers."—BCCB (starred review)

"Creation, compassion, and choice repeatedly emerge as themes in this ambitious, mind-expanding novel."—Booklist

"Adventurous readers will find it charming, thought-provoking, and utterly sui generis."—Kirkus

"Fans will enjoy the worldbuilding in this genre-hopping mystery. . . . [and] imaginative and witty storytelling, along with the novel's many memorable characters."—VOYA

"[U]nlike anything I've read—mysterious, precise, and possessed of a pure, clear mood that stays intact even through the genre shifts. It's a wild gift for readers who like books that take them to unexpected places, by unexplored avenues, reminding us of the thrillingly infinite possibilities of story."—Melissa Albert, B&N Blog, author of Hazelwood


Praise for The Graceling Realm books:
"Transcends the genre with its emotional and philosophical weight."—BCCB, starred review (Bitterblue)

"Devastating and heartbreaking."—Kirkus, starred review (Bitterblue)

"Cashore's imagined world is brilliantly detailed and brimming with vibrant and dynamic characters."—SLJ, starred review (Bitterblue)

"Fresh, hopeful, tragic and glorious."—Kirkus, starred review (Fire)

"Piercing and elegant."—Horn Book, starred review (Fire)

"Readers will fall in love."—SLJ, starred review (Fire)

"Cashore is that rare gifted writer who can give a fantasy novel real depth."—Los Angeles Times (Fire)

"There are some books that stick with you for years, and Kristen Cashore's FIRE is one of them. Thoughtful, steamy and completely original, FIRE is YA fantasy at its absolute best."—Sabaa Tahir, author of New York Times bestselling Ember in the Ashes (Fire)

"Cashore sets herself apart."—The New York Times Book Review (Fire)

"This is gorgeous storytelling."—SLJ, starred review (Graceling)

"With this riveting debut, Cashore has set the bar exceedingly high."—Publishers Weekly, starred review (Graceling)

"An impressive first novel."—Booklist, starred review (Graceling)

"Rageful, exhilarating, wistful in turns."—The New York Times Book Review (Graceling)