Boom Town: The Fantastical Saga of Oklahoma City, Its Chaotic Founding... Its Purloined Basketball Team, and the Dream of Becoming a World-class Metropolis (Paperback)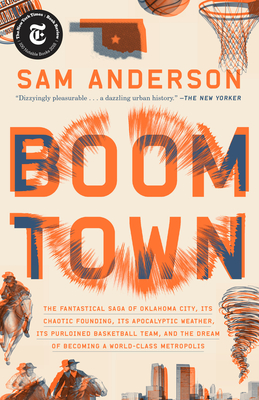 $18.00
Usually Arrives in Store in 1-5 Days
Staff Reviews
---
What began as an assignment to cover a professional basketball team turned into a piece of pure Americana. Oklahoma City may be the most unique city in the country, beginning with its aberrant origin, yet the various stages it has gone through also reflect the general philosophy and aspirations of much of the nation. Sam Anderson presents an American city in all its glory and failure, making it a metaphor for so much of the national history and experience.
— From
Bill's 2018 Picks
Description
---
A NEW YORK TIMES NOTABLE BOOK OF 2018

NAMED ONE OF THE BEST BOOKS OF THE YEAR BY NPR, CHICAGO TRIBUNE, SAN FRANCISCO CHRONICLE, THE ECONOMIST AND DEADSPIN

Award-winning journalist Sam Anderson's long-awaited debut is a brilliant, kaleidoscopic narrative of Oklahoma City—a great American story of civics, basketball, and destiny.

Oklahoma City was born from chaos. It was founded in a bizarre but momentous "Land Run" in 1889, when thousands of people lined up along the borders of Oklahoma Territory and rushed in at noon to stake their claims. Since then, it has been a city torn between the wild energy that drives its outsized ambitions, and the forces of order that seek sustainable progress. Nowhere was this dynamic better realized than in the drama of the Oklahoma City Thunder basketball team's 2012-13 season, when the Thunder's brilliant general manager, Sam Presti, ignited a firestorm by trading future superstar James Harden just days before the first game. Presti's all-in gamble on "the Process"—the patient, methodical management style that dictated the trade as the team's best hope for long-term greatness—kicked off a pivotal year in the city's history, one that would include pitched battles over urban planning, a series of cataclysmic tornadoes, and the frenzied hope that an NBA championship might finally deliver the glory of which the city had always dreamed.

Boom Town announces the arrival of an exciting literary voice. Sam Anderson, former book critic for New York magazine and now a staff writer at the New York Times magazine, unfolds an idiosyncratic mix of American history, sports reporting, urban studies, gonzo memoir, and much more to tell the strange but compelling story of an American city whose unique mix of geography and history make it a fascinating microcosm of the democratic experiment. Filled with characters ranging from NBA superstars Kevin Durant and Russell Westbrook; to Flaming Lips oddball frontman Wayne Coyne; to legendary Great Plains meteorologist Gary England; to Stanley Draper, Oklahoma City's would-be Robert Moses; to civil rights activist Clara Luper; to the citizens and public servants who survived the notorious 1995 bombing of the Alfred P. Murrah federal building, Boom Town offers a remarkable look at the urban tapestry woven from control and chaos, sports and civics.
About the Author
---
Sam Anderson is currently a staff writer for The New York Times Magazine. Formerly a book critic for New York Magazine and regular contributor to Slate, Anderson's journalism and essays have won numerous awards, including the National Magazine Award for Essays and Criticism. He lives in New York with his family.
Praise For…
---
LONGLISTED FOR THE 2019 ANDREW CARNEGIE MEDAL FOR EXCELLENCE IN NONFICTION
A NEW YORK TIMES EDITOR'S CHOICE

"[Anderson] has discovered a subject that energizes him the way a birch-bark canoe roused John McPhee, the way a French meal stoked M.F.K. Fisher and the way a burning Bronx fired up Jonathan Mahler… Unlike navel-gazing yappers like Hunter S. Thompson, Anderson doesn't splatter himself all over the story. He never drowns out anyone with his sly, entertaining voice. His sensibility, sophisticated though it may be, is generous enough to stand up and offer its seat to others… For all of the surrealism in [Franz Kafka's Oklahoma-set] Amerika, whose runic metaphysics helped give rise to the adjective 'Kafkaesque,' the manuscript doesn't begin to match the genuinely American phantasmagoria of Boom Town. What's most surreal about Oklahoma City, as brilliantly rendered in Anderson's wild and gusty history, is that this city is for real."
—THE NEW YORK TIMES BOOK REVIEW

"[Boom Town is a] dizzyingly pleasurable new history of Oklahoma City. If 'dizzyingly pleasurable' and 'Oklahoma City' aren't words you expect to see in the same sentence, Anderson's book wants to convince you that the capital of America's forty-sixth state is the most secretly fascinating place on earth… It's a peculiarly concentrated locus of old American energies, creative, destructive, and bizarre, and Anderson illuminates both the romance and the hubris of a city that went from wild gunfights to unrestrained freeways in a single human lifetime… Boom Town is a dazzling urban history… Anderson writes beautifully about the human beings he encounters, both living and dead. A minute-by-minute account of the Oklahoma City bombing left me almost in tears… Anderson's curious, hilarious, and wildly erudite book vividly evokes the bonk he describes here, as it holds together, quivers, and remakes itself over the following century."
—Brian Phillips, THE NEW YORKER

"If you could snap your fingers and instantly invent a city from scratch, you'd be hard-pressed to conjure a weirder one than Oklahoma City… This, and so much more, is the subject of Sam Anderson's fantastic new book, Boom Town, an enthralling, hilarious, and unexpectedly moving biography of Oklahoma City that already feels like a classic of its kind. Think City of Quartz if Mike Davis was a basketball junkie (City of Courts?) or if Jane Jacobs had co-written Blazing Saddles... [Anderson] will have you opening your preferred travel app, idly pricing tickets to the Sooner State."
—Jack Hamilton, SLATE

"A delightfully deep dive into 'one of the great weirdo cities of the world'… [Boom Town is] one of the more unexpectedly entertaining -- and stimulating -- nonfiction romps in recent memory. Anderson deftly weaves together history, personalities and his own observations."
—SAN FRANCISCO CHRONICLE

"[Boom Town is] one of my favorite things I've read in the past year. I think it will go down in history as one of the great pieces of narrative nonfiction."
—ROMAN MARS, 99% Invisible

"It's hard to believe that any biography of any American city could be more consistently interesting, entertaining and informative than this one."
—NPR

"In writing both idiosyncratic and unerring, this culture critic (formerly of New York) proves that any subject, in the right hands, can mesmerize and delight… Befitting the title, OKC is always on the verge of triumph (oil booms, redevelopment) and disaster (oil busts, tornadoes), a young locale more archetypal of the American mythos than the 26 bigger cities in the country."
—VULTURE, "8 New Books You Should Read This August"

"Boom Town serves as a guidebook to a corner of America by turns utterly unfamiliar and easily recognizable… Anderson writes about Oklahoma City with zeal and devotion, his rollicking prose perfectly suited to Oklahoma City's boom mentality. He expertly deploys singular characters to illustrate the city's strangeness… The city demands attention."
—WALL STREET JOURNAL

"Boom Town [is a] nuanced, immersive portrait of Oklahoma City… This is the strength, the unlikely triumph, of Boom Town, which takes a city almost universally overlooked and turns it into a metaphor for, well, everything."
—THE WASHINGTON POST

"A bonkers, kitchen-sink cultural history of Oklahoma City, with the local Thunder's would-be dynasty as its driving soul."
—NEW YORK TIMES

"[Anderson sets] a winning course in his biography of Oklahoma's capital city. What could have easily devolved into a bone-dry academic text instead surfaces as an animated Plains epic that complicates the popular notion of a supposedly stale place… Every city, every town, has an epic tale, but it can be hard to locate a through line, the tissue connecting every major figure, historical event, and local affair. Writers and critics sometimes talk of place as a character itself, referring to some hazy sense that setting plays a crucial role in a story. In Boom Town, that character is squarely in the crosshairs… I haven't read a nonfiction book that has made me yearn so strongly to visit an American city since John Berendt's Midnight in the Garden of Good and Evil."
—THE ATLANTIC

"[Anderson] is a gifted sports writer who finds high drama not only in the play-by-play narratives of individual games, but in the off-court dynamics as well… [Anderson] empathizes with and loves Oklahoma City for all of its weirdness. He doesn't slum with pity or rage. But he is at his best describing farces and historical tragedies in sober, simile-rich prose."
—LOS ANGELES REVIEW OF BOOKS

"The decorated journalist Sam Anderson, a staff writer at The New York Times Magazine, has set out to fill a yawning gap in the American popular imagination: our tendency to ignore the nation's 27th-largest metropolis, Oklahoma City. Anderson's rollicking narrative is woven from two threads —the vicissitudes of the city's NBA team, the Oklahoma City Thunder, and the city's boom-and-bust history… Anderson runs wild with this material."
—THE MILLIONS

"Every city should be so lucky as to have a Sam Anderson in its corner. In the often dull genre of urban biographies, Boom Town is a rollicking, engaging, and occasionally hilarious account of the past and future of Oklahoma City… Anderson and Boom Town show us how to see a city with fresh eyes."
—PLANETIZEN (Top 10 Urban Planning Books of 2018)

"Boom Town is filled with so many crazy, hilarious tales that it will cause most readers to second guess long held assumptions. Surprises are found throughout Anderson's tales, even for those who consider themselves most informed about Oklahoma City. Boom Town, however, aspires for a national audience. Putting aside civic pride and obvious bias, this well written book deserves that audience and may be the key to helping those outside of Oklahoma realize its capital city is far more colorful, unpredictable, dangerous and fun than is represented by its reputation of being 'nice.' Add Boom Town to your collection for the entertainment; appreciate it afterward for the education."
—THE OKLAHOMAN

"Maybe you didn't know that Oklahoma City was the key to everything. But it is. Boom Town is a bone-shaking thrill ride through civic history."
—NICHOLSON BAKER
 
"A wild ride of a book that goes from fascinating to hilarious to hair-raising to powerfully moving, sometimes in the space of just a few pages. With clear-eyed affection and consummate skill, Anderson shows us an amazing American place wherein we recognize ourselves."
—IAN FRAZIER

"No one—no one—writes like Sam Anderson: so vividly, so stylishly, so smartly, so weirdly, so funnily. By the time I'd finished this doozy of a book, he had me asking: Oklahoma City, where have you been all my life?"
—ANNE FADIMAN

"In Boom Town, Sam Anderson shrewdly anatomizes the deep strangeness of Oklahoma City—its messy history of hope, self-subversion, and occasional wretched luck—and of its citizens' grandiose belief in their capacity for renewal and greatness. The result, a yarn that deftly navigates between then and now, brims with wit, bright color, relentless reporting, and, most admirably, empathy." 
—MARK SINGER

"Sam Anderson is a visionary artist who sees what others can't; he's a master wordsmith who creates beauty and light from confusion and plunging darkness; he's our tour guide to a better tomorrow because he understands a complex and foundational history that is our launching pad to new and unexplored universes."
—BILL WALTON

"This book offers [Anderson's] take on the histories of both [the Oklahoma City Thunder and its boom or bust hometown], rendered through research, copious interviews, and a sharp eye for the quirky. Written with style and amazingly good humor, considering the hopes blooming and dashed nature of both city and team, this should please a wide range of readers, from basketball fans to historians to city planners."
—LIBRARY JOURNAL (starred)

"A rollicking, kaleidoscopic chronicle of America's 27th-largest city… Anderson's lively and empathetic saga captures the outsize ambitions, provincial realities, and vibrant history of a quintessentially American city."
—PUBLISHERS WEEKLY

"An irreverent look at one of the nation's quirkier cities… [Boom Town is] a rollicking [and] entertaining history of a city that, for all its booms and busts, is never boring."
—KIRKUS REVIEWS

"[Anderson's] first book, Boom Town, is a hilarious history and drive-through study of this Midwestern city born of bedlam and ambition… Anderson digs relentlessly into the state capital's boom-and-bust history. Illustrated with archival photos, his story jumps between top-flight sportswriting and more lighthearted and diverse chapters on the idiosyncrasies of OKC."
—SHELF AWARENESS