The Good German (Hardcover)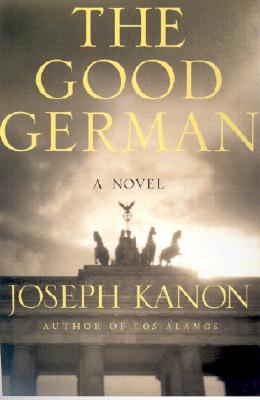 $26.00
Email or call for price.
Description
---
Set in Berlin just after the end of World War II, a brilliant thriller about the end of one war and the beginning of another, by the bestselling author of Los Alamos.

Berlin, 1945. Jake Geismar, former Berlin correspondent for CBS, has managed to wangle one of the coveted press slots for the Potsdam Conference. His assignment: a series of articles on the American occupation of postwar Berlin. His personal agenda: to find Lena, the German mistress he left behind at the outbreak of the war. When he stumbles on a murder--an American soldier washed up on the shore of the conference grounds--he thinks he has found the key that will unlock his Berlin story. What he finds instead is a larger story of corruption and intrigue reaching deep into the heart of the occupation and a city not only physically but morally devastatated, where children scavenge for food in the rubble, sex can be had for a cigarette, and the black market is the only means of survival.

Berlin at zero hour is like nowhere else--a tragedy, and a feverish party after the end of the world. And nothing is simple--not the murder of a soldier and not any of the lives, American and German, that Jake encounters as he tries to solve it. More unsolvable still is the larger crime that hangs over everything in 1945, a crime so huge it seems beyond punishment.

At once a murder mystery, a love story, and a riveting portrait of a unique time and place, The Good German is a historical thriller of the first rank.
About the Author
---
Joseph Kanon is the author of two previous novels, "Los Alamos "(a New York Times bestseller in both hardcover and paperback) and "The Prodigal Spy." Before becoming a full-time writer, he was a book publishing executive. He and his wife, Robin Straus, a literary agent, live in New York City.