Smile When You're Lying: Confessions of a Rogue Travel Writer (Paperback)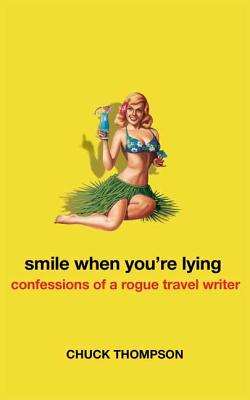 $16.99
Email or call for price.
Description
---
From Bangkok to Bogotá, a hilarious behind-the-brochures tour of picture-perfect locales, dangerous destinations, and overrated hellholes from a guy who knows the truth about travel
Travel writer, editor, and photographer Chuck Thompson has spent more than a decade traipsing through thirty-five (and counting) countries across the globe, and he's had enough. Enough of the half-truths demanded by magazine editors, enough of the endlessly recycled clichés regarded as good travel writing, and enough of the ugly secrets fiercely guarded by the travel industry. But mostly, he's had enough of returning home from assignments and leaving the most interesting stories and the most provocative insights on the editing-room floor. From getting swindled in Thailand to running afoul of customs inspectors in Belarus, from defusing hostile Swedish rockers backstage in Germany to a closed-door meeting with travel execs telling him why he's about to be fired once again, Thompson's no-holds-barred style is refreshing, invigorating, and all those other adjectives travel writers use to describe spa vacations where the main attraction is a daily colonic.
Smile When You're Lying takes readers on an irresistible series of adventures in Europe, Asia, the Caribbean, Latin America, and beyond; details the effects of globalization on the casual traveler and ponders the future of travel as we know it; and offers up a treasure trove of travel-industry secrets collected throughout a decidedly speckled career.
About the Author
---
Chuck Thompson, the author of Smile When You're Lying, is a former features editor for Maxim and was the first editor in chief of Travelocity magazine and served as part of the editorial team for the launch of CNNGo.com. He has traveled on assignment in more than thirty-five countries and his writing and photography have appeared in The Atlantic, Esquire, National Geographic Adventure, Playboy, Spy, Escape, WWE Magazine, Outside, Men's Journal, and the Los Angeles Times. He lives in the Pacific Northwest.
Praise For…
---
"[Thompson] knows the score and he tallies it accurately. ... A dead-on demolition job. ... The book is a savagely funny act of revenge." —The New York Times
"Impassioned, funny, and uniquely honest." —Esquire
"Consistently irreverent, Thompson is wickedly entertaining ... reminiscent of Chuck Klosterman and David Foster Wallace. ... The unvarnished reality in these pages might just make you more eager than ever to hit the road." —San Francisco Chronicle
"If there is such a pastime as extreme tourism, Chuck Thompson is surely its guru." —Boston Globe
"Thompson is the real thing, a travel writer in the sense that Mark Twain or Hunter S. Thompson was, and Redmond O'Hanlon is. He's a travel writer like Anthony Bourdain is a food writer. He's a travel writer for people who don't much like travel writing." —The Oregonian
"A rare victim's-eye view into the world of travel marketing and the nervous, unmoored corporate weenies who populate it. ... fascinating reading, in a plane-crash sort of way." —Washington Post
"Smile When You're Lying could do for the travel industry what The Tipping Point did for the tipping point industry." —Joe Queenan
"(Thompson's) prose is quick and witty; it's like sitting down over a beer with the most experienced traveler you'll ever meet." —Aspen Times Weekly
"My three favorite travel writers of all time are Robert Louis Stevenson, Graham Greene, and Chuck Thompson. Smile When You're Lying not only tells the truth about the travel-writing racket, it gets to the heart of some of the travel industry's best-kept secrets." —Kinky Friedman
"More than confessions of a veteran gallivanter … an indictment of those who would prettify the world … full of trenchant truisms." —Los Angeles Times
"An aggressively funny account of the world from an acerbic, energetic professional traveler who tells it like he sees it and has no reservations about sharing his stockpile of outrageous (mis)adventures and advice…. At his best, this Thompson will remind readers of Hunter S.--provocative and thoroughly engaging, with a manic liveliness." —Kirkus Reviews
"Thompson's weapons are wit, a well-oiled subversive reflex and a defiantly unbuttoned prose style." —The New York Observer
"Vivid and ribald…. If all Thompson was aiming for had been caustic observations about the industry he knows from the inside out, the book would have been an amusing but limited experience. But Thompson weaves his take on the travel racket and the damage it does into an engagingly personal narrative about his own nomadic life…" —Publishers Weekly
"Thought-provoking … laughing at [Thompson's] stories caused pain." —Salt Lake Tribune
"Bitingly funny … as much as Thompson loves to play the curmudgeon, a reader can tell that through it all, he still loves to travel, despite, or perhaps because of, all the challenges." —The Columbus Dispatch
"A great storyteller with an unusual tolerance level for adventure." —The Capital Times (Madison, Wisconsin)
"Witty prose entertains as it educates...the perfect read for a long plane ride." —Seattle Magazine
"Highly recommended." —Calgary Herald
"Fascinating and frequently hilarious, thanks to Thompson's wicked sense of humor." —Portland Mercury
"Reading Thompson is like listening to a buddy who shoots from the hip. Although readers may not always agree with Thompson's conclusions ... they will recognize an authentic voice on the subject of travel when they encounter it." —Booklist
"Thought provoking political commentary … will keep you entertained even as it makes you think." —Ramblingtraveler.com