Eaarth: Making a Life on a Tough New Planet (Hardcover)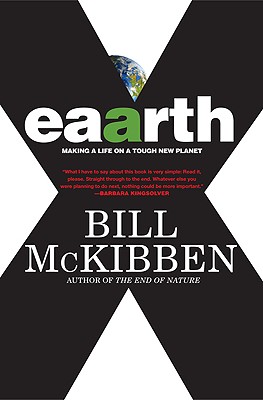 Email or call for price
Hard to Find - Email or Call for Availability
Summer '11 Reading Group List
---
"McKibben has written his most important book about humankind's most pressing issue: global climate change and what it means. This book is a wake-up call about the 'tough new planet' we've created with our profligate behavior over the past 200 years. Read this book and recommend it widely. Hopefully you and your neighbors will get to work on solutions."
— Gary Colliver, Windows on the World-Books & Art, Mariposa, CA
April 2010 Indie Next List
---
"McKibben has written his most important book about humankind's most pressing issue: global climate change and what it means. This book is a wakeup call about the 'tough new planet' we've created with our profligate behavior over the past 200 years. Read this book and recommend it widely. Hopefully you and your neighbors will get to work on solutions."
— Gary Colliver, Windows on the World-Books & Art, Mariposa, CA
Description
---
"Read it, please. Straight through to the end. Whatever else you were planning to do next, nothing could be more important." Barbara Kingsolver
Twenty years ago, with "The End of Nature," Bill McKibben offered one of the earliest warnings about global warming. Those warnings went mostly unheeded; now, he insists, we need to acknowledge that we've waited too long, and that massive change is not only unavoidable but already under way. Our old familiar globe is suddenly melting, drying, acidifying, flooding, and burning in ways that no human has ever seen. We've created, in very short order, a new planet, still recognizable but fundamentally different. We may as well call it Eaarth.
That new planet is filled with new binds and traps. A changing world costs large sums to defend think of the money that went to repair New Orleans, or the trillions it will take to transform our energy systems. But the endless economic growth that could underwrite such largesse depends on the stable planet we've managed to damage and degrade. We can't rely on old habits any longer.
Our hope depends, McKibben argues, on scaling back on building the kind of societies and economies that can hunker down, concentrate on essentials, and create the type of community (in the neighborhood, but also on the Internet) that will allow us to weather trouble on an unprecedented scale. Change fundamental change is our best hope on a planet suddenly and violently out of balance.
About the Author
---
Bill McKibben is the author of "The End of Nature, Deep Economy, Enough, Fight Global Warming Now, The Bill McKibben Reader," and numerous other books. He is the founder of the environmental organizations Step It Up and 350.org, and was among the first to warn of the dangers of global warming. In 2010 "The Boston Globe" called him "probably the nation's leading environmentalist," and "Time" magazine has called him "the world's best green journalist." He studied at Harvard, and started his writing career as a staff writer at "The New Yorker." "The End of Nature," his first book, was published in 1989 and was regarded as the first book on climate change for a general audience. He is a frequent contributor to magazines and newspapers including The "New York Times, The Atlantic Monthly, Harper's, Orion Magazine, Mother Jones, The New York Review of Books, Granta, Rolling Stone," and "Outside." He has been awarded Guggenheim Fellowship and won the Lannan Prize for nonfiction writing in 2000. He is a scholar in residence at Middlebury College and lives in Vermont with his wife, the writer Sue Halpern, and their daughter.
Praise For…
---
" 'Eaarth' is the name McKibben has decided to assign both to his new book and to the planet formerly known as Earth. His point is a fresh one that brings the reader uncomfortably close to climate change. Earth with one "a," according to McKibben, no longer exists. We have carbonized it out of existence. Two-a Eaarth is now our home."--The New York Times Book Review "A passionate appeal. . . . McKibben's engaging and persuasive book will add greatly to the sense of urgency. It will add realism to the case for strong adaptation to the changes that our past and current actions are bringing to our natural world."—The New York Review of Books
"Bill McKibben may be the world's best green journalist . . .  What really sets Eaarth apart from other green books is McKibben's prescription for survival. This won't be just a matter of replacing a few lightbulbs; McKibben is calling for a more local existence lived 'lightly, carefully, gently.' It's a future unimaginable to most of us--but it may be the only way to survive."--Time "Bill McKibben [is] probably the nation's leading environmentalist… Important strands of environmental thought merge in McKibben's new book, making for some truly scary reading and prompting urgent questions about the nature of the environmental catastrophe at hand… [Eaarth] offers a view of economic growth not typically encountered in mainstream discussion, with all its moral dimensions unmasked and clarified… The urgency of his moral advocacy demands attention."—The Boston Globe "Superbly written . . . McKibben is at his best when offering an elegant tour of what is already going wrong and likely to get even worse. . . . Eaarth is a manifesto for radical measures."—The National Interest "A valuable slice of acid-tongued reality."--San Francisco Chronicle "If one book can help, this is it."--Winnipeg Free Press "This book must be read and his message must be understood clearly in Congress and in the streets. Indeed, throughout the world."--The Capitol Times (Madison, Wis.) "Sounds a clarion at a time when the findings of climate scientists have been all but drowned out by skeptics and right-wing bombast. McKibben, however, does not doubt that facts will trump ideology. . . . McKibben is an eloquent advocate."--The Oregonian
"What I have to say about this book is very simple: Read it, please. Straight through to the end. Whatever else you were planning to do next, nothing could be more important."—Barbara Kingsolver, author of Animal, Vegetable, Miracle "With clarity, eloquence, deep knowledge and even deeper compassion for both planet and people, Bill McKibben guides us to the brink of a new, uncharted era. This monumental book, probably his greatest, may restore your faith in the future, with us in it."—Alan Weisman, author of The World Without Us "The terrifying premise with which this book begins is that we have, as in the old science fiction films and tales of half a century ago, landed on a harsh and unpredictable planet, all six billion of us. Climate change is already here, but Bill McKibben doesn't stop with the bad news. He tours the best responses that are also already here, and these visions of a practical scientific solution are also sketches of a better, richer, more democratic civil society and everyday life. Eaarth is an astonishingly important book that will knock you down and pick you up."—Rebecca Solnit, author of A Paradise Built in Hell and Hope in the Dark "Bill McKibben foresaw 'the end of nature' very early on, and in this new book he blazes a path to help preserve nature's greatest treasures."—James E. Hansen, director, NASA Goddard Institute for Space Studies "Bill McKibben is the most effective environmental activist of our age. Anyone interested in making a difference to our world can learn from him."—Tim Flannery, author of The Weather Makers and The Eternal Frontier