Good Prose: The Art of Nonfiction (Paperback)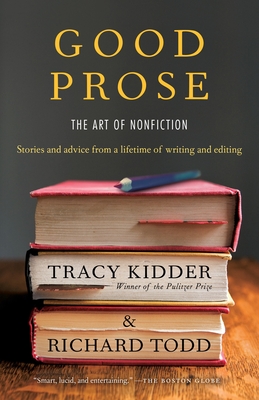 Staff Reviews
---
Two of the best at their trade offer sound advice in an entertaining, highly readable book. Could be the Strunk & White of our time.
— From
Richard's 2015 and older picks
Description
---
NAMED ONE OF THE BEST BOOKS OF THE YEAR BY KIRKUS REVIEWS

Good Prose is an inspiring book about writing—about the creation of good prose—and the record of a warm and productive literary friendship. The story begins in 1973, in the offices of The Atlantic Monthly, in Boston, where a young freelance writer named Tracy Kidder came looking for an assignment. Richard Todd was the editor who encouraged him. From that article grew a lifelong association. Before long, Kidder's The Soul of a New Machine, the first book the two worked on together, had won the Pulitzer Prize. It was a heady moment, but for Kidder and Todd it was only the beginning of an education in the art of nonfiction.
 
Good Prose explores three major nonfiction forms: narratives, essays, and memoirs. Kidder and Todd draw candidly, sometimes comically, on their own experience—their mistakes as well as accomplishments—to demonstrate the pragmatic ways in which creative problems get solved. They also turn to the works of a wide range of writers, novelists as well as nonfiction writers, for models and instruction. They talk about narrative strategies (and about how to find a story, sometimes in surprising places), about the ethical challenges of nonfiction, and about the realities of making a living as a writer. They offer some tart and emphatic opinions on the current state of language. And they take a clear stand against playing loose with the facts. Their advice is always grounded in the practical world of writing and publishing.
 
Good Prose—like Strunk and White's The Elements of Style—is a succinct, authoritative, and entertaining arbiter of standards in contemporary writing, offering guidance for the professional writer and the beginner alike. This wise and useful book is the perfect companion for anyone who loves to read good books and longs to write one.

Praise for Good Prose
 
"Smart, lucid, and entertaining."—The Boston Globe
 
"You are in such good company—congenial, ironic, a bit old-school—that you're happy to follow [Kidder and Todd] where they lead you."—The Wall Street Journal
 
"[A] well-structured, to-the-point, genuinely useful, and fun-to-read guide to writing narrative nonfiction, essays, and memoir . . . Crisp, informative, and mind-expanding."—Booklist  
 
"A gem . . . The finer points of creative nonfiction are molded into an inspiring read that will affect the would-be writer as much as Anne Lamott's Bird by Bird or Stephen King's On Writing. . . . This is a must read for nonfiction writers."—Library Journal
 
"As approachable and applicable as any writing manual available."—Associated Press
About the Author
---
Tracy Kidder graduated from Harvard and studied at the University of Iowa. He has won the Pulitzer Prize, the National Book Award, the Robert F. Kennedy Book Award, and many other literary prizes. The author of Strength in What Remains, My Detachment, Mountains Beyond Mountains, Home Town, Old Friends, Among Schoolchildren, House, and The Soul of a New Machine, Tracy Kidder lives in Massachusetts.
 
Richard Todd was educated at Amherst and Stanford. He has spent many years as a magazine and book editor, and has written articles on a wide range of cultural themes for Harper's, The Atlantic Monthly, The New York Times Magazine, Condé Nast Traveler, and the Columbia Journalism Review, among others. He is the author of a previous book, The Thing Itself, and he teaches in the MFA program at Goucher College.
Praise For…
---
"Smart, lucid, and entertaining."—The Boston Globe
 
"You are in such good company—congenial, ironic, a bit old-school—that you're happy to follow [Kidder and Todd] where they lead you."—The Wall Street Journal
 
"[A] well-structured, to-the-point, genuinely useful, and fun-to-read guide to writing narrative nonfiction, essays, and memoir . . . Crisp, informative, and mind-expanding."—Booklist  
 
"A gem . . . The finer points of creative nonfiction are molded into an inspiring read that will affect the would-be writer as much as Anne Lamott's Bird by Bird or Stephen King's On Writing. . . . This is a must read for nonfiction writers."—Library Journal
 
"As approachable and applicable as any writing manual available."—Associated Press

"Good Prose: The Art of Nonfiction takes us into the back room behind the shop, where strong, effective, even beautiful sentences are crafted. Tracy Kidder and his longtime editor, Richard Todd, offer lots of useful advice, and, still more, they offer insight into the painstaking collaboration, thoughtfulness, and hard work that create the masterful illusion of effortless clarity."—Stephen Greenblatt, author of The Swerve: How the World Became Modern

"Good Prose offers consummate guidance from one of our finest writers and his longtime editor. Explaining that 'the techniques of fiction never belonged exclusively to fiction,' Kidder and Todd make a persuasive case that 'no techniques of storytelling are prohibited to the nonfiction writer, only the attempt to pass off invention as facts.' Writers of all stripes, from fledgling journalists to essayists of the highest rank, stand to benefit from this engrossing manual."—Jon Krakauer, author of Into the Wild
 
"What a pleasure to read a book about good prose written in such good prose! It will make many of its readers better writers (though none as good as Tracy Kidder, who sets an impossible standard), and it will make all of them wish they could hire Richard Todd to work his editorial magic on their words."—Anne Fadiman, author of The Spirit Catches You and You Fall Down
 
"Few editors have the good fortune to work with writers as talented as Tracy Kidder, and even fewer writers are blessed with editors who have the skills, the standards, and the dedication of Richard Todd. I don't think there's a writer on the planet who could read this product of their four-decade collaboration and not walk away with much that is useful, and even more that is profound."—Daniel Okrent, author of Last Call
 
"Books about how to be a better writer crowd the shelves, but I've read nothing nearly as wise, useful, and page-for-page fun as Good Prose, itself a work of art. This concise, delightfully stylish book offers a master class on nonfiction, packed with keen, hard-won insights and delivered with warmth, humor, and a total lack of pedantry. Reading it felt like enjoying a fireside dinner with two generous veterans of the craft. Finishing it made me want to get straight back to my desk."—Darcy Frey, author of The Last Shot