Heritage and Hate: Old South Rhetoric at Southern Universities (Albma Rhetoric Cult & Soc Crit) (Hardcover)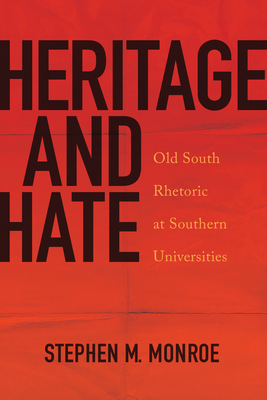 Description
---
How southern universities continue to wrestle with the words and symbols that embody and perpetuate Old South traditions
 
The US South is a rhetorical landscape that pulsates with division, a place where words and symbols rooted in a deeply problematic past litter the ground and contaminate the soil. Stephen M. Monroe's provocative study focuses on predominantly white southern universities where Old South rhetoric still reverberates, where rebel flags cast a shadow over attempts at racial harmony, school cheers to reinforce racial barriers, and student yearbooks to create and protect
an oppressive culture of exclusion. Across the region, in college towns like Oxford, Mississippi; Athens, Georgia; and Tuscaloosa, Alabama—communities remain locked in a difficult, recursive, and inherently rhetorical struggle that wrestles with this troubling legacy.

Words, images, and symbols are not merely passive artifacts of southern history, Monroe argues, but formative agents that influence human behavior and shape historical events. Drawing on research from many disciplines, including rhetoric, southern studies, history, sociology, and African American studies, Monroe develops the concept of confederate rhetoric: the collection of Old South words and symbols that have been and remain central to the identity conflicts of the South. He charts examples of such rhetoric at work in southern universities from Reconstruction to the present day.

Tracing the long life and legacy of Old South words and symbols at southern universities, this book provides close and nuanced analysis of the rhetorical conflicts that have resulted at places like the University of Mississippi and the University of Missouri. Some conflicts erupted during the civil rights movement, when the first African American students sought admission to all-white southern universities and colleges, and others are brewing now, as African
Americans (and their progressive white peers) begin to cement genuine agency and voice in these communities. Tensions have been, and remain, high.

Ultimately, Monroe offers hope and optimism, contending that if words and symbols can be used to damage and divide, then words and symbols can also be used to heal and unify. Racist rhetoric can be replaced by antiracist rhetoric. The old South can become new. While resisting naïve or facile arguments, Heritage and Hate ultimately finds the promise of progress within the tremendous power of language.
About the Author
---
Stephen M. Monroe is chair and assistant professor in the Department of Writing and Rhetoric at the University of Mississippi.
Praise For…
---
"The old saying goes that one can only be harmed by sticks and stones, not words. That has never been true, not even when issued as a playground taunt. Stephen M. Monroe's Heritage and Hate demonstrates the power of words, symbols, and narrative to harm, hide, and reveal truth. In clear, measured prose, Monroe shows readers how Confederate images and language contain layers of mythologies that obscure history and perpetuate the idea of white supremacy. This is a book that should be read not only by southerners but also by anyone interested in the ways we use language and symbols in American society to wield and maintain power."
—W. Ralph Eubanks, author of Ever Is a Long Time: A Journey into Mississippi's Dark Past
 
"This study is an unusually timely one as the nation struggles with its Confederate heritage. Scholars have done much research on such aspects of that heritage in the South as the Confederate battle flag, the song 'Dixie,' and Confederate monuments. This book offers an original perspective on the pervasiveness of the memory of the Confederacy by looking at southern university campuses. Its bold argument is that symbolism and language around the Confederacy has promoted whiteness and created cultures that discourage minorities and put limits on racial progress. The author provides an interdisciplinary research model with a close and productive focus on ties between language and the southern identity as seen in college life. The study is especially perceptive in showing how seemingly harmless college traditions can represent racist symbolism and language that is hidden in plain sight. The book is fearless in examining the dark side of Confederate rhetoric on campuses, but it also offers concrete ways to move beyond that rhetoric."
—Charles Reagan Wilson, professor emeritus of history and southern studies at the University of Mississippi and editor of The New Encyclopedia of Southern Culture

"Heritage and Hate investigates the origins and contemporary uses of 'a panoply of Old South words and symbols,' studying the cheers, university slogans, and online messages of students as well as the words and silences of university leaders. The volume's unique contribution is to analyze those words and symbols as rhetoric that, whether or not it was obvious, was and is always making arguments about power, race, and belonging."
—Ted M. Ownby, William Winter Professor of History, University of Mississippi, and author of American Dreams in Mississippi: Consumers, Poverty, and Culture, 1830–1998
 
"Stephen Monroe has elegantly articulated the racial friction that surrounds much of the iconography of the South. As Confederate monuments and memorials are taken down daily in the midst of the antiracism movement that has swept across America, the timing of this book is perfect."
—Charles K. Ross, professor of African American studies and history, University of Mississippi, and author of Mavericks, Money, and Men: The AFL, Black Players, and the Evolution of Modern Football
 
"Stephen Monroe has written a superb study of the history, cultural power, and traumatic effects of what he terms 'confederate rhetoric,' the racist language and chauvinistic verbal codes that have saturated the South from the Civil War to the present day. Focusing on how such rhetoric thrives on the campuses of southern colleges and universities, Monroe reveals the learned nature of the phenomenon and its tendency to hide in plain sight.
—Craig A. Warren, author of The Rebel Yell: A Cultural History
 

"Heritage and Hate shows vividly that nostalgic histories of the Old South have long functioned as historical propaganda, preserved and nurtured in association with southern colleges and universities, and that confederate rhetoric is deeply embedded in popular language choices and symbols. Stephen Monroe's thoroughly researched and clearly argued book is an important contribution to scholarship and public affairs alike. It demonstrates that confederate rhetoric is stubbornly persistent in present-day political discourse and that the struggle to overcome it and tell a more accurate, representative version of southern history matters profoundly to the nation as a whole."
—Bradford Vivian, author of Commonplace Witnessing: Rhetorical Invention, Historical Remembrance, and Public Culture
 
"This smart and bold book confronts 'formative and active' usages of paternalistic and plantation-born terms like 'Ole Miss' and explores the ritualistic meanings embedded in seemingly innocuous cheers like the Hotty Toddy, linking those phenomena across time and region to make a persuasive and, at times, alarming case that Lost Cause retentions still affect the futures of southern peoples.
—John T. Edge, author of The Potlikker Papers
 
"This is a very important book that offers insights into the historical development of confederate rhetoric on southern college campuses, as well as the ways in which it is sustained and resonant in the contemporary era. Monroe skillfully explicates its hidden nature and offers abundant evidence pointing to the ways in which its subtlety functions to 'protect' it from the forces of modernization, even in the setting of academic institutions (ostensibly) committed to the progressive ideals of inclusion, critical thinking, and fairness.
—Patricia G. Davis, author of Laying Claim: African American Cultural Memory and Southern Identity