The Last Days of California: A Novel (Paperback)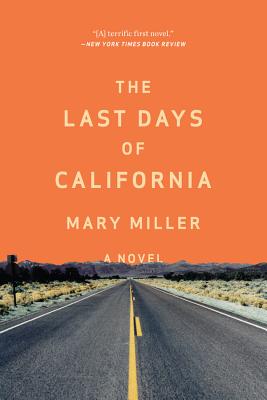 Staff Reviews
---
Within days of the appearance here of Elizabeth Spencer, the reigning monarch of Mississippi letters, we will see perhaps her heir apparent in the person of native Mississippian Mary Miller, whose debut novel heralds a confident and credible new voice in American fiction. The Last Days of California is a 21st century coming-of-age, cross-country family car trip with an evangelical, enraptured dad, a stoic mom, and bossy big sister. While this doesn't sound like the sort of family vacation most of us as fly-on-the-wall readers would like to go on, once you get in this particular car, you can't get out. You don't want out, because the story and the writing are that fine. Mary Miller is next year's John and Renee Grisham writer-in-residence. 
— Richard
February 2014 Indie Next List
---
"Two sisters bicker with one another over the space in a car's backseat, gas station snack choices, motel room beds, and boys, of course. Only this isn't another angst-ridden coming-of-age road trip novel. This family is driving from Georgia to California so its members can witness the Rapture as it rolls through the world's time zones and arrives, at blessed last, in Pacific Standard Time. A swift, quirky, earnest read that will resonate with anyone who's ever been to a church sleepover, proselytized, or just been a teenager."
— Stacie M. Williams, Boswell Book Company, Milwaukee, WI
Description
---
A New York Times Book Review Editors' Choice Selection

Longlisted for the Southern Independent Booksellers Alliance Book Prize
"[A] terrific first novel. . . . Why worry about labeling a book this good? Just read it." —Laurie Muchnick, New York Times Book Review
Jess is fifteen years old and waiting for the world to end. Her evangelical father has packed up the family to drive west to California, hoping to save as many souls as possible before the Second Coming. With her long-suffering mother and rebellious (and secretly pregnant) sister, Jess hands out tracts to nonbelievers at every rest stop, Waffle House, and gas station along the way. As Jess's belief frays, her teenage myopia evolves into awareness about her fracturing family. Selected as a Barnes & Noble Discover pick and an Indie Next pick, Mary Miller's radiant debut novel reinvigorates the literary road-trip story with wry vulnerability and savage charm.
About the Author
---
Mary Miller is the author of three previous books, including the story collection Always Happy Hour and the novel The Last Days of California. She is a former James A. Michener Fellow and John and Renée Grisham Writer-in-Residence. She lives in Oxford, Mississippi.

Praise For…
---
Hilarious and heartbreaking, dark and beautiful, a novel written by one of the most observant and mordant writers alive…This book is terrific.
— Elizabeth McCracken, author of An Exact Replica of a Figment of My Imagination and The Giant's House

The Last Days of California is a beautiful examination of youth and family and what it means to be alive (and to fear dying) in contemporary America…every scene…tremble[s] with significance… Rarely, if ever, have we seen young American womanhood painted in such a raw and honest and heartbreaking way.

— William Boyle - Los Angeles Review of Books

The Last Days of California is the Sense and Sensibility of pre-Apocalypse America, and Jess and Elise may be my new favorite literary sisters: different as night and day, on a road trip to the Rapture with their Evangelical parents, they find they have nothing to lose but each other. Mary Miller is a ventriloquist of adolescent angst and a nervy surveyor of American culture.

— Alexis Smith, author of Glaciers

An affecting coming-of-age story from an inspired new voice.
— Elliott Holt, author of You are One of Them

A literary snapshot of our times that portrays the affirmation and doubt we often find in family and faith.
— Wiley Cash, New York Times best-selling author of This Dark Road to Mercy and A Land More Kind Than Home

Miller portrays her characters…with an unwavering intensity…. Miller's prose bestows a magnetic beauty on gas-station bathroom stops, Waffle House lunches, and the cast of overfed, overstimulated travelers the Metcalfs encounter along the interstates. …A plangent portrait of American adolescence…. [She delivers] raw the heartbreaking futility of the Metcalfs' small triumphs, private embarrassments, and poor decisions with such hilarious precision that you become completely involved in their struggles—and, ultimately, in awe of their abiding hope.
— Catherine Straut - ELLE

Miller's depiction of a squabbling, love-you-one-minute, hate-you-the-next family dynamic is spot-on, hilarious, and ultra-relatable…. Sometimes a road-trip novel, particularly one as compulsively devourable as The Last Days of California, is just what you need to get that elusively giddy, hopeful feeling back.

— Hannah Hickok - Redbook