Long Gone Daddies (Hardcover)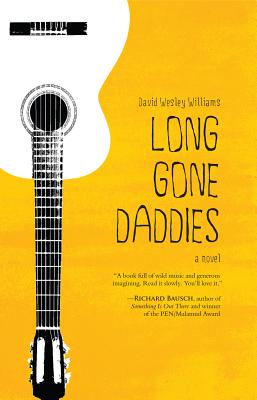 Special Order -- Email or Call for Availability
Description
---
Some nights, we have the road to ourselves and the radio sings only for us. We play our shows and tear-ass out. Tonight, it was this little dive bar in a town we took to calling East Motherless. But we play, no matter. We rock and then we roll. The soundcheck and the fury, the power chord and the glory. Then we load our gear into a muddy-brown Merc with a little trailer behind, and we're off. Slinging gravel, filling sky with road.
All his life, Luther Gaunt has heard songs in his head songs of sweet evil and blue ruckus, odes to ghosts, drinking hymns. In search of his past, he hits the road with his band, the Long Gone Daddies, and his grandfather's guitar, Cassie.
While his band mates just want to make it big when they get to Memphis, Luther retraces the steps of his father and grandfather, who each made the same journey with the same guitar years earlier. Malcolm Gaunt could have been Elvis that white man who could sing black if he hadn't gotten himself shot by a vengeful husban.