Zingerman's Guide to Better Bacon: Stories of Pork Bellies, Hush Puppies, Rock 'n' Roll Music and Bacon Fat Mayonnaise (Hardcover)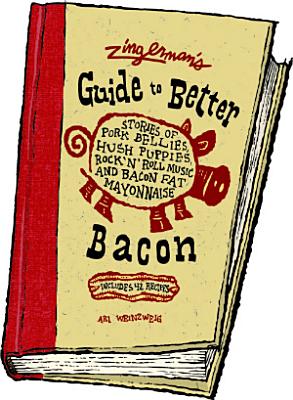 $29.95
Email or call for price.
Description
---
Take a trip to Camp Bacon with James Beard award-winner Ari Weinzweig as he guides you on a personal tour of bacon's long and curious history, and brings you right to the smokehouse door of some of his favorite bacon curers in the U.S. "Bacon is so integral to the culinary history of this country. The roots are so deep in our cooking, I think of it as the olive oil of North America."



And that history is often a strange one. You'll learn about how bacon was used to promote matrimonial harmony in medieval England, and you'll meet Andre Williams, one of the country's most colorful blues singers and a big bacon lover. You'll also meet celebrated bacon makers from Wisconsin to Kentucky to Connecticut and learn not only what makes their bacons so full of flavor, but also, just as importantly, what makes one bacon different from the next. Best, the book includes over 42 recipes so you can put your new-found bacon expertise to use in the kitchen right away!
Praise For…
---
"A real bible of all things smoked pig, an engrossing, affably rambling, borderline obsessive one-stop swine seminar."
— Chicago Tribune



"Some books whet a thirst for knowledge. This one stirs a gnawing hunger for meat. Zingerman's Guide to Better Bacon makes the case for pigging out. Folksy writing, food lore, trivia, and 42 recipes, combine for 240 pages of engaging reading... Weinzweig's ode to bacon offers an explanation for the term 'bringing home the bacon,' and provides a bacon glossary that defines rasher, pancetta, and Canadian Peameal Bacon, among others." — Rebecca Powers, Hour Detroit Magazine



"The definitive scripture of streaky meat." — www.thetastingtable.com



"Weinzweig has put together a comprehensive history of all things pork belly-related. Curious about the history of eating cured pork? Check. Interested in pig drovers in North America? He's got you covered. Want to get up close and personal with artisanal bacon makers? You'll feel like old friends. Have you ever fantasized about going to a magical place called Camp Bacon? Well, you get the picture." - www.seriouseats.com



The book is lovingly crafted in Ann Arbor, Michigan, where Ari's famous shops, Zingerman's Community of Businesses, are a local institution. The book [has] old-school style foil stamping on the front, beautiful paper, all done locally. It's chock-full of history, guides to bacon from Pancetta to Hungarian Double-Smoked, and recipes that demand good bacon.... Clearly an essential guide-book for any bacon-enthusiast. " — Sara Kate Gillingham-Ryan, The Kitchen/Apartment Therapy