Signals: New and Selected Stories (Vintage Contemporaries) (Paperback)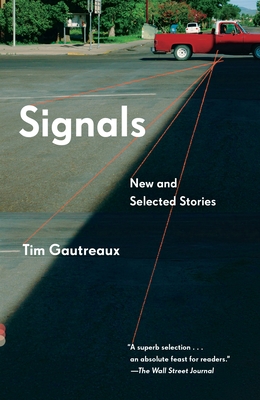 Staff Reviews
---
Signals is a keeper collection of stories from a modern master, twelve new tales combined with eight from his previous books that mostly hew to Gautreaux's signature material of seemingly plain folk in Louisiana, where the human and natural world come to abundant and colorful display. An early Grisham visiting writer (1996-97), Gautreaux's splendid two novels, The Missing and The Clearing, along with his excellent stories, clearly mark him as one of our greatest living writers in the South.
— From
Richard's 2017 Picks
Description
---
ONE OF THE WALL STREET JOURNAL AND NPR'S BEST BOOKS OF 2017

Containing twelve new stories and nine classics from previous collections, Signals is Tim Gautreaux at his best. Effortlessly conjuring the heat and humidity of the author's beloved South, these stories of men and women grappling with faith, small town life, and blue-collar work are alternately ridiculous and sublime. For both longtime fans and readers lucky enough to encounter him for the very first time, Signals cements Gautreaux's place as an American master.
About the Author
---
Tim Gautreaux is the author of three novels and the collections Same Place, Same Thing and Welding with Children, and his work has appeared in The New Yorker, The Atlantic, Harper's, and GQ, as well as multiple times in The Best America Short Stories and New Stories from the South. His many honors include the National Magazine Award, the Southeastern Booksellers Award, the Heasley Prize, the John Dos Passos Prize, and the Louisiana Writer Award. After teaching for thirty years at Southeastern Louisiana University, he now lives, with his wife, in Chattanooga, Tennessee.
Praise For…
---
"In the humble and great problems strewn through Gautreaux's excellent stories, in his primal forests and his crumbling mansions, in his beautiful and intelligent and ambitious sentences, I find [James] Dickey himself after all these years. He practically shakes my hand. And there is [Flannery] O'Connor too, over by herself, asking us all to please quit making such a big deal of things and tell the story. Gautreaux does them both proud." --Rebecca Lee, The New York Times Book Review

"Tim Gautreaux's Signals is prime reading pleasure, rich and gritty stories of people clawing their way through thickets of thorny problems from rotten children to the ruined landscape, all leavened by wit and the dry humor of a hot and damp climate. Junkyards, intense bourrée games, an object of power in an antique safe, loneliness, white-trash style, Christmas vodka, yeah. What you think about that?" —Annie Proulx
 
"With searing truthfulness, great humor, and abiding love, Tim Gautreaux reveals how an astonishing variety of hard-bitten, good-hearted working people both shape and are shaped by his beloved and endlessly intriguing Louisiana back country. Signals is the most entertaining and original story collection to come out of the American South in many years." —Howard Frank Mosher
 
"Tim Gautreaux has long been one of my favorite writers, a literary artist with his own landscape and a distinctive insight into the human heart that's both nuanced and wise. He also happens to be—a rare thing, really—as masterful in short forms as in long. Signals, full of stories both old and new and all equally brilliant, makes his mastery abundantly clear." —Robert Olen Butler
 
"Tim Gautreaux is a masterful American writer and his new collection a wonder: deeply insightful, comic in the Greek sense of comedy lying close to tragedy, with language that's supple and delightful. A singular accomplishment." —Jeffrey Lent
 
"Tim Gautreaux never settles for glibness and easy irony; instead, he has the talent and empathy to find the extraordinary in seemingly ordinary lives, rendered in prose that has the precision and memorability of poetry. Signals further confirms that Gautreaux is one of America's greatest short story writers." —Ron Rash
 
"Tim Gautreaux's stories are richly intricate, brilliantly crafted worlds where humanity is tapped and wisdom springs from the least likely places. Though each is successful and memorable in its own right, his new collection, Signals, sets up a powerful thematic call and response that leaves the reader looking into life with fresh vision and humbled compassion." —Jill McCorkle