Castle of Water: A Novel (Hardcover)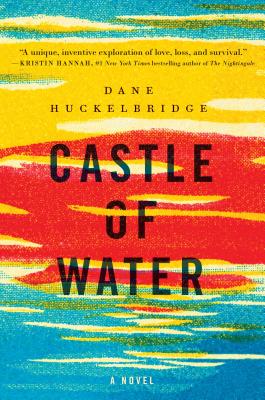 $25.99
Usually Arrives in Store in 1-5 Days
Staff Reviews
---
I'm a big fan of his earlier nonfiction books, so when I learned he had a novel I was really excited. When Sophie and Barry find themselves stranded on a desert island, they must learn to live and work together, and maybe rediscover the joy of living along the way. It's smart, funny, and has a lot of heart.
— From
Andrew
Description
---
"A unique, inventive exploration of love, loss, and survival." —Kristin Hannah, #1 New York Times bestselling author of The Nightingale
"A moving, harrowing, and downright literary novel." —Michelle Gable, New York Times bestselling author of A Paris Apartment
"Brilliant, clever, riveting—pick your adjective, they all apply." —Thomas Christopher Greene, bestselling author of The Headmaster's Wife
Two very different people, one very small island.
For Sophie Ducel, her honeymoon in French Polynesia was intended as a celebration of life. The proud owner of a thriving Parisian architecture firm, co-founded with her brilliant new husband, Sophie had much to look forward to—including a visit to the island home of her favorite singer, Jacques Brel.
For Barry Bleecker, the same trip was meant to mark a new beginning. Turning away from his dreary existence in Manhattan finance, Barry had set his sights on fine art, seeking creative inspiration on the other side of the world—just like his idol, Paul Gauguin.
But when their small plane is downed in the middle of the South Pacific, the sole survivors of the wreck are left with one common goal: to survive. Stranded hundreds of miles from civilization, on an island the size of a large city block, the two castaways must reconcile their differences and learn to draw on one another's strengths if they are to have any hope of making it home.
Told in mesmerizing prose, with charm and rhythm entirely its own, Dane Huckelbridge's Castle of Water is more than just a reimagining of the classic castaway story. It is a stirring reflection on love's restorative potential, as well as a poignant reminder that home—be it a flat in Paris, a New York apartment, or a desolate atoll a world away—is where the heart is.
About the Author
---
Dane Huckelbridge was born and raised in the American Middle West. He holds a degree from Princeton University, and his fiction and essays have appeared in a variety of journals, including Tin House, The New Delta Review, The Wall Street Journal, and The New Republic. Castle of Water is his first novel, although he has also authored two historical works on American whiskey and beer, respectively. He lives with his wife in Paris, France, and New York City.
Praise For…
---
"Castle of Water is a unique, inventive exploration of love, loss, and survival. The novel's two characters, lost and alone on a Polynesian island, must rely on each other when the world has forgotten all about them. Castle of Water is a compelling portrait of what it means to be rescued--both literally and figuratively—by hope, ingenuity, and love." —Kristin Hannah, #1 New York Times bestselling author of The Nightingale
"Far more complex than any given deserted island tale, Dane Huckelbridge has written a moving, harrowing, and downright literary novel in which even the inevitable comes as a surprise. Castle of Water will lift spirits and break hearts. I did not want this story to end." —Michelle Gable, New York Times bestselling author of A Paris Apartment
"Brilliant, clever, riveting—pick your adjective, they all apply. But do pick up Castle of Water, just be careful when you pick it up. For Huckelbridge has spun a yarn that is sure to cost you sleep while you race to the remarkable end. It's that good." —Thomas Christopher Greene, bestselling author of The Headmaster's Wife