The Width of the World (Vega Jane, Book 3) (CD-Audio)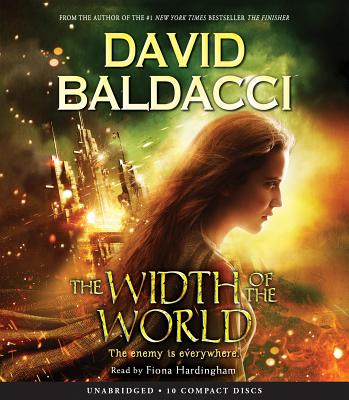 $42.99
Email or call for price.
Other Books in Series
This is book number 3 in the Vega Jane series.
Description
---
Master storyteller David Baldacci is back with Vega Jane, the heroine from his instant #1 global bestselling and award-winning fantasy series.NARRATOR: Fiona HardinghamThe World Will ShatterVega Jane discovered the truth about Wormwood. She made it through the Quag alive. She has come farther than anyone before her. But nothing can prepare her for the devastation that lies ahead.#1 global bestselling author David Baldacci hits hard and fast with Vega Jane and a world like nothing you've seen before.
About the Author
---
David Baldacci is a global #1 bestselling author. His books are published in over 45 languages and in more than 80 countries; over 110 million copies are in print. His works have been adapted for both feature film and television. He is also the cofounder, along with his wife, of the Wish You Well Foundation, which supports literacy efforts across America. David and his family live in Virginia.
Praise For…
---
Praise for Vega Jane Book One, The Finisher:"This vividly described tale takes readers to an original fantasy world full of strange creatures, intriguing relationships, and long-lost secrets. Baldacci knows how to deliver thrills." -- Brandon Mull, #1 New York Times bestselling author of the Fablehaven series"The Finisher is an enchanting romp through a fantastical world worthy of Rowling or Brooks. Baldacci proves that his pen can engage youth as well as adults." -- Richard Paul Evans, #1 New York Times bestselling author of the Michael Vey series"Vega Jane has stolen my heart. I've read several novels in the last few years with female protagonists and none of them are as amazing as Vega. . . . . Her adventures must be continued. To not do so would be a crime. This is the female protagonist I want my daughters to read and emulate." -- SciFi Pulse"What happens when an international best-selling crime novelist tries his hand at a youth fantasy? Well, in this case, success." -- Booklist, starred review"Best known for his adult crime novels, Baldacci makes a detour into middle-grade with this wildly fanciful and darkly intriguing tale of a girl forced to fight for her life as she investigates the secrets of her tiny community." -- Publishers Weekly

Praise for Vega Jane Book One, The Finisher:"This vividly described tale takes readers to an original fantasy world full of strange creatures, intriguing relationships, and long-lost secrets. Baldacci knows how to deliver thrills." -- Brandon Mull, #1 New York Times bestselling author of the Fablehaven series"The Finisher is an enchanting romp through a fantastical world worthy of Rowling or Brooks. Baldacci proves that his pen can engage youth as well as adults." -- Richard Paul Evans, #1 New York Times bestselling author of the Michael Vey series"Vega Jane has stolen my heart. I've read several novels in the last few years with female protagonists and none of them are as amazing as Vega. . . . . Her adventures must be continued. To not do so would be a crime. This is the female protagonist I want my daughters to read and emulate." -- SciFi Pulse"What happens when an international best-selling crime novelist tries his hand at a youth fantasy? Well, in this case, success." -- Booklist, starred review"Best known for his adult crime novels, Baldacci makes a detour into middle-grade with this wildly fanciful and darkly intriguing tale of a girl forced to fight for her life as she investigates the secrets of her tiny community." -- Publishers Weekly