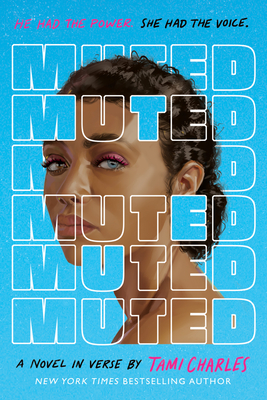 Description
---
A ripped-from-the-headlines novel of ambition, music, and innocence lost, perfect for fans of Elizabeth Acevedo and Jason Reynolds!
Be bold. Get seen. Be Heard.
For seventeen-year-old Denver, music is everything. Writing, performing, and her ultimate goal: escaping her very small, very white hometown.
So Denver is more than ready on the day she and her best friends Dali and Shak sing their way into the orbit of the biggest R&B star in the world, Sean "Mercury" Ellis. Merc gives them everything: parties, perks, wild nights -- plus hours and hours in the recording studio. Even the painful sacrifices and the lies the girls have to tell are all worth it.
Until they're not.
Denver begins to realize that she's trapped in Merc's world, struggling to hold on to her own voice. As the dream turns into a nightmare, she must make a choice: lose her big break, or get broken.
Inspired by true events, Muted is a fearless exploration of the dark side of the music industry, the business of exploitation, how a girl's dreams can be used against her -- and what it takes to fight back.
About the Author
---
Tami Charles is the New York Times bestselling author of numerous books for young readers, including the picture book All Because You Matter (illustrated by Bryan Collier) and the novels Like Vanessa and Becoming Beatriz. In her teens and early twenties, Tami enjoyed a taste of fame as a member of an all-girl R&B trio. They performed for Boyz II Men, BET, and Showtime at the Apollo, and had a one-hit wonder on the radio. After college, Tami worked as an educator for thirteen years before pursuing her childhood dream of becoming an author. For more information on Tami and Muted, visit tamiwrites.com and mutedbook.tumblr.com.
Praise For…
---
Praise for Muted:
* "Heart-racing . . . [a] taut and gritty read." -Booklist, starred review
* "Charles's heartbreaking novel in verse shows the harsh realities of the music industry." -School Library Journal, starred review
"Catapults [readers] toward a breathless, satisfying conclusion." -The Horn Book
"Highly-anticipated . . . Groundbreaking." -Entertainment Weekly
"One of those books that when you finish, you stare at it for a little bit and need a moment before you can do other things – it is that good." -Buzzfeed
"Muted blends the music of beautiful poetry with a powerful and relevant message. A stunning book." -Margarita Engle, Newbery Honor-winning author of The Surrender Tree and Young People's Poet Laureate Emeritus
"A captivating and unflinching view into the dark corners of the music industry where souls are crushed in the silence between songs." -Lamar Giles, author of Spin and Not So Pure and Simple
"An intense ride that unfolds lyrically, Muted is thrumming with emotion, tension and, most of all, heart. A heart-pounding page-turner, from start to finish." -Debbie Rigaud, New York Times bestselling author of Truly Madly Royally and co-author of the Hope series
"Mesmerizing! Raw and honest, Charles captures the voice of a bright young star trapped between a dream and a nightmare in this devastatingly beautiful novel-in-verse -- a page-turning lyrical journey!" -Kim Johnson, best-selling author of This Is My America
Praise for Muted:
"Muted blends the music of beautiful poetry with a powerful and relevant message. A stunning book." -Margarita Engle, Newbery Honor-winning author of The Surrender Tree and Young People's Poet Laureate Emeritus
"A captivating and unflinching view into the dark corners of the music industry where souls are crushed in the silence between songs." -Lamar Giles, author of Spin and Not So Pure and Simple
"An intense ride that unfolds lyrically, Muted is thrumming with emotion, tension and, most of all, heart. A heart-pounding page-turner, from start to finish." -Debbie Rigaud, New York Times bestselling author of Truly Madly Royally and co-author of the Hope series
"Mesmerizing! Raw and honest, Charles captures the voice of a bright young star trapped between a dream and a nightmare in this devastatingly beautiful novel-in-verse -- a page-turning lyrical journey!" -Kim Johnson, best-selling author of This Is My America
Praise for Muted:
* "Heart-racing . . . [a] taut and gritty read." -Booklist, starred review
* "Charles's heartbreaking novel in verse shows the harsh realities of the music industry." -School Library Journal, starred review
"Catapults [readers] toward a breathless, satisfying conclusion." -The Horn Book
"Highly-anticipated . . . Groundbreaking." -Entertainment Weekly
"One of those books that when you finish, you stare at it for a little bit and need a moment before you can do other things – it is that good." -Buzzfeed
"Muted blends the music of beautiful poetry with a powerful and relevant message. A stunning book." -Margarita Engle, Newbery Honor-winning author of The Surrender Tree and Young People's Poet Laureate Emeritus
"A captivating and unflinching view into the dark corners of the music industry where souls are crushed in the silence between songs." -Lamar Giles, author of Spin and Not So Pure and Simple
"An intense ride that unfolds lyrically, Muted is thrumming with emotion, tension and, most of all, heart. A heart-pounding page-turner, from start to finish." -Debbie Rigaud, New York Times bestselling author of Truly Madly Royally and co-author of the Hope series
"Mesmerizing! Raw and honest, Charles captures the voice of a bright young star trapped between a dream and a nightmare in this devastatingly beautiful novel-in-verse -- a page-turning lyrical journey!" -Kim Johnson, best-selling author of This Is My America