The Clasp: A Novel (CD-Audio)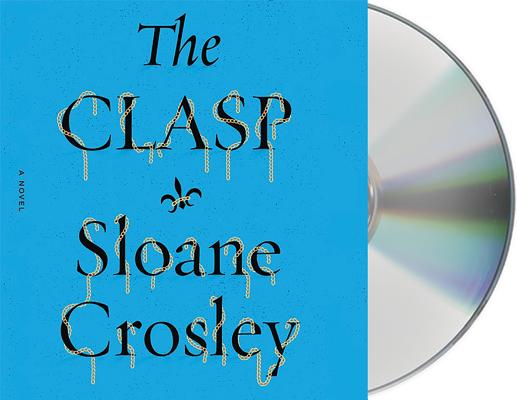 Staff Reviews
---
Sloan Crosley's two bestselling books of essays have been called "hilarious", "charming", and "slightly cracked", so it's no surprise her first novel, The Clasp, has those qualities, too. Three college friends are now in their late twenties on a wedding weekend that turns into an adventurous romp across Europe and a play on Guy de Maupassant's famous short story, "The Necklace," as these millennials find all that glitters is not gold.
— Richard
Description
---
Part comedy of manners, part treasure hunt, the first novel from the writer whom David Sedaris calls "perfectly, relentlessly funny"

Kezia, Nathaniel, and Victor are reunited for the extravagant wedding of a college friend. Now at the tail end of their twenties, they arrive completely absorbed in their own lives-Kezia the second-in-command to a madwoman jewelry designer in Manhattan; Nathaniel the former literary cool kid, selling his wares in Hollywood; and the Eeyore-esque Victor, just fired from a middling search engine. They soon slip back into old roles: Victor loves Kezia. Kezia loves Nathaniel. Nathaniel loves Nathaniel.
In the midst of all this semi-merriment, Victor passes out in the mother of the groom's bedroom. He wakes to her jovially slapping him across the face. Instead of a scolding, she offers Victor a story she's never even told her son, about a valuable necklace that disappeared during the Nazi occupation of France.
And so a madcap adventure is set into motion, one that leads Victor, Kezia, and Nathaniel from Miami to New York and L.A. to Paris and across France, until they converge at the estate of Guy de Maupassant, author of the classic short story "The Necklace."
Heartfelt, suspenseful, and told with Sloane Crosley's inimitable spark and wit, The Clasp is a story of friends struggling to fit together now that their lives haven't gone as planned, of how to separate the real from the fake. Such a task might be possible when it comes to precious stones, but is far more difficult to pull off with humans.
Includes the short story The Necklace, read by Barbara Rosenblat.
About the Author
---
Sloane Crosley
is the author of the
New York Times
bestsellers
I Was Told There'd Be Cake
(a Thurber Prize finalist) and
How Did You Get This Number
. A frequent contributor to
The
New
York
Times
, she lives in Manhattan.
David Pittu is a two-time Tony nominee, and has narrated over 36 audiobooks, including Donna Tartt's The Goldfinch, which earned an Audie for literary fiction and best male narrator. His other work includes The Marriage Plot by Jeffrey Eugenides and An American Spy by Olen Steinhauer. Pittu has also read for Rick Riordan, Ann Rice, and Keigo Higashino, among others.
Well-known for his work in theater, Pittu has appeared off-Broadway in LoveMusik and Is He Dead, for which he received his Tony nominations, as well as Parade, for which he earned a National Broadway Award for Best Actor in a Musical. He is also a writer, member, and director of the Atlantic Theater company. He lives in New York City.
Praise For…
---
"I took so much pleasure in every sentence of The Clasp, fell so completely under the spell of its narrative tone-equal parts bite and tenderness, a dash of rue-and became so caught up in the charmingly dented protagonists and their off-kilter caper that the book's emotional power, building steadily and quietly, caught me off guard, and left me with a lump in my throat." —Michael Chabon, author of Telegraph Avenue
"Sloane Crosley's debut novel is hilarious, insightful, and full of characters and situations that only Sloane Crosley could devise. The laugh-out-loud observations and dialogue that make her essays such a delight to read shine through in her fiction too. The Clasp is a gem." —J. Courtney Sullivan, author of The Engagements
"The Clasp reads like The Goonies written by Lorrie Moore. A touching but never sentimental portrait of a trio of quasi-adults turning into adult adults, this is one of those rare deeply literary books that also features-a plot! From the shores of Florida to the coast of Normandy, wonderful, unforgettable things happen in this enormously hilarious novel. And they are written in a language so beautiful, I gnashed my teeth at Sloane Crosley's talent." —Gary Shteyngart, author of Super Sad True Love Story
"I opened The Clasp and immediately realized that I'd been waiting far too long for Sloane Crosley to write a novel. Crosley is a literary addiction. There is no substitute. She is curious. She is smart. She is hilarious and edgy and generous and impossible to stop reading. Moreover, she misses nothing. Her attention to the seemingly smallest details-material, social, psychological-reveals, as the pages turn, an intricately tooled world that is as familiar as it is dazzling and new." —Heidi Julavits, author of The Folded Clock
"This debut novel from a bestselling essayist follows an interlinked circle of friends on a quest to find a priceless necklace and regain an even rarer treasure: a genuine connection. This trenchant first novel from the author of I Was Told There'd Be Cake (2008) and How Did You Get This Number (2010) is about a necklace; Guy de Maupassant's classic short story, 'The Necklace'; and an interconnected circle of friends from college who, like beads on a broken necklace, have dispersed and rolled off on different paths . . . [A] smart, sardonic, sometimes-zany, yet also sensitive story. . . A real gem." —Kirkus
"Sloane Crosley's first novel is a smart comedy of errors . . . Taking a page from her essay collections (I Was Told There'd Be Cake and How Did You Get This Number), Crosley once again brandishes a mix of smarts and sarcasm to commemorate some of life's more mortifying moments in her first work of fiction...[It] makes not only for fun reading but hints at the surprisingly poignant extent of just how far old acquaintances will go to save one another's hides." —Publishers Weekly