Breaking the Line: The Season in Black College Football That Transformed the Sport and Changed the Course of Civil Rights (Hardcover)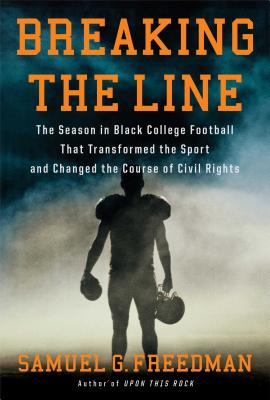 Email or call for price
Hard to Find - Email or Call for Availability
Description
---
1967. Two rival football teams. Two legendary coaches. Two talented quarterbacks. Together they broke the color line, revolutionized college sports, and transformed the NFL.

1967. TWO RIVAL FOOTBALL TEAMS. TWO LEGENDARY COACHES. TWO STAR QUARTERBACKS. TOGETHER THEY BROKE THE COLOR L INE, REVOLUTIONIZED COLLEGE SPORTS, AND TRANSFORMED THE NFL.

In September 1967, after three years of landmark civil rights laws and three months of devastating urban riots, the football season began at Louisiana's Grambling College and Florida A&M. The teams were led by two extraordinary coaches, Eddie Robinson and Jake Gaither, and they featured the best quarterbacks ever at each school, James Harris and Ken Riley.

Breaking the Line brings to life the historic saga of the battle for the 1967 black college championship, culminating in a riveting, excruciatingly close contest. Samuel G. Freedman traces the rise of these four leaders and their teammates as they storm through the season. Together they helped compel the segre­gated colleges of the South to integrate their teams and redefined who could play quarterback in the NFL, who could be a head coach, and who could run a franchise as general manager.

In Breaking the Line, Freedman brilliantly tells this suspenseful story of character and talent as he takes us from locker room to state capitol, from embattled campus to packed stadium. He captures a pivotal time in American sport and society, filling a missing and crucial chapter in the movement for civil rights.
About the Author
---
Samuel G. Freedman is a columnist for The New York Times and a professor at the Columbia University Graduate School of Journalism. He is the author of six acclaimed books, four of which have been New York Times Notable Books of the Year. Freedman also has written frequently for USA TODAY, New York magazine, Rolling Stone, The Jerusalem Post, Tablet, The Forward, and Salon.com. He lives in Manhattan with his fiance and his children.
Praise For…
---
"Call it the year's boldest subtitle. . . . But by tracing the fortunes of Florida A&M and Grambling, Samuel G. Freedman's
Breaking the Line
succeeds in making a compelling argument that the 1967 season was indeed that significant. It's an instructive book, which is not to say it's not entertaining too. It is."
"Veteran journalist Samuel G. Freedman masterfully sketches the landscape in which Grambling's Eddie Robinson and Florida A&M's Jake Gaither recruited and coached powerhouse teams through the intense 1967 season."
"With campuses and the nation in an uproar over civil rights, two legendary coaches prepared their teams for a football classic. . . . Much more than just a sports book."
"
Breaking the Line
is the story of the competition for the 1967 black college championship, told through the lives of the coaches and quarterbacks who endured prejudice at every turn, all while paving the way for integration of the sport of football at all levels. There is plenty of inspiring politics here, but the real pleasure is in the X's and O's: Freedman describes games with the proper mixture of glory and suspense that football can generate even when it's not being used as a catalyst for social change."
"In a book full of smooth prose and jaunty narrative, author Samuel G. Freedman evokes two of the biggest legends of jazz and big bands to compare two iconic powers of black college football — and their coaches. ... Freedman has written more than a sports book. It is a valuable and necessary work of social history."
"A powerful narrative of two men, two teams and the stirring battle for dignity and honor during a single tumultuous season in the 1960's South. Freedman masterfully brings to life the burning ambitions, the cleats on scrubgrass and the struggle for victory by these coaches and players not only as black athletes, but as men and as Americans. A riveting story not only of a season but of a country at the crossroads."
— Isabel Wilkerson, author of The Warmth of Other Suns
"Freedman here looks at the nexus of 20th-century American culture, race and civil rights through sports…. This story is expertly reported and engagingly written. Both sports fans and students of 20th-century American history will be drawn to it."
"Focusing on these remarkable men, their times, their institutions, and their players, Freedman … has produced an informative book … a solid contribution to sports history."
"When history writes people out, it is our job to write them back in. Samuel G. Freedman has done a marvelous job of that in
Breaking the Line
, his illuminating account of football and race in the South."
— David Maraniss, author of When Pride Still Mattered and Clemente
"Samuel Freedman is one of our most gifted chroniclers of history recent and present.
Breaking the Line
is as particular in the humanity it portrays as it is important for the conflict it illuminates: an
Iliad
of college football and social justice."
— Diane McWhorter, author of Carry Me Home
"
Breaking the Line
graphically captures the grim terror of Jim Crow worlds in the South that defined the lives of Jake Gaither and Eddie Robinson during their coaching careers at Florida A&M and Grambling. With his beautiful prose style, Sam Freedman frames black history and the Civil Rights Movement through the lens of football.
Breaking the Line
reads like a novel and offers the reader a deep understanding of how football and black history intersect."
— William Ferris, author of Give My Poor Heart Ease: Voices of the Mississippi Blues