Fire in My Belly: Real Cooking (Hardcover)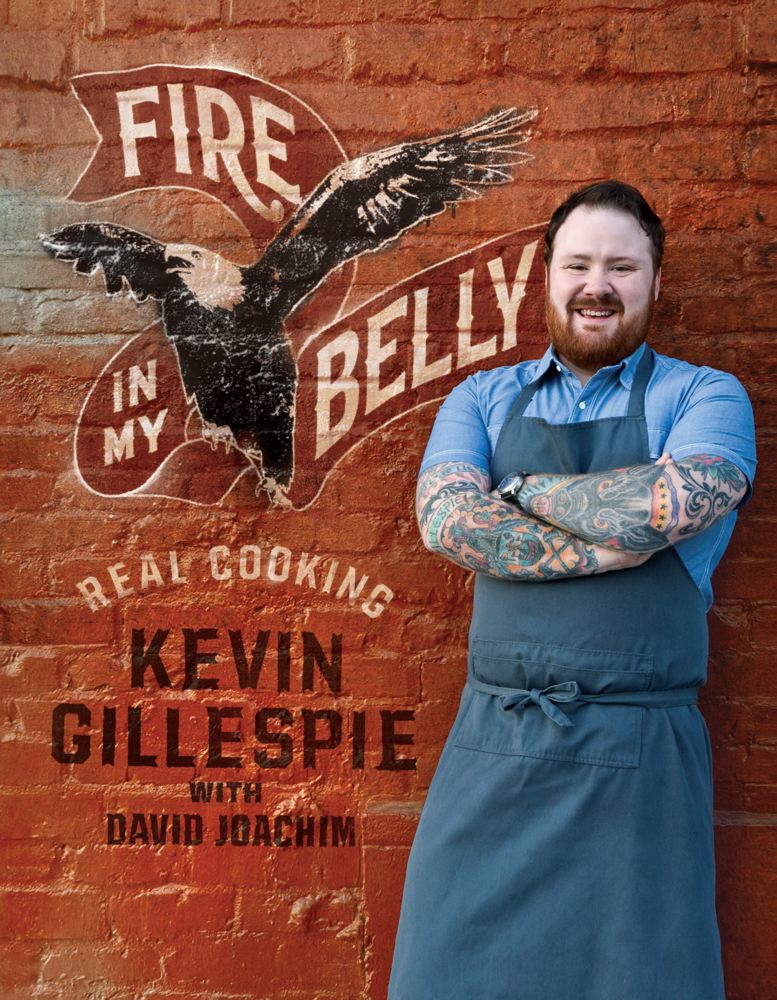 Special Order -- Email or Call for Availability
Description
---
Step into the kitchen with beloved chef and 2016 James Beard Award nominee for Best Chef Southeast, Kevin Gillespie, whose deep commitment, passion, and skill shine throughout this approachable cookbook. This is truly a book to be cooked from again and again.

"Cooking is figuring out the great qualities of any food and making those qualities shine." That's the inspiring message of Fire in My Belly by Top Chef fan favorite Kevin Gillespie. Fire In My Belly celebrates good ingredients with more than 120 hip, accessible recipes presented in a cutting-edge design. This book taps into our national obsession with knowing where our food comes from. Kevin's southern charm, passion, and funny stories guide readers through one-of-a-kind chapters, like "Foods You Thought You Hated," "When I Want to Eat Healthy," "My Version of Southern Food," "World Classics Revisited," and "Junk Food." Fire in My Belly shows cooks what to do with fresh farmers' market foods while providing a backstage pass to the life of a rising culinary star.
About the Author
---
 Chef Kevin Gillespie's true passion lies in serving his customers quality food every day. This enthusiasm means incorporating the use of fresh, organic, and sustainable ingredients in all of his dishes. His goal as executive chef of Gunshow is to redefine the restaurant experience. He along with his two sous chefs compete for diners attention and stomachs by circulating through the dining room and presenting different dishes to choose from. The diner picks what they want to eat from the 3 options based on the story behind each dish.

 An Atlanta, Georgia, native, Gillespie began his culinary education at The Art Institute of Atlanta. After graduating with honors, he went on to hold different positions at several well-known Atlanta restaurants, including chef de partie at Atlanta Grill at The Ritz-Carlton, sous chef at TWO Urban Licks, and chef de cuisine at Woodfire Grill. In August of 2006, Gillespie headed to the West Coast, where he went to work as executive sous chef at Fife in Portland, Oregon. He came back to Woodfire Grill after a year and a half to continue to work for his friend and teacher Michael Tuohy. In the summer of 2008, Nicolas Quinones and Bernard Moussa of Five Senses Restaurants, LLC purchased Woodfire Grill and made Gillespie the new executive chef. In early 2009, Gillespie joined Quinones and Moussa as a partner in the restaurant. In addition to achieving this partnership at the restaurant, Gillespie also earned a spot on Bravo's Emmy- and James Beard award-winning series Top Cheffor the show's sixth season in Las Vegas, in 2009. Proving to be a top contender by winning the most Quickfire Challenges and Elimination Challenges in the history of the show, he stood out as one of the season's final three chef-testants who competed for the Top Chef title in Napa Valley. Gillespie was also voted fan favorite by the viewers of Top Chef.

 As a rising young culinary star who brings more than just good food to the table, Gillespie was named one of Mother Nature Network's top "40 Chefs Under 40" in November 2009, for linking farms to forks and promoting better health for people and the planet. In February of 2010, he was honored as one of Gayot.com's "Top Five Rising Chefs" and named as a semifinalist for the James Beard Foundation's "Rising Star Chef of the Year" award. A few months later, in June, Gillespie was invited to prepare a meal at the James Beard House in New York City, and was also featured on Cooking with Emeril on SIRIUS XM Radio. In 2010, Gillespie was selected as a celebrity chef ambassador for the Monterey Bay Aquarium's Seafood Watch program and also received The Art Institute of Atlanta's Distinguished Alumni Award for his outstanding accomplishments in the restaurant industry. In 2011, Gillespie was again named a semifinalist for the James Beard Foundation's "Rising Star Chef of the Year" award and was nominated for Food & Wine's "The People's Best New Chef". Gillespie has even been honored in cartoon form; in September 2011, he performed the voice-overs for his own character on the season premiere of Squidbillies on Cartoon Network's Adult Swim. In November 2011, Gillespie served as a keynote speaker for the international conference of Les Dames d'Escoffier.

 During Gillespie's time at Woodfire Grill, the restaurant has been featured on CNN and in Travel + Leisure, Food & Wine, and Men's Health as a dining destination for visitors to Atlanta. When he is not at the restaurant, Gillespie can be found participating in culinary events around the country, including the Charleston Food and Wine Festival, Serenbe Southern Chef Series, Charlie Palmer's Pigs & Pinot, High Museum Atlanta Wine Auction, Music to Your Mouth Festival, and Top Chef: The Tour. Additionally, he has partnered with Morelli's Gourmet Ice Cream to open a second location of the shop in Atlanta, and creates a selection of seasonal sundaes for the shop. Gillespie resides in the Ormewood Park neighborhood of Atlanta with his wife, Valerie. He is a member of Slow Food Atlanta, Southern Foodways Alliance, Chefs Collaborative, Georgia Organics, and the Society for the Preservation of Traditional Southern Barbecue. In his spare time, he enjoys camping, playing music, and barbecuing.

 David Joachim has authored, edited, or collaborated on more than 35 cookbooks, including the International Association of Culinary Professionals award--winning The Food Substitutions Bible and the New York Times best-sellers A Man, a Can, a Grill and Mastering the Grill, coauthored with Andrew Schloss. His book The Science of Good Food was an IACP award winner, a James Beard Award finalist, and a World Food Media award finalist for Best Food Book. His latest book is Rustic Italian Food, written with James Beard Award-winning chef Marc Vetri. He is the cofounder of Chef Salt, a line of artisanal salt seasoning blends. He is also a pyromaniac from birth and owns more than 10 grills. His Web site is davejoachim.com.
Praise For…
---
Named one of the "8 Best Southern Cookbooks" (Amanda Waas, Community Table, a division of Parade Magazine)