The Shack Revisited: There Is More Going On Here than You Ever Dared to Dream (Paperback)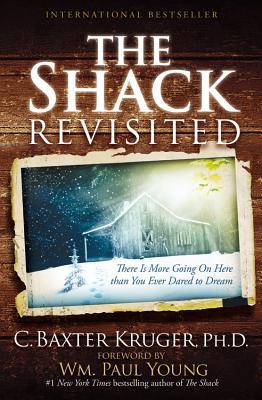 $16.99
Email or call for price.
Description
---
Millions have found their spiritual hunger satisfied by William P. Young's #1 New York Times bestseller, The Shack--the story of a man lifted from the depths of despair through his life-altering encounter with God the Father, God the Son, and God the Holy Spirit. Now C. Baxter Kruger's THE SHACK REVISITED guides readers into a deeper understanding of these three persons to help readers have a more profound connection with the core message of The Shack--that God is love.

An early fan of The Shack and a close friend to its author, Kruger shows why the novel has been enthusiastically embraced by so many Christians worldwide. In the words of William P. Young from the foreword to THE SHACK REVISITED, "Baxter Kruger will stun readers with his unique cross of intellectual brilliance and creative genius as he takes them deeper into the wonder, worship, and possibility that is the world of The Shack."
About the Author
---
C. BAXTER KRUGER, Ph.D. is a Trinitarian scholar and the Director of Perichoresis Ministries, a ministry dedicated to the recovery of the gospel of the Triune God. He has degrees in political science, psychology and his Doctor of Philosophy from Kings College, Aberdeen, Scotland. He is the author of seven books published by his ministry and teaches around the world.
Praise For…
---
To all those who took the time to read and study The Shack, to those who bought several copies or a case or more and gave them away and emailed me your wonderful stories, I want to say, "Thank you, and please read The Shack Revisited." If you want to understand better the perspectives and theology that frame The Shack, this book is for you. Baxter has taken on the incredible task of exploring the nature and character of the God who met me in my own shack. A Mississippi theologian who cut his intellectual teeth in Aberdeen, Scotland with the Torrance brothers, Baxter is a unique cross of intellectual brilliance and creative genius... He is a master of making difficult things understandable for the rest of us. If you found hope and encouragement through The Shack, this book will help you take more steps in knowing the love of Papa, Sarayu, and Jesus.—Wm. Paul Young, Foreword, The Shack Revisited

Among the theological books available to the broader market The Shack Revisited asserts itself like a battleship in a marina full of fiberglass boats. In this book, Baxter Kruger has done more than merely put forward a theological framework for Paul Young's bestseller; he has gathered threads from the entire width of the Christian tradition, and from the depth of two thousand years of history to weave together a clear and compelling restatement of Christian belief, which, for me at least, makes me proud to be called "Christian." I cannot imagine how anyone could possibly refute the logic or the weight of scholarship in this book. Yet it is eminently readable and enthralling. The last chapter on the Holy Spirit is, perhaps, the most remarkable thing I have ever read on the subject. A "must read" for any serious thinker or church leader.—Rev. David Kowalick, Ordained minister in the Uniting Church in Australia

Dr. Kruger's, book, The Shack Revisited encourages a thoughtful and surprising perspective on God based on the ancient orthodoxy of the New Testament and the early Church. Dr. Kruger recalls his first reading The Shack and being gripped by its gut-wrenching drama, then concludes, 'The Shack is not about the disapproving god of our fallen imaginations; it is about the shocking fondness of the triune God for sinners.' Baxter's exposition of the Trinity, who seeks to engage us in a relationship that heals and sanctifies, is incredibly challenging and hopeful.—Dan Price, Ph. D. Pastor, First Presbyterian Church of Eureka, California

There is only one faith that matters, not what we believe about God, but what God believes about us! There is only one authentic theology, not our ideas about God, but the revelation that mankind is God's idea... The Shack Revisited is a remarkable study, and it bears witness of the many hours and indeed years of deep thought, research and logical, anointed reasoning that matured in Baxter's understanding of the infinite riches of the Father, Son and Holy Spirit's eternal intent to unite all things in themselves, which has happened in Jesus Christ, as it was eternally planned... I love the shocking, stubborn, and sober insight that makes both Paul Young's The Shack, and Baxter Kruger's The Shack Revisited most relevant theology! Divine logic is what theology was always meant to be... May this epic study usher in an unstoppable global reformation of re-thinking and remembering our authentic genesis when Deity declared their eternal intent: 'Let us make man in our image and in our likeness!—Francois du Toit, author of The Mirror Bible

Baxter Kruger brings his typical down-to-earth charm to this masterful job of laying out in clear, layman's terms the rock-solid historical Christian theology behind Paul Young's best-selling novel. Fans of The Shack are going to love The Shack Revisited."—Dr. Joseph Tkach, President of Grace Communion International

Throughout the history of the church, the Living God, in His grace, has raised up men and women who are given special grace to understand who He is for us and for the world. One such person for our time is C. Baxter Kruger. Very few people can so winsomely articulate God's Self-revelation as Father, Son, and Holy Spirit, the way Baxter can. I think it is because very few people have been gripped by the Trinity the way Baxter has been! What a fortunate human being he is! Whenever I read his work I am moved to tears; tears of joy as Baxter helps me realize that I too have been included in the inner-life of the Trinity. Everything Baxter writes pulsates with the extravagant, healing, life-giving love of the Trinity. Oh how grateful I am for this blessed theologian ... and brother.—Darrell Johnson, Preaching Pastor for First Baptist Church, Vancouver, Canada, and author of Discipleship on the Edge: An Expository Journey through the Book of Revelation, and Experiencing the Trinity

The Shack Revisited is the best book you will find to help you understand the theology behind The Shack. This book will change the way you see your God, yourself and the world around you. I can't recommend it highly enough to do it justice. Read it and watch your paradigm transform into one of pure grace.—Steve McVey, author of Grace Walk