Delta Jewels: In Search of My Grandmother's Wisdom (Hardcover)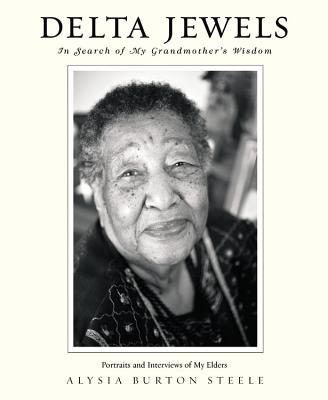 Description
---
Inspired by memories of her beloved grandmother, photographer and author Alysia Burton Steele -- picture editor on a Pulitzer Prize-winning team -- combines heart-wrenching narrative with poignant photographs of more than 50 female church elders in the Mississippi Delta.

These ordinary women lived extraordinary lives under the harshest conditions of the Jim Crow era and during the courageous changes of the Civil Rights Movement. With the help of local pastors, Steele recorded these living witnesses to history and folk ways, and shares the significance of being a Black woman -- child, daughter, sister, wife, mother, and grandmother in Mississippi -- a Jewel of the Delta. From the stand Mrs. Tennie Self took for her marriage to be acknowledged in the phone book, to the life-threatening sacrifice required to vote for the first time, these 50 inspiring portraits are the faces of love and triumph that will teach readers faith and courage in difficult times.
About the Author
---
Alysia Burton Steele won a 2006 Pulitzer Prize with the Dallas Morning News team, where she was picture editor. She is currently an assistant professor at the Mississippi School of Journalism and New Media. She holds an MA in photography from Ohio U. and was born in Harrisburg, PA.
Learn more: AlysiaBurton.com
Praise For…
---
"A captivating journey for those who want to relive the essence of our loved ones who we can no longer touch."—
Reena Evers
,
Executive Director, the Medgar and Myrlie Evers Institute
"What a beautiful celebration of these treasured women. Steele has created a loving memory through these stories and rich portraiture for all of us and for the ages. This book SINGS!"—
Jeanne Moutoussamy-Ashe
"You can't read this book without being transformed back to your grandmother's arms. It is a tender gift of a book featuring the wisdom of Mississippi grandmothers, women seldom asked their views of life publicly. Here, the author handles their lives with such love and respect that we hear both the beautiful plainness and power of their voices."

—
Patrice Gaines
,
author of Laughing in the Dark and Moments of Grace
"Diamonds don't shine like this book's treasures."—
Roy Blount, Jr.
"Delta is a place in memory-a repository of the cotton we picked, the 'Whites Only' signs we obeyed, and the strange fruit found hanging in the trees and bobbing in the rivers during the long, strange night of Jim Crow's America. Veteran photojournalist Alysia Burton Steele plumbs that place in memory through the words and images of over 50 ordinary mothers who made it through that night and emerged with tales to tell."—
Leonard Pitts, Jr.
,
nationally syndicated columnist and author of Freeman
"It has been said that when an old person dies, a library burns to the ground. Alysia Steele's
Delta Jewels
prevents the tragedy of such a monumental loss by lovingly documenting and curating the powerful stories of these amazing Mississippi women. They are the stories that our culture most often overlooks, underestimates, or denies, but exactly the ones we most need to hear in our troubled times, if we are to learn of grace and dignity and resilience and liberation."—
Susan M. Glisson
,
Executive Director, William Winter Institute for Racial Reconciliation
"Alysia Burton Steele's
Delta Jewels
presents to us a visual landscape of immeasurable wealth, wisdom, and dignity. We witness truth, history, memory, and the unforgettable legacy of fifty extraordinary women who share their stories and lives with us. Steele's photographs are hymns, diamonds, work songs, and enduring fields of the South's strongest flowers. Their faces and voices speak clearly in the bright gospel of Steele's intimate and spiritual testimony. Here, you will find in the honor of Steele's portraits, again and again, the triumph of joy and survival in the church elder women's eyes that shine back at you."—
Rachel Eliza Griffiths
,
author of Mule & Pear, Black Caucus of the American Library Association Poetry Award recipient


"Alysia Burton Steele takes us deep into the Mississippi Delta to meet the matriarchs of black church congregations as they share their poignant and often heartbreaking stories of growing up and raising families during the Jim Crow era. But this is more than a journalistic endeavor. Steele hoped these "church mothers" would help her understand the relatively unknown black side of her own biracial family. With grace and candor, these quietly courageous women teach us all about love, faith, hope, and resilience. Through these mesmerizing images and resonant words, I could hear their voices and feel their presence. I was captivated by every one of these 'jewels.' This beautiful book is one to be treasured, re-read, and shared for years to come."—
Susan Puckett
,
author of Eat Drink Delta: A Hungry Traveler's Journey Through the Soul of the South