Embers in the Ashes (Of History and Indifference): You can see the stars. (Hardcover)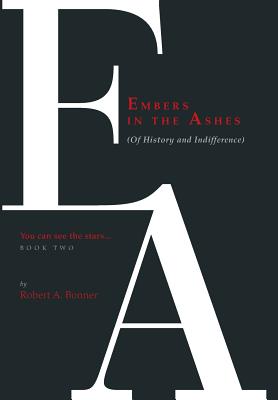 Special Order -- Email or Call for Availability
Description
---
in 1993 an historian wrote:
"... The lynching was especially atrocious: Two young black men were seized, dragged into the woods, and there chained to trees and tortured to death with blowtorches while a howling crowd of whites cursed and taunted them. Photographs were made of the dead bodies...." (K.S. Davis)

This historical novel - ground-breaking in its emotional and graphic intensity - portrays the impact of that atrocity (1937) on two empathetic boys who didn't taunt, but secretly snapped pictures of the living, screaming victims (ironically, one given FDR's surname) - and desperately tried to stop it Two against 500 (some came by school bus). After failing, they fled in despair - but with their Brownie Eagle Eye. Now on a compelling mission - because they'd been 'Ou t T h e r e .'

Shattered, then galvanized, by the failures and heart-breaks of Book I, 'Einstein' Brian and 'Maestro' Marcus become avenging angels in Book II, sworn to strike 'Preacher-Creature Cecil' and his 'henchmen from hell' with the swords of retribution, self-defense, and 'un-Southern' justice. Kids no more, they begin to act like God: 'Somebody has to... '

With images of brutality preserved in camera, conscience, and nightmares, they write to Eleanor and Franklin Roosevelt, and accept their invitation to dinner at the White House. Re-committed to the most profound 'what-if' of the Twentieth Century, the boys mutually pledge themselves to a daunting 'rendezvous with destiny.' And a Time Capsule ticket to 5,000 years into the future from Albert Einstein.......