Don't Suck, Don't Die: Giving Up Vic Chesnutt (American Music) (Paperback)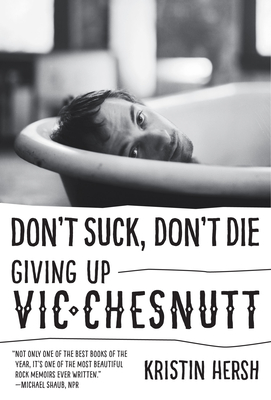 Staff Reviews
---
Hersh has given us a meditational romp through the ups and downs of her friendship with the late singer and songwriter Vic Chesnutt. Talented and tormented Chesnutt and Hersh together extensively for a decade or so, and the two broken souls seemed to find an odd, uneasy companionship that Hersh astutely and creatively explains. Heartbreak and loneliness abound, yet Hersh's playful, poignant and often hilarious style manages to bring a remarkable balance to the despair—an amazing achievement.
— From
Slade
Description
---
"Friend, asshole, angel, mutant," singer-songwriter Vic Chesnutt "came along and made us gross and broken people seem . . . I dunno, cooler, I guess." A quadriplegic who could play only simple chords on his guitar, Chesnutt recorded seventeen critically acclaimed albums before his death in 2009, including About to Choke, North Star Deserter, and At the Cut. In 2006, NPR placed him in the top five of the ten best living songwriters, along with Bob Dylan, Tom Waits, Paul McCartney, and Bruce Springsteen. Chesnutt's songs have also been covered by many prominent artists, including Madonna, the Smashing Pumpkins, R.E.M., Sparklehorse, Fugazi, and Neutral Milk Hotel.

Kristin Hersh toured with Chesnutt for nearly a decade and they became close friends, bonding over a love of songwriting and mutual struggles with mental health. In Don't Suck, Don't Die, she describes many seemingly small moments they shared, their free-ranging conversations, and his tragic death. More memoir than biography, Hersh's book plumbs the sources of Chesnutt's pain and creativity more deeply than any conventional account of his life and recordings ever could. Chesnutt was difficult to understand and frequently difficult to be with, but, as Hersh reveals him, he was also wickedly funny and painfully perceptive. This intimate memoir is essential reading for anyone interested in the music or the artist.
About the Author
---
Kristin Hersh is a founding member of the bands Throwing Muses and 50 Foot Wave. Her memoir Rat Girl was widely praised by publications from the New York Times to Rolling Stone, which named it one of the top ten best rock memoirs ever written.

Amanda Petrusich is the author of several books about music, including Do Not Sell At Any Price: The Wild, Obsessive Hunt for the World's Rarest 78 rpm Records. Her criticism and reporting has appeared in the New York Times, the New York Times Magazine, Pitchfork, Spin, BuzzFeed, and the Oxford American, where she is a contributing editor. She teaches music writing at New York University.