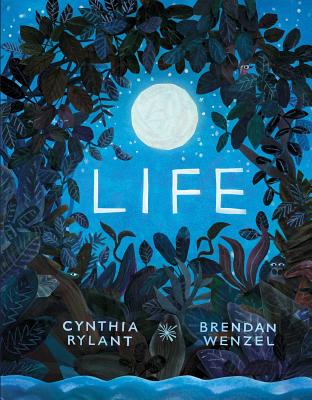 $17.99
Usually Arrives in Store in 1-5 Days
Staff Reviews
---
Beloved author Cynthia Rylant tells us that everything begins small for all animals. Life isn't easy, but living creatures revel in the sun and rain and anticipation of the new day. You may need two copies of this beautiful, affirming book--one to keep and one to share. A grace-filled story.
— From
Leita
Description
---
Cynthia Rylant and Brendan Wenzel explore the beauty and tenacity of life.

Life begins small, then grows…

There are so many wonderful things about life, both in good times and in times of struggle. Through the eyes of the world's animals—including elephants, monkeys, whales, and more—Cynthia Rylant offers a moving meditation on finding beauty around us every day and finding strength in adversity. Brendan Wenzel's stunning landscapes and engaging creatures make this an inspiring and intriguing gift for readers of all ages.
About the Author
---
Cynthia Rylant is the author of more than 100 books for young people, including the beloved Henry and Mudge, Annie and Snowball, Brownie & Pearl, and Mr. Putter & Tabby series. Her novel Missing May received the Newbery Medal. She lives in Lake Oswego, Oregon. Visit her at CynthiaRylant.com.

Brendan Wenzel's artwork often explores the natural world and our relationship to it and he has teamed up with many groups working to preserve wild places and creatures around the world. He has illustrated several acclaimed animal-themed picture books, including Some Bugs and Some Pets by Angela DiTerlizzi, Beastly Babies by Ellen Jackson, and his own They All Saw a Cat. He lives in New York.
Praise For…
---
Rylant (Creation) looks to the natural world for wisdom and consolation as Wenzel's (They All Saw a Cat) lush, heavily worked artwork imagines a primordial Earth with few signs of human existence. "Life begins small," Rylant opens; among bare hills, a lone plant sprouts from red earth. "Then it grows." A fantastic gathering of wild animals and birds looks out at readers expectantly. "Ask any animal on earth, what do you love about life?" Each animal has its own answer ("The hawk will say sky"), and its distinctive nature and perception determine the way it sees the world, just as ours do. Difficulties appear and fade, and when low moments come, "trust the rabbit in the field and the deer who crosses your path." Animals are not just wise: twin vignettes of an eager dog and a wide-eyed cat remind readers that "in every corner of the world, there is something to love." Readers in search of inspiration that does not need to be taken on faith will find it in Rylant's message that to live is to grow.
— Publishers Weekly, STARRED REVIEW

Readers are invited to reflect on life with the help of animals.Addressing readers directly, the narrator opens with a modest statement: "Life begins small." See an elephant grow bigger as it walks underneath the fierce sun and gentle moon, through days and nights. Life, it seems, also promises change—and wonders. A hawk soars in the sky, while elsewhere, a camel stands tall in a desert. Sitting on a rock, a turtle relishes the "rain on its back." Each glimpse of an animal in the natural world elicits a small jolt of joy thanks in part to Caldecott honoree Wenzel's exquisite illustrations, which render these moments with low-key precision. On one page, dark and soft blues bathe an adult elephant and its smaller companion, both gray beacons in a picture of a nighttime march. On another page, a snake blends in with the smeared greens, yellowed brown, and hints of reds that make up the grass. But even with all these merry images, moments of bleakness can follow. The narrator proposes another fact: "Life is not always easy." A small bird flies alone and vulnerable through a storm, seeming lost before it finally breaks through. Thankfully, Rylant keeps the narratorial voice direct and brief during scenes serene or frightful. Flashes of levity in the illustrations and text (think "grassssssssssss") serve to underscore the creators' trust in readers. A splendid tribute to the world and its splendors, with something to offer audiences of a broad range of ages. (Picture book. 4-adult)
— Kirkus Reviews

Veteran author Rylant tackles a subject both as tiny as a leaf and as huge as the cosmos, as various animals are born and work their way through the beautiful, though sometimes scary, world. Most heartening here is the message that when things seem tough, there is always something to love, something to protect, and a reason to arise each morning, if only to find out what happens next. Rylant's poetic text is as spare as Wenzel's artwork is effusive. Occasionally, his nature scenes bring to mind the work of Henri Rousseau, but there is also humor, courtesy of the animals' faces. Both text and art have disjointed moments—asking what the animals love about their lives takes away some of the grandeur, as does the one-and-done appearance of house pets amidst depictions of the natural world. But more important, this book gives a shining overview of life's peaks and valleys and conveys the importance of understanding that a curve in the road only starts a journey anew.


— Booklist

A spiritual yet not overtly religious epistle on hope and the many reasons to embrace life. It opens with the notion that "life begins small." Wenzel shows a seedling surrounded by mountains. The next spread declares: "Even for the elephants. Then it grows." A calf is seen looking up to the enormous adults in its herd. Several animals discuss what they love about life, and as the author acknowledges that "life is not always easy," readers observe a bluebird flying through a storm. They are asked to remember that there is always "something to love…and to protect." The narrative continues in this vein, promising that "it is worth waking up in the morning to see what might happen." The mood of the child-friendly illustrations shifts appropriately from the darkness of the wilderness to the vitality of life seen in a flock of birds crossing the moon. The illustrator infuses the book with humor where possible, such as in the expression of a floppy-eared, stick-bearing dog or a camel kicking up sand across a spread...Wenzel's exuberant paintings...are quite engaging and convey a deep appreciation for the wonders of the natural world.
— School Library Journal