Tales from the Haunted Mansion, Volume IV: Memento Mori (Hardcover)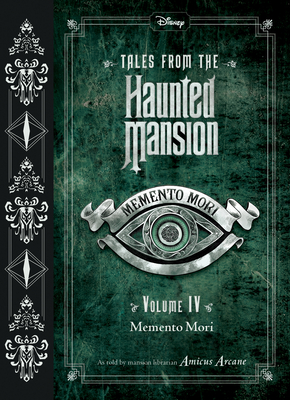 $14.99
Usually Arrives in Store in 1-5 Days
Description
---
The eerie Amicus Arcane is on the hunt for writers, ghost writers, of course, to tell one more story--the scariest story of all. Do you dare join him on this journey? Do you dare enter the Haunted Mansion...? 
Amicus Arcane is about to retire from his position as the ghost librarian of the Haunted Mansion. But before he does, Amicus wants to find the scariest story of all, so he invites ghost writers from all over the world to the Haunted Mansion to tell their tales. As he hears these frightening fictions, Amicus will soon realize that the scariest story of all is--well, that would be telling, wouldn't it? 
Return with us, foolish mortals, if you dare, to the Haunted Mansion for the most terrifying
Tales from the Haunted Mansion
of all--
Volume IV: Memento Mori
.  

Read the entire spooky series!
Tales from the Haunted Mansion: The Fearsome Foursome  (Volume 1)
Tales from the Haunted Mansion: Midnight at Madame Leota's  (Volume 2)
Tales from the Haunted Mansion: Grim Grinning Ghosts  (Volume 3)
Tales from the Haunted Mansion: Momento Mori  (Volume 4
"
About the Author
---
Amicus Arcane Little is known about the dearly departed Amicus Arcane, save for his love of books. As the mansion librarian, both in this life and in the afterlife, Amicus has delighted in all forms of the written word. However, this librarian's favorite tales are those of terror and suspense. After all, there is nothing better to ease a restless spirit than a frightfully good ghost story.
John Esposito When John Esposito met Amicus Arcane on a midnight stroll through New Orleans Square, he was so haunted by the librarian's tales that he decided to transcribe them for posterity. John has worked in both film and television, on projects such as Stephen King's Graveyard Shift, R. L. Stine's The Haunting Hour, Teen Titans, and the Walking Dead web series, for which he won consecutive Writer's Guild Awards. John lives in New York with his wife and children and still visits with Amicus from time to time.

Kelley JonesFor the illustrations accompanying his terrifying tales, Amicus Arcane approached Kelley Jones, an artist with a scary amount of talent. Kelley has worked for every major comic book publisher but is best known for his definitive work on Batman for DC Comics. Kelley lives in Northern California with his wife and children and hears from Amicus every October 31, whether he wants to or not.