If the Creek Don't Rise (Paperback)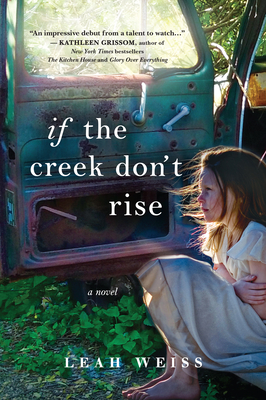 $15.99
Usually Arrives in Store in 1-5 Days
Staff Reviews
---
If we knew what the children in Appalachia, in the world, were going through, we couldn't even begin to help. Parents are children too in some worlds, still resonating from the blows of their own island effect familial dysfunction. Heartwrenching yet beautifully worded prose through a child's musings and point of view bring the reader right into the heart of the matter, abuse, early pregnancy, hopelessness and illiteracy. As usual, these all go hand in hand. This stunning debut novel by Leah Weiss brings the works of Dorothy Allison and Harper Lee to heart and mind.
— From
Jill's 2017 Picks
August 2017 Indie Next List
---
"This debut novel set in a small North Carolina Appalachian village is full of strong Southern voices. Among them is Sadie Blue, a child bride who realizes in a matter of days that she has made a mistake in marrying the ne'er-do-well Roy Lupkin, and Kate Shaw, who answers Minister Eli Perkins' ad for a teacher for the children of Baines Creek. As Kate begins to make a difference in the lives of her students, she realizes they are returning the compliment. Kate offers to teach Sadie Blue to read, helping her to make another life for herself. Each of the characters will touch your heart, and you will cheer for their victories!"
— Elizabeth Merritt, Titcomb's Bookshop, East Sandwich, MA
Top Ten
---
"Leah Weiss' ability to create characters is top notch. Get ready to delve into the rough mountain life of Sadie Blue, a young newlywed with an abusive, moonshining husband, which is not an unfamiliar situation in her family line. Readers will watch Sadie, surrounded by a community of strong and caring Appalachian neighbors, find the strength to believe in herself and save her own life."
— Lauri Weisbecker (W), Island Bookstore, Corolla, NC
Description
---
A] striking debut...--BUSTLE
He's gonna be sorry he ever messed with me and Loretta Lynn.
Sadie Blue has been a wife for fifteen days. That's long enough to know she should have never hitched herself to Roy Tupkin, even with the baby.
Sadie is desperate to make her own mark on the world, but in remote Appalachia, a ticket out of town is hard to come by and hope often gets stomped out. When a stranger sweeps into Baines Creek and knocks things off kilter, Sadie finds herself with an unexpected lifeline...if she can just figure out how to use it.
Fans of The Book Woman of Troublesome Creek will love this intimate insight into a fiercely proud, tenacious community and relish the voices of the forgotten folks of Baines Creek.
With a colorful cast of characters and a flair for the Southern Gothic, If the Creek Don't Rise is a debut novel bursting with heart, honesty, and homegrown grit.
Like Daniel Woodrell's 'hillbilly noir' novel Winter's Bone... If the Creek Don't Rise] unfolds like a dark, gripping alt-country ballad.--Yahoo