Defectors: A Novel (Hardcover)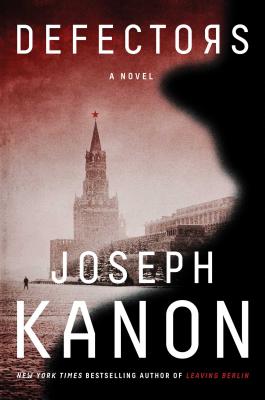 Email or call for price
Hard to Find - Email or Call for Availability
Staff Reviews
---
The fear and paranoia of the Cold War period are brought out forcefully in this tense, taut novel set in the post-Stalinist Soviet Union. An American defector brings,his brother to the country, ostensibly to publish his memoirs, But that is just a cover for a much more elaborate and the levels of deception grow incrementally. It is a story of espionage, murder and deceit and in the end the greatest deception may be that which people perform upon themselves because of their beliefs.
— From
Bill's 2017 Picks
Description
---
A USA TODAY "Must Read" Book
A New York Post "Must Read" Book

"Fascinating…[Kanon] is a master of the genre...[The] roller-coaster plot will keep you guessing until the final page." —The Washington Post

From the bestselling author of Istanbul Passage and Leaving Berlin comes a riveting novel about two brothers bound by blood, divided by loyalty.

In 1949, Frank Weeks, fair-haired boy of the newly formed CIA, was exposed as a Communist spy and fled the country to vanish behind the Iron Curtain. Now, twelve years later, he has written his memoirs, a KGB- approved project almost certain to be an international bestseller, and has asked his brother Simon, a publisher, to come to Moscow to edit the manuscript. It's a reunion Simon both dreads and longs for. The book is sure to be filled with mischief and misinformation; Frank's motives suspect, the CIA hostile. But the chance to see Frank, his adored older brother, proves irresistible.

And at first Frank is still Frank—the same charm, the same jokes, the same bond of affection that transcends ideology. Then Simon begins to glimpse another Frank, still capable of treachery, still actively working for "the service." He finds himself dragged into the middle of Frank's new scheme, caught between the KGB and the CIA in a fatal cat and mouse game that only one of the brothers is likely to survive.

Defectors is the gripping story of one family torn apart by the divided loyalties of the Cold War, but it's also a revealing look at the wider community of defectors, American and British, living a twilit Moscow existence, granted privileges but never trusted, spies who have escaped one prison only to find themselves trapped in another that is even more sinister. Filled with authentic period detail and moral ambiguity, Defectors takes us to the heart of a world of secrets, where no one can be trusted and murder is just collateral damage.
About the Author
---
Joseph Kanon is the Edgar Award–winning author of Defectors, Leaving Berlin, Istanbul Passage, Los Alamos, The Prodigal Spy, Alibi, Stardust, and The Good German, which was made into a major motion picture starring George Clooney and Cate Blanchett. He lives in New York City.
Praise For…
---
PRAISE FOR DEFECTORS:

"Kanon [is] an intelligent writer who produces satisfyingly plotted novels that appeal to readers with brains."
— Philip Kerr

"With his remarkable emotional precision and mastery of tone, Kanon transcends the form. In its subtly romanticized treatment of compromised lives, this book is even better than his terrific previous effort, Leaving Berlin (2015). A blend of Spy vs. Spy and sibling vs. sibling (not since le Carré's A Perfect Spy has there been a family of spooks to rival this one), Kanon reaffirms his status as one of the very best writers in the genre."

"A finely paced Cold War thriller with [Kanon's] usual flair for atmospheric detail, intriguing characters, and suspensful action...Fans of intelligent suspense wil enjoy trying to figure out whom is deceiving whom."

"Fascinating . . . [Kanon] is a master of the genre. . . [The] roller-coaster plot will keep you guessing until the final page."

"Joseph Kanon continues to demonstrate that he is up there with the very best...of spy thriller writers...Kanon writes beautifully, superbly...he is the master of the shadows of the era."

"The critical stock of Joseph Kanon is high, and Defectors will add further lustre to his reputation...There are pleasing echoes here of the "entertainments" of Graham Greene."

PRAISE FOR LEAVING BERLIN:

"Engaging. . . . deftly captures the ambience of a city that's still a wasteland almost four years after the Nazis' defeat. . . . Kanon keeps the story humming along, enriching the main narrative with vignettes that heighten the atmosphere of duplicity and distrust."

"Joseph Kanon's thought-provoking, pulse-pounding historical espionage thriller [is] stuffed with incident and surprise. . . . Mr. Kanon, author now of seven top-notch novels of period political intrigue, conveys the bleak, oppressive, and creepy atmosphere of occupied Berlin in a detailed, impressive manner. . . . Leaving Berlin is a mix of tense action sequences, sepia-tinged reminiscence, convincing discourse and Berliner wit."

"The old-fashioned spy craft, the many plot twists and the moral ambiguities that exist in all of the characters make Leaving Berlin an intriguing, page-turning thriller.There's also a star-crossed love story — and an airport farewell — that might remind some readers of Bogie and Bergman. But it's the author's attention to historical detail — his ability to convey the sights, sounds and feel of a beaten-down Berlin — that makes this book so compelling."

"Kanon, who writes his novels at the New York Public Library, conjures from there a Berlin of authentic menace and such hairpin turns that Leaving Berlin evokes comparisons to John LeCarre and Alan Furst. Such good company."

"Not for nothing has Kanon – whose previous books include The Good German, which was made into a film starring George Clooney and Cate Blanchett, has been compared to the suspense masters Graham Greene and John LeCarre. He's certainly in the ballpark."

"A pleasure from start to finish, blending literary finesse with action, this atmospheric historical thriller will appeal not only to Kanon's many fans but to those who enjoy Alan Furst, Philip Kerr, and other masters of wartime and postwar espionage fiction."

"Another compelling, intellectually charged period piece by Kanon, who works in the shadows of fear as well as anyone now writing."

"Kanon, like Alan Furst, has found a landscape and made it his own. In fact, the two writers make outstanding bookends in any collection of WWII fiction, Furst bringing Paris just before and during the war to vivid life, and Kanon doing the same for Berlin in its aftermath."

"Story, suspense, substance, and style are inextricably linked in a work that masterfully exploits and exquisitely transcends spy-genre possibilities."

"Joseph Kanon continues to demonstrate that he is up there with the very best...of spy thriller writers...Kanon writes beautifully, superbly...he is the master of the shadows of the era."