Selection Day: A Novel (Paperback)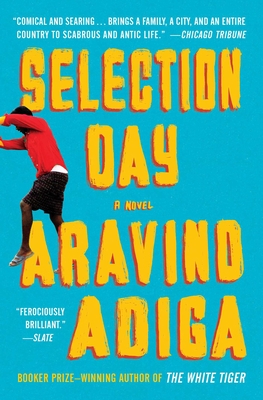 $16.00
Usually Arrives in Store in 1-5 Days
Staff Reviews
---
Adiga burst onto the literary scene with his debut novel, The White Tiger, which went on to win the coveted Booker Prize. He was hailed as fresh voice which reflected a new, gritty, contemporary India. Now in Selection Day he tells the story of two brothers, Manju and Radha, who live in the slums of Mumbai and are being raised by an obsessive, domineering father to become cricket stars. As the boys' father trades on their talent for a step up in life and they come of age, we are immersed in the the social strata of changing India and the result is a bighearted, funny, incisive tale.
— From
Cody's 2017 Picks
Description
---
From the bestselling, Booker Prize-winning author of The White Tiger and Amnesty, a "ferociously brilliant" (Slate) novel about two brothers coming of age in a Mumbai slum, raised by their crazy, obsessive father to be cricket champions.

*A NETFLIX ORIGINAL SERIES * AN NPR BEST BOOK OF THE YEAR * A NEW YORK TIMES and WASHINGTON POST NOTABLE BOOK

Manjunath Kumar is fourteen and living in a slum in Mumbai. He knows he is good at cricket—if not as good as his older brother, Radha. He knows that he fears and resents his domineering and cricket-obsessed father, admires his brilliantly talented sibling, and is fascinated by curious scientific facts and the world of CSI. But there are many things, about himself and about the world, that he doesn't know. Sometimes it even seems as though everyone has a clear idea of who Manju should be, except Manju himself. When Manju meets Radha's great rival, a mysterious Muslim boy privileged and confident in all the ways Manju is not, everything in Manju's world begins to change, and he is faced by decisions that will challenge his sense of self and of the world around him.

Filled with unforgettable characters from across India's social strata—the old scout everyone calls Tommy Sir; Anand Mehta, the big-dreaming investor; Sofia, a wealthy, beautiful girl and the boys' biggest fan—Selection Day "brings a family, a city, and an entire country to scabrous and antic life" (Chicago Tribune).

Aravind Adiga's "voice is so exuberant, his plotting so jaunty, that the sadness of this story feels as though it is accumulating just outside our peripheral vision" (The Washington Post). It is, simply, "extraordinary" (The Atlantic).
About the Author
---
Aravind Adiga was born in India in 1974 and attended Columbia and Oxford universities. He is the author of the novels Amnesty; Selection Day, now a series on Netflix; The White Tiger, which won the Man Booker Prize; and the story collection Between the Assassinations. He lives in Mumbai, India.
Praise For…
---
"Selection Day, Mr. Adiga's third novel, supplies further proof that his Booker Prize, won for The White Tiger in 2008, was no fluke. He is not merely a confident storyteller but also a thinker, a skeptic, a wily entertainer, a thorn in the side of orthodoxy and cant... Powerful... Soulful... What this novel offers is the sound of a serious and nervy writer working at near the top of his form. Like a star cricket batter, Mr. Adiga stands and delivers, as if for days."
— Dwight Garner, New York Times

"The best novel I read this year... In its primal triangle of rival brothers and a maniacal father, hell-bent on success in cricket in India, Adiga grips the passions while painting an extraordinary panorama of contemporary sports, greed, celebrity, and mundanity. As a literary master, Adiga has only advanced in his art since his Booker Prize-winning The White Tiger."
— Mark Greif, The Atlantic

"Adiga seems boundlessly gifted once again. He makes beautiful sentences; creates wonderfully eccentric, original characters; and moves his plot along at a brisk pace. There's energy and wit on every page… Adiga superbly captures the intimacy between the two brothers, as they bicker, tease and protect each other… as Adiga explores themes of ambition, failure, homophobia and threats to freedom — whether on a personal or national level — he has produced a nearly flawless novel, and further proof that he is among our finest contemporary novelists."
— Carmela Ciuraru, The San Francisco Chronicle

"Adiga's wit and raw sympathy will carry uninitiated readers beyond their ignorance of cricket…Adiga's paragraphs bounce along like a ball hit hard down a dirt street. One gets the general direction, but the vectors of his story can change at any moment as we chase after these characters…Selection Day evolves into a bittersweet reflection on the limits of what we can select. Choice — that most enticing Western ideal — does not thrive everywhere equally…Adiga's voice is so exuberant, his plotting so jaunty, that the sadness of this story feels as though it is accumulating just outside our peripheral vision."
— Ron Charles, The Washington Post

"A compelling tale of cricket and corruption... A finely told, often moving, and intelligent novel... Adiga has grown in his art since his Booker prizewinning debut, The White Tiger."
— The Guardian

"Adiga is an exceptionally talented novelist, and the subtlety with which he presents the battle between India's aspirants and its left-behind poor is exceptional."
— Richmond Times-Dispatch

"Selection Day is, by any judgment, top-rate fiction from a young master... Adiga's plot is gripping."
— The Times (UK)

"An engrossing and nuanced coming-of-age novel... Adiga has succeeded in composing a powerful individual story that, at the same time, does justice to life's (and India's) great indeterminacies."--The Sunday Times (UK)
— Sunday Times (UK)

"Sensually told and unpredictably plotted... Adiga's prose has a bustling energy that makes it highly readable."
— The Financial Times (UK)

"A captivating and sensitive coming-of-age story that tackles various new themes: the confounding nature of sexuality; the darkness that accompanies excellence and achievement... Adiga's characters, like his settings, are getting more complex with each book, and this complexity makes his indictment of the contemporary world all the more urgent and convincing."
— Times Literary Supplement (UK)

"A master class in integrating character and landscape... Peppered with dashes of humor, this dark and unflinching story is an unqualified triumph."
— Booklist, starred review

"Brilliant, raw energy ricocheting off of every line."
— Publishers Weekly, starred review

"[A] scathingly satiric novel of modern Indian life…ambitious… smart, spot-on."
— The Milwaukee Journal-Sentinel

"Captivating."
— Harper's Bazaar

"A great read, even if you're not a fan of cricket."
— Bustle

"Adiga writes a prose of crazed energy, bright color and acrobatic logic... comical and searing… Selection Day brings a family, a city and an entire country to scabrous and antic life."
— Michael Upchurch, The Chicago Tribune

"Ambitious… filled with smart, spot-on observations about the perils of growing up."
— Mike Fisher, The Milwaukee Journal-Sentinel

"Spirited…the elements of Selection Day are strong throughout: a dramatic, readable arc; satire glinting with hints of tragedy; a witty, vibrant voice."
— Hamilton Cain, The Minneapolis Star Tribune

"Wonderfully original."
— Ru Freeman, The Boston Globe

"Exuberant and incisive…Each sentence flickers like a match with life. Adiga swoops in and out of his characters' inner voices with frightening precision and speed, laying out the paranoia, obsessions, tokens, idols, and self-made prisons of each man in a few bright, laserlike sentences…Richness and rot, decadence and decay, cricket and corruption: These make up Adiga's Mumbai. Selection Day asks: Amidst all this, is there any such thing as freedom?"
— Annalisa Quinn, NPR

"Many novelists are called Dickensian, but Adiga comes closer than most, albeit with every last speck of Victorian sentimentality suctioned out. His characters are brightly and sharply drawn and animated with great energy; reading about his Mumbai is like taking a double shot of espresso…You need not know anything about cricket in any of its variations to savor Selection Day. In fact, you don't need to have any interest in sports at all. Cricket serves Adiga as a marvelously flexible metaphor: for the (lost) dream of civic integrity, for tradition and authority, for the contest that is life in a rapidly evolving economy…Class is Adiga's great theme, and his depiction of its workings in India ranges from the fondly comical to the savage…[a] ferociously brilliant novel."
— Laura Miller, Slate

"Mr. Adiga writes with customary acerbity and astuteness. Class resentment is the gasoline that fuels the brothers' ambitions and gives this novel its noisy volatility. The gritty urban realism that animated The White Tiger and Last Man in Tower is again on display…Selection Day churns with the same propulsive energy."
— Sam Sacks, The Wall Street Journal

"This is a novel with a broad sweep, accomplished with commendable economy and humor, in a sinewy, compact prose that has the grace and power of a gifted athlete. And it pulses with affection for Mumbai itself; the effortless sociological dissection recalls Katherine Boo's Behind the Beautiful Forevers... Selection Day transcends sport. This is a book about choice and destiny, smothering family ambition and the pull of a young person's nascent identity. You're just going to have to trust me that the cricket is worth it."
— Marcel Theroux, The New York Times Book Review

"Energetic… Adiga's barbed prose deftly skewers India's tangled religious and class dynamics, and its literary stereotypes."
— The New Yorker