Heavy: An American Memoir (Compact Disc)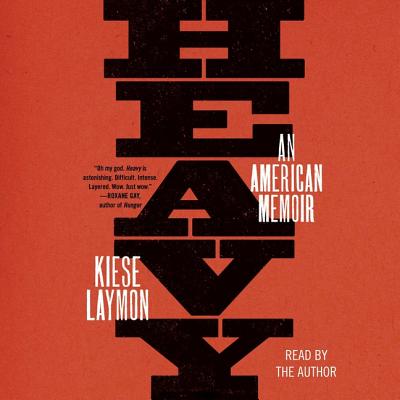 $34.99
Email or call for price.
Staff Reviews
---
Heavy is the utterly unvarnished story of Kiese Laymon's coming of age in Jackson, Mississippi. Its narrative is addressed "you"—you being his mother, who cautions Kiese in seventh grade to "be twice as excellent and be twice as careful from this point on," because "Being twice as excellent as white folk will get you half of what they get. Being anything less will get you hell." This incredible book now joins a memoir pantheon that includes North Toward Home, Black Boy, One Writer's Beginnings, All God's Dangers, Harry Crews' A Childhood, and The Men We Reaped—books that matter and will last a long, long time. It is full of drama and laughter and fear and darkness and love, and to read it is a frightening, joyful and simply awesome experience. With an ear for language as fine as any writer we've known, Laymon and Heavy, with its subtitle of An American Memoir, bring to life Willie Morris' theorem that "America is Mississippi writ large."
— Richard
November 2018 Indie Next List
---
"Telling the truth has always been a radical and political act, but Kiese Laymon writes in Heavy with a rare, vulnerable unity of personal urgency and political clarity. This is a story about how our country's lies and thefts weigh heavily on the hearts and souls of its black mothers and sons. About how dishonesty about white supremacy, money, sex, and violence threads through our most intimate relationships and causes us to become strangers to ourselves. If Heavy is about lies, it is also fundamentally about the redemptive power of truth, stories, language, and joy. If there's a way out of the loneliness of being human in a country that does not value or support humanity, Laymon suggests, it is in the connection we find in the words we toss to one another, like lifelines, like laughter."
— E.R. Anderson, Charis Books & More, Atlanta, GA
Description
---
Provocative and genre-bending essayist and novelist Kiese Laymon sets out to lose 150 pounds in a year, talks with his mother and grandmother about their relationships to weight in America-and chronicles what a lifetime of secrets, lies, and deception do to a black body, a black family, and a nation teetering on the brink of moral collapse.
Kiese Laymon is a fearless writer. In his essays, personal stories combine with piercing intellect to reflect both on the state of American society and on his experiences with abuse, which conjure conflicted feelings of shame, joy, confusion, and humiliation. Laymon invites us to consider the consequences of growing up in a nation wholly obsessed with progress yet wholly disinterested in the messy work of reckoning with where we've been.
In Heavy, Laymon writes eloquently and honestly about growing up a hard-headed black son to a complicated and brilliant black mother in Jackson, Mississippi. From his early experiences of sexual violence, to his suspension from college, to his trek to New York as a young college professor, Laymon charts his complex relationship with his mother, grandmother, anorexia, obesity, sex, writing, and ultimately gambling. By attempting to name secrets and lies he and his mother spent a lifetime avoiding, Laymon asks himself, his mother, his nation, and us to confront the terrifying possibility that few in this nation actually know how to responsibly love-and even fewer want to live under the weight of actually becoming free.
A personal narrative that illuminates national failures, Heavy is defiant yet vulnerable, an insightful, often comical exploration of weight, identity, art, friendship, and family that begins with a confusing childhood-and continues through twenty-five years of haunting implosions and long reverberations.