Extreme Stories from the Extreme Hills: 5-Minute Adventure Stories for Minecrafters (5-Minute Stories for Minecrafters) (Paperback)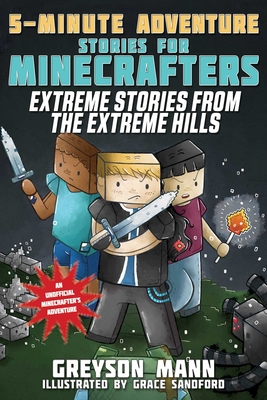 $7.99
Usually Arrives in Store in 1-5 Days
Description
---
While Audrey yearns for new adventures, her brother Oliver dreams of hidden treasures. When the twins explore different biomes, they find plenty of both in 5-Minute Adventures for Minecrafters, an all-new series of stories for Minecrafters that can be read in 5 minutes!

In Extreme Stories from the Extreme Hills, Audrey and Oliver collect many treasures—and mini adventures. For every dangerous hike up a rocky cliff, there's a waterfall roaring back down. Each dungeon hides a treasure chest—but also a monster spawner! As the mobs get deadlier, the stakes grow higher. The twins hope to make it back to Birchtown with their treasures in hand. Will the next ravine lead to riches or to a river of hot lava? There's only one way to find out.

These five-minute stories promise plenty of twists and turns—and surprise endings. In 5-Minute Adventures for Minecrafters: Extreme Stories from the Extreme Hills, the twins explore one of the Overworld's most treacherous terrains, one exciting step at a time.
About the Author
---
Greyson Mann is the author of the Creeper Diaries series and the Secrets of an Overworld Survivor series from Sky Pony Press. He kept diaries like Gerald's when he was a middle schooler. He kept right on writing through high school and college and now creates books for kids from his home in Madison, Wisconsin. Greyson enjoys playing Minecraft with his nephew, sometimes writes bad rap songs, and hangs out with his three sisters, whom he now adores.

Grace Sandford is an illustrator and designer whose clients include Palmer Hargreaves, Stew magazine, Green Android Ltd., and Paper and Apparel. Her books include the two previous books in the Secrets of an Overworld Survivor series; Tough Cookie, written by Kate Louise; and The Egg, which she both wrote and illustrated. She currently resides in Norwich, England.