Nadya Skylung and the Cloudship Rescue (Hardcover)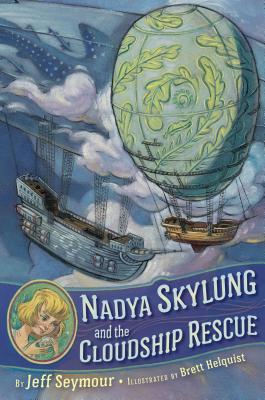 $16.99
Email or call for price.
Staff Reviews
---
During this unique fantasy set on an air ship, exiting adventures await Nadya Skylung as she navigates her new abilities, new responsibilities, and pirates. I always yearn for a book with a world that is new instead of a variation of what I've read before. This is that book. I could not put it down.
— From
Molly
Description
---
From debut author Jeff Seymour and bestselling illustrator Brett Helquist (Lemony Snicket's A Series of Unfortunate Events) comes this breathtaking fantasy adventure, starring an extraordinary new heroine and set in an unforgettable world where ships can fly.

It takes a very special crew to keep the cloudship Orion running, and no one knows that better than Nadya Skylung, who tends the cloud garden that keeps the ship afloat. When the unthinkable happens and pirates attack, Nadya and the other children aboard--all orphans taken in by the kindhearted Captain Nic--narrowly escape, but the rest of the crew is captured. Alone and far from help, only Nadya and her four brave and loyal friends can take back the Orion and rescue the crew. And she'll risk life and limb to save the only family she's ever known. But . . . this attack was no accident. What exactly are the pirates looking for? Could it be Nadya they've been after all along?

"Nadya Skylung is one smart, sassy, spitfire heroine with gills. I love her!" --Liesl Shurtliff, New York Times bestselling author of Rump

"A stunningly imaginative world unlike anything I've seen before. It is thrilling, it is emotional, and it is wholly original." --M. A. Larson, author of Pennyroyal Academy

"A stunning debut filled with derring-do, surprises, and truly original world building." --J. A. White, author of The Thickety
About the Author
---
Jeff Seymour makes his middle-grade debut with Nadya Skylung and the Cloudship Rescue. In addition to writing speculative fiction, he works as a freelance editor. Jeff lives an unexpectedly hectic life with his wife, their son, and two energetic cats. Visit him online at jeff-seymour.com and on Twitter at @realjeffseymour.

Brett Helquist has illustrated many books for children, including the bestselling A Series of Unfortunate Events by Lemony Snicket. He lives with his family in Brooklyn, New York. Learn more at bretthelquist.com and on Twitter at @BHelquist.
Praise For…
---
"Nadya Skylung is one smart, sassy, spitfire heroine with gills. I love her!" —Liesl Shurtliff, New York Times bestselling author of Rump

"Nadya Skylung and the Cloudship Rescue has the heart and soul of a classic adventure story wrapped up inside a stunningly imaginative world unlike anything I've seen before. It is thrilling, it is emotional, and it is wholly original." —M. A. Larson, author of Pennyroyal Academy

"Giant air ships powered by cloud plants? A spunky heroine with gills? Crafty fire creatures? You'll find this and more in Nadya Skylung and the Cloudship Rescue, a stunning debut filled with derring-do, surprises, and truly original world building. Fortunately, an action-packed ending promises more adventures for Nadya and her friends. Sign me up!" --J. A. White, author of The Thickety   

"Nadya Skylung and the Cloudship Rescue is a skylarking adventure chockablock with secrets to unravel. Be prepared for a wild ride—the crew of the Orion quite literally sails close to the wind, and while this book is an exciting stand-alone, it's clear Nadya's adventure is far from over. " --Sarah Cannon, author of Oddity

"With a rich and fascinating world, Nadya Skylung and the Cloudship Rescue will float right into your heart. Nadya and her crewmates are the perfect mix of flawed and competent that makes you root for them. Their unique personalities and talents give everyone a chance to shine and be the hero in this grand adventure." --Janice Hardy, author of The Healing Wars    

"A brilliantly characterized debut. A stunning read that explores ideas of what bravery means though rich writing, vivid descriptions, and a strong voice. Readers will be eager to explore this breathtaking and dangerous steampunk world set in the sky." --Booklist

"This is a moving fantasy novel with strong world-building, intriguing characters, and touching themes about the meaning of family and sacrifice." --School Library Journal

"Readers who love action-adventure stories will enjoy reading about Nadya and her friends." --Kirkus Reviews

"A tense conclusion will leave readers curious about Nadya's background and place in this absorbing universe." --Publishers Weekly

"This complex fantasy world rings true, and the relationships among the characters are true-to-life." --School Library Connection