Ten Fat Sausages (Hardcover)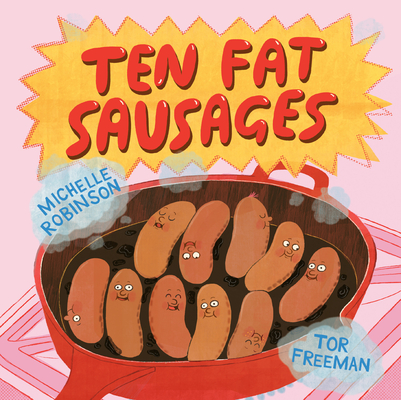 Description
---
Count along in this hilarious rhyming picture book as ten sizzling sausages attempt a daring escape from the frying pan! But with a kitchen full of dangers, will they make it out alive?

Ten fat sausages sizzle in a pan... a place, they realize, where they do not want to be. So they decide to do something daring. Try something new. They're going to make a run for it.

Come on a great escape through the kitchen as we follow each sausage on their journey. Will they succeed? Or will the cat, blender, or fan prove their downfall? Hilarious and merciless, this is a story of underdogs who dare to dream of freedom, and find out along the way... it may not be so easy.
About the Author
---
Michelle grew up in Gloucestershire, England, and loved making up stories and being silly. She put that to good use by getting a job as a copywriter, writing more than 6000 radio advertisements before moving on to television and the web. She soon got bored, though, which is when she started writing funny stories for children and their parents to enjoy reading umpteen times. Her picture book There's a Lion in My Cornflakes won the Sainsbury's Children's Book Awards. She lives with her husband, son, and daughter.

Tor grew up in London and graduated from Kingston University with a BA in illustration. She has been working as an illustrator ever since. In 2012 she was awarded the Sendak Fellowship.