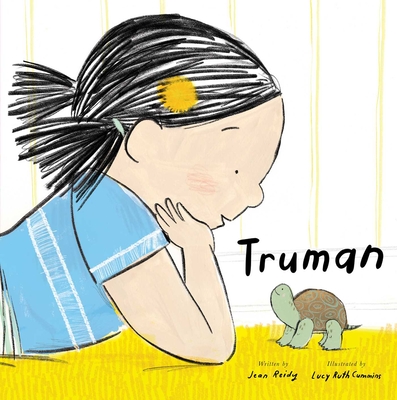 Description
---
An NPR Favorite Book of 2019
A New York Times Best Children's book of 2019
A Kirkus Reviews Best Picture Book of 2019
A School Library Journal Best Picture Book of 2019

"An enchanting tale of bravery, heroism, and undying devotion." —The New York Times Book Review

After his best friend Sarah leaves for her first day of school, a tortoise named Truman goes on an adventure across the living room and learns to be brave in this thoughtful and heartwarming twist on a first experience story.

Truman the tortoise lives with his Sarah, high above the taxis and the trash trucks and the number eleven bus, which travels south. He never worries about the world below…until one day, when Sarah straps on a big backpack and does something Truman has never seen before. She boards the bus!

Truman waits for her to return.
He waits.
And waits.
And waits.
And when he can wait no longer, he knows what he must do.

Even if it seems…impossible!
About the Author
---
Jean Reidy once lived high above honking taxis, growling trash trucks, shrieking cars, and, of course, buses traveling in every direction. And she might like to again someday. But for now, she writes from her home in Colorado, right across the street from her neighborhood library, which she loves. Her fun, lively, and award-winning picture books have earned their spots as favorites among readers and listeners of all ages. Admittedly, she's never had a tortoise…but over the years she has resided with a not-so-well-behaved assortment of turtles, parakeets, lizards, goldfish, hamsters, and even one feisty fire-bellied toad. Visit Jean online at JeanReidy.com.

Lucy Ruth Cummins is an author, an illustrator, and an art director of children's books. Her debut picture book, A Hungry Lion, or A Dwindling Assortment of Animals, was a finalist for the Governor General's Award, an Irma Black Honor Book, and an ALA Notable Book. She is also the author-illustrator of Stumpkin and Vampenguin. As a little girl, she had a turtle for a pet, but he ran away. Really. She lives with her little family in Brooklyn, New York. Visit her online at LucyRuthCummins.com.
Praise For…
---
* "The ending...is just right....Peaceful and pensive like Truman himself, this book charms; there's just something uplifting and wonderful about the whole package. Never underestimate the feats an animal will brave in order to be reunited with their loved ones."
— Kirkus Reviews - starred review

"The smallness of Truman's world makes his expedition appropriately daunting—and funny—as he makes his way out of his tank and toward the door....Observational humor, clear affection between Truman and Sarah, and bold adventure make this a memorable pet-owner love story."
— Publisher's Weekly

"Truman's seemingly small accomplishment will give readers and viewers cause to celebrate and appreciate the things they achieve every day, no matter the size."
— Bulletin of the Center for Children's Books

"Utterly heartwarming ... Children will be eager to hear what their pets go through while they're away at school, and the uplifting story of friendship and bravery will satisfy widely. Using gouache, brush marker, charcoal, and colored pencil, Cummins has rendered in Truman a character so indisputably adorable that, coupled with Reidy's soulful characterization, he will have readers of all ages falling in love."
— Booklist

* "Charming and humorous illustrations...Tiny Truman is endearing and his adoration, concern, and determination are reflected on his little face. VERDICT A heartwarming tale of devotion that will be enjoyed by children and their adults."
— School Library Journal - starred review

"At the heart of this story, paralleling a child's own first journey into the unknown that is school, is the affectionate relationship between Sarah and Truman...and there's much humor and drama in Truman's exertions. Cummins's relaxed-line, mixed-media illustrations bring the family's cozy world to life, and the occasional use of a larger, bolder font emphasizes the heroics needed for Truman's journey. This little creature has big courage, something to which small humans can relate."
— The Horn Book

"An enchanting tale of bravery, heroism and undying devotion....Cummins's delectable art captures the warm, witty heart of the story."
— The New York Times Book Review

"Jean Reidy captures the vastness of the world and the courage required to sally forth...in this sweet tale of valor, affection, and enterprise."
— The Wall Street Journal