The Watery Part of the World (Hardcover)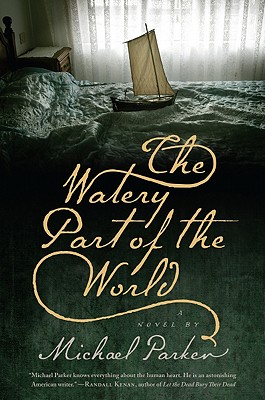 $23.95
Email or call for price.
Description
---
Michael Parker's vast and involving novel about pirates and slaves, treason and treasures, madness and devotion, takes place on a tiny island battered by storms and cut off from the world. Inspired by two little-known moments in history, it begins in 1813, when Theodosia Burr, en route to New York by ship to meet her father, Aaron Burr, disappears off the coast of North Carolina. It ends a hundred and fifty years later, when the last three inhabitants of a remote island—two elderly white women and the black man who takes care of them—are forced to leave their beloved spot of land. Parker tells an enduring story about what we'll sacrifice for love, and what we won't.
About the Author
---
Michael Parker is the author of six novels and three collections of stories. His short fiction and nonfiction have appeared in the Washington Post, the New York Times Magazine, the Oxford American, Runner's World, Men's Journal, and other publications. His work has been anthologized in The O. Henry Prize Stories and The Pushcart Prize. He is the Nicholas and Nancy Vacc Distinguished Professor in the MFA Writing Program at the University of North Carolina at Greensboro. He lives in Saxapahaw, North Carolina, and Austin, Texas.
Praise For…
---
i"Parker invokes magic as well as mystery in exploring the ways the past not only haunts the present but in some ways anticipates it. Like Faulkner and O'Connor, Parker creates a place of beauty and complexity which, in the end, one is reluctant to leave...A vividly imagined historical tale of isolated lives." --Kirkus Reviews

— Washington Post
"This is a highly readable study of fear, compulsion, and what it means to be trapped. The writing is smoky and beautiful; the lonely island setting is the most compelling character in the story. Against this backdrop, Parker delves into the human heart and distills for his readers the truths found there."—Library Journal


— Publishers Weekly
"In a lush feat of historical speculation, Michael Parker imagines that Theo survived a pirate attack off the coast of North Carolina and lived out a long, conflicted life on one of the barrier islands. The Watery Part of the World — that evocative title comes from ­Moby-Dick — is an emotionally acute tale about a brilliant woman of privilege who must suddenly use her wits to avoid dismemberment, rape and starvation… … [Parker] lays out a bewitching triangle of dependent relationships in this inclement Gothic tale." --Washington Post

— Los Angeles Times
"Parker's complex world is stocked with compelling characters brought to life by elegant prose." --Publishers Weekly


— People Magazine
"A remarkable story… The entire novel has a blue-green, underwater feel, a timeless forgetfulness."—Los Angeles Times

"Parker slices open each isolated life with humor and gentleness, and the familiar battles with loss and loneliness he chronicles makes even this remotest of locations feel close to home."—People

"Parker slices open each isolated life with humor and gentleness, and the familiar battles with loss and loneliness he chronicles make even this remotest of locations feel close to home."
—People, 4-star review
"I found The Watery Part of the World all but impossible to put down . . . This elegantly written tale reflects on the nature of race, love, regret, dependence, fear, sorrow, honor and envy—the eternal challenges of being human. The characters, even the minor ones, are fully formed, the setting is so vividly described that you feel you know it intimately, and Parker's writing is purely wonderful." —Nancy Pearl, NPR.org

"A lush feat of historical speculation . . . Disparate parts—pirates and aristocrats in one century; elderly ladies and their handyman in another . . . But Parker has managed to stir them together in a vivid tale about the tenacity of habit and the odd relationships that form in very small, difficult places."
—The Washington Post



"A remarkable story . . . The entire novel has a blue-green, underwater feel, a timeless forgetfulness."
—Los Angeles Times