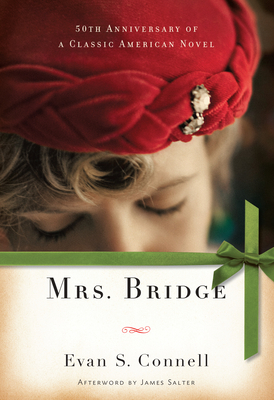 Staff Reviews
---
Evan S. Connell's Mrs. Bridge (and her novel husband Mr. Bridge) form a modest but quietly profound portaiture of mid-20th century middle America that is likely to resonate in our literary canon for a good long while.
— From
Richard's 2015 and older picks
Description
---
"Again and again. . . I find myself being a Mrs. Bridge evangelist, telling them that it's a perfect novel, and then pressing copies on them. . . What writing Economical, piquant, beautiful, true." --Meg Wolitzer, The New York Times In Mrs. Bridge, Evan S. Connell, a consummate storyteller, artfully crafts a portrait using the finest of details in everyday events and confrontations. The novel is comprised of vignettes, images, fragments of conversations, events--all building powerfully toward the completed group portrait of a family, closely knit on the surface but deeply divided by loneliness, boredom, misunderstandings, isolation, sexual longing, and terminal isolation. In this special fiftieth anniversary edition, we are reminded once again why Mrs. Bridge has been hailed by readers and critics alike as one of the greatest novels in American literature.
Praise For…
---
Mr. Connell writes of this woman without patronage, without snickers, without, indeed, any comment whatever on what he sets down of her life. He tells her story, less in sketches than in paragraphs, and how it is done I only wish I knew, but he makes Mrs. Bridge, her husband and her children and her neighbors understandable and, because understandable, moving, in his few taut words." Dorothy Parker, Esquire

Mrs. Bridge is a hell of a portrait . . . She's as real and as pathetic and as sad as any character I have read in a long time." Wallace Stegner

For all their satire and dark implications, the novels of the Bridge family remain in the memory as triumphs of faultless realism. Mr. Connell's art is one of restraint and perfect mimicry." The New York Times