The Book of Ebenezer Le Page (Paperback)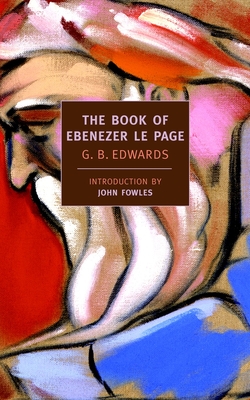 $18.95
Email or call for price.
Staff Reviews
---
Guernseyman Ebenezer Le Page is one of the most wonderful unsung characters in English literature, and this novel about his life is one of the greatest books I have ever read.
— From
Lisa
Description
---
Ebenezer Le Page, cantankerous, opinionated, and charming, is one of the most compelling literary creations of the late twentieth century. Eighty years old, Ebenezer has lived his whole life on the Channel Island of Guernsey, a stony speck of a place caught between the coasts of England and France yet a world apart from either. Ebenezer himself is fiercely independent, but as he reaches the end of his life he is determined to tell his own story and the stories of those he has known. He writes of family secrets and feuds, unforgettable friendships and friendships betrayed, love glimpsed and lost. The Book of Ebenezer Le Page is a beautifully detailed chronicle of a life, but it is equally an oblique reckoning with the traumas of the twentieth century, as Ebenezer recalls both the men lost to the Great War and the German Occupation of Guernsey during World War II, and looks with despair at the encroachments of commerce and tourism on his beloved island.

G. B. Edwards labored in obscurity all his life and completed The Book of Ebenezer Le Page shortly before his death. Published posthumously, the book is a triumph
of the storyteller's art that conjures up the extraordinary voice of a living man.


"Imagine a weekend spent in deep conversation with a superb old man, a crusty, intelligent, passionate and individualistic character at the peak of his powers as a raconteur, and you will have a very good ideas of the impact of The Book of Ebenezer Le Page...It amuses, it entertains, it moves us..." –The Washington Post

"A true epic, as sexy as it is hilarious, it seems drenched with the harsh tidal beauties of its setting...For every person nearing retirement, every latent writer who hopes to leave his island and find the literary mainland, its author–quiet, self-sufficient, tidy Homeric–remains a patron saint." –Allan Gurganus, O Magazine
About the Author
---
G. B. Edwards (1899—1976) was born on the British Island of Guernsey. A professor of drama and literature at Toynbee Hall, his friends included Middleton Murray, J.S. Collis, and Stephen Potter. Though full of promise, he published only a handful of articles. Encouraged by Edward Chaney to create a trilogy of novels on island life, he completed only one, The Book of Ebenezer Le Page.

John Fowles (1926—2005) was born in Leigh-on-Sea, in the south-east of England, and educated at Oxford. His best-known novels are The French Lieutenant's Woman and The Magus.
Praise For…
---
"Recently reprinted by New York Review Books, G.B. Edwards' novel tells the story of a Guernsey man who lived through the Nazi occupation of Britain's Channel Islands into garrulous old age. His reminiscence is couched in a musical Guernsey English that follows circular paths through past and present to delve into island secrets and sagas. Great stuff." --Seattle Times

"There is a rare wholeness about The Book of Ebenezer Le Page. You get the entire man, in a way that isn't usually within the gift of literature to procure... I have read few books of such wide and delightful appeal.... [it] is vast fun and vast life, a Kulturgeschichte..." -Michael Hofmann, London Review of Books

"...a near-forgotten classic of post-colonial fiction...yet it comes, not from some far tropical shore, but from an old man writing in the 1970s about his native Guernsey .... All honour to the New York Review imprint for restoring him to his obstreperous glory." -The Independent (UK)

"A masterpiece… one of the best novels of our time…I know of no description of happiness in modern literature equal to the one that ends this novel." —The New York Times (Guy Davenport)

"Quaint. Fascinating. Unique. Queer…The Book of Ebenezer Le Page is a eulogy for a way of life." —The Los Angeles Times (Valerie Miner)

"It reads like Beethoven's Ninth…Coated with sea salt, its crannies spilling wildflowers, Edwards's book still roars like some huge shell held, cutting, against your ear." —The Atlantic

"An extraordinary book!…Splendid! To read it is not like reading but living." —William Golding

"Imagine a weekend spent in deep conversation with a superb old man, a crusty, intelligent, passionate and individualistic character at the peak of his powers as a raconteur, and you will have a very good idea of the impact of The Book of Ebenezer Le Page…It amuses, it entertains, it moves us… Ebenezer's voice presides over all and its creation is a tremendous achievement." —The Washington Post (Doug Lang)

"[A] rare find…it is unique–a first novel that resists all categories–and it overflows with the sense of life…It's chief virtues are a story rich in human connection and a marvelously seductive language…For those who cherish style, it is also good to hear a fresh novelist's voice telling the old story of the passions, generosities, and greeds that battle in us all." —Chicago Tribune (Lynne Sharon Schwartz)

"G.B. Edwards, who died an unknown in 1976, constructed his novel out of the patterns of daily life–countless teas, lovers' quarrels, accounts of friendships and the signs of change as Guernsey reluctantly assumes the characteristics of progress. The results are enchanting." —The Washington Post (New In Paperbacks)

"A remarkable achievement!…The book's voice and its methods are so unusual that it belongs nowhere on our conventional literary maps." —John Fowles

"[A] knowing and beguiling chronicle of life on the English Channel isle of Guernsey…This deceptively plain-spoken story of a man's years passing in review before him struck me, when I first read it in 1981, as a beautifully crafted job of writing. Upon rereading it recently, I redoubled my liking and admiration for both Ebenezer and Edwards." —Ivan Doig, Christian Science Monitor

"The Book of Ebenezer Le Page, by G. B. Edwards, is an inexhaustible book I never tire of giving. It is literally one of a kind, a work with no precedent, sponsorship, or pedigree. A true epic, as sexy as it is hilarious, it seems drenched with the harsh tidal beauties of its setting, the isle of Guernsey…For every person nearing retirement, every latent writer who hopes to leave his island and find the literary mainland, its author–quiet, self-sufficient, tidy Homeric–remains a patron saint." —Allan Gurganus, O Magazine

"The Book of Ebenezer Le Page, by G. B. Edwards, is an oddity and a great literary wonder, written in the beautiful French patios of Guernsey, one of the Channel Islands…[Edwards] feels intensely about everything and everyone in this deliciously rich novel of longing and love." —Archipelago

"Here is an islander; an island man, solitary, unmarried, alienated, who describes the modern denaturing of our world. Granite quarries and tomatoes and early potatoes; but then come tourists, international companies, tax evaders, occupation by Germans, etcetera." —The New York Review of Books

"Books: Forced to choose, we'd pick The Book of Ebenezer Le Page by G. B. Edwards as our favorite novel of all time. The recollections of a cranky old man on the island of Guernsey, Guy Davenport of the Times wrote, when the book was first published here in 1981: 'A masterpiece...One of the best novels of our time...I know of no description of happiness in modern literature equal to the one that ends this novel.' Hard for us to imagine a more pleasurable weekend than one spent with Ebenezer Le Page."–Manhattan User's Guide