Holy Ghost Girl: A Memoir (Hardcover)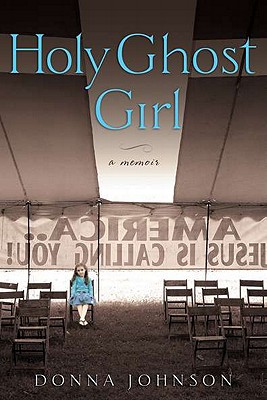 $26.00
Email or call for price.
October 2011 Indie Next List
---
"Johnson's treatment of her childhood immersed in the Pentecostal tent-meeting movement is flawless. She is truthful about her memories, but she does not rush to the judgment of others. Weak of flesh but strong in willpower, well-meaning Randall Terrell is the leader of a traveling group of the faithful. Tent meetings are huge, and once the donations become enough to cover bills, they soon lead to an excess that is all too familiar. This is an excellent book for those wanting to both know more about this particular spiritual movement and gain some understanding of the faith that kept the followers going."
— Linda Bond, Auntie's Bookstore, Spokane, WA
Description
---
Donna Johnson's remarkable story of being raised under the biggest gospel tent in the world, by David Terrell, one of the most famous evangelical ministers of the 1960s and 70s. "Holy Ghost Girl" is a compassionate, humorous exploration of faith, betrayal, and coming of age on the sawdust trail.
She was just three years old when her mother signed on as the organist of tent revivalist David Terrell, and before long, Donna Johnson was part of the hugely popular evangelical preacher's inner circle. At seventeen, she left the ministry for good, with a trove of stranger- than-fiction memories. A homecoming like no other, "Holy Ghost Girl" brings to life miracles, exorcisms, and faceoffs with the Ku Klux Klan. And that's just what went on under the tent.
As Terrell became known worldwide during the 1960s and '70s, the caravan of broken-down cars and trucks that made up his ministry evolved into fleets of Mercedes and airplanes. The glories of the Word mixed with betrayals of the flesh and Donna's mother bore Terrell's children in one of the several secret households he maintained. Thousands of followers, dubbed "Terrellites" by the press, left their homes to await the end of the world in cultlike communities. Jesus didn't show, but the IRS did, and the prophet/healer went to prison.
Recounted with deadpan observations and surreal detail, "Holy Ghost Girl" bypasses easy judgment to articulate a rich world in which the mystery of faith and human frailty share a surprising and humorous coexistence.
About the Author
---
Donna Johnson has written about religion for "The Dallas Morning News" and other publications. She lives in Austin, Texas, with her husband, the poet and author Kirk Wilson.
Praise For…
---
"Holy Ghost Girl turns, as good books must, from promising read into sure bet. Ms. Johnson's enthralling memoir, her first book, is about growing up on the road in a clan of what she calls Holy Rollers."
--New York Times

"A page-turning, thrilling tale set in the 1960/70s containing adultery, KKK face-offs, fasting to the point of collapse, child neglect/abuse, show business and family connection."
--Beliefnet.com

"Sensitive and revelatory...an impressive achievement of perspective and maturity...a haunting and memorable book."
--Bookpage

"Compulsively readable'
--Texas Monthly

"A trustworthy narrator, Johnson is consistently funny, poetic and remarkably devoid of bitterness."
--Kirkus Reviews

"What a life! Holy Ghost Girl takes you inside a world where God and sin and miracles and deceit and love are so jumbled together you can't tell them apart. Donna Johnson sorts through her story with great insight, compassion and humor, giving us an indelible portrait of a charismatic preacher and the faithful who so desperately believed in him." -Jeannette Walls, New York Times bestselling author of The  Glass Castle

"This is a thoroughly provocative memoir. Memoirs don't usually resist the obvious. This one does. You won't find Donna M. Johnson dithering in anger, cynicism, or self-pity. Holy Ghost Girl is a sensitive exploration of the power that inheres in faith communities, however flawed." --Rhoda Janzen, author of New York Times bestseller Mennonite in a Little Black Dress

"Holy Ghost Girl is a wonder of a book. Chief among its marvels is how clear-eyed and deeply compassionate Johnson is as she recounts what it was like to grow up believing all things are possible and how hard it was to leave that harsh and deeply flawed paradise to become a part of the world in all its 'gaudy glory.' With evocatively precise details, fond humor, and an utter lack of scorn or cynicism, Johnson accomplishes the camel-through-the-eye-of-a-needle miracle of rendering the world through the eyes of a young child. Arriving at a time when the war between fact and faith is escalating, Holy Ghost Girl is a book that people will be talking about."
--Sarah Bird, author of The Gap Year

"A wrenching and extraordinarily beautiful memoir. If you're a fan of The Glass Castle, you'll be mesmerized by Donna M. Johnson's true-life tale of how her young life was upended by her mother's love affair with an infamous charismatic preacher."
--Lisa Napoli, author of Radio Shangri-La

"Donna M. Johnson's memoir captivated me from the first page. Vividly written and richly detailed, it evokes a curious subculture that few Americans are familiar with - that of the Pentecostal revival tent, with all the spiritual and carnal ecstasy that simmer beneath it. Holy Ghost Girl is also a cautionary tale of preachers whose followers elevate them to a godhood then blind themselves to their leader's often extravagant sins." --Julia Scheeres, author of New York Times bestseller Jesus Land

"A brilliant and beautiful story of people who passionately loved God and broke his commandments in almost every way possible. The kind of story the Bible is full of, told with rare compassion and grace." -Christine Wicker, author of Lily Dale: The True Story of the Town that Talks to the Dead and God Knows My Heart

"I read this gorgeous book with a hand to my throat, at once drawn to and repulsed by the story of Donna Johnson's coming of age underneath a revivalist tent. Hers was a bizarro world, and yet her voice is lush and clear and full of compassion."
--Karen Valby, author of Welcome to Utopia