The End of the Cold War: 1985-1991 (Paperback)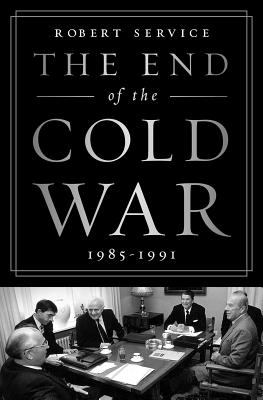 $25.99
Usually Arrives in Store in 1-5 Days
Staff Reviews
---
The Cold War is now consigned to history but many generations can still remember a time when the threat of nuclear war was considerable and there was always the possibility of a true Armageddon. Robert Service has drawn on the astonishing documentation that has become available since the fall of the Soviet Union to present a taut account of how the efforts of statesmen on both sides were able to finally consign the total nuclear threat to oblivion.
— Bill
Description
---
On 26 December, 1991, the hammer-and-sickle flag was lowered over the Kremlin for the last time. Yet, just six years earlier, when Mikhail Gorbachëv became general secretary of the Communist Party of the Soviet Union and chose Eduard Shevardnadze as his foreign minister, the Cold War seemed like a permanent fixture in world politics. Until its denouement, no Western or Soviet politician foresaw that the standoff between the two superpowers—after decades of struggle over every aspect of security, politics, economics, and ideas—would end within the lifetime of the current generation. Nor was it at all obvious that that the Soviet political leadership would undertake a huge internal reform of the USSR, or that the threat of a nuclear Armageddon could or would be peacefully wound down.

Drawing on pioneering archival research, Robert Service's gripping investigation of the final years of the Cold War pinpoints the extraordinary relationships between Ronald Reagan, Gorbachëv, George Shultz, and Shevardnadze, who found ways to cooperate during times of exceptional change around the world. A story of American pressure and Soviet long-term decline and overstretch, The End of the Cold War: 1985–1991 shows how a small but skillful group of statesmen grew determined to end the Cold War on their watch and transformed the global political landscape irreversibly.
About the Author
---
Robert Service is a British historian, academic, and author who has written extensively on the history of Soviet Russia, particularly the era from the October Revolution to Stalin's death. Service is the author of twelve books, including Spies and Commissars; the acclaimed Lenin: A Biography; Stalin: A Biography; and Comrades: A History of World Communism. He is currently a professor of Russian history at the University of Oxford, a Fellow of St. Antony's College, Oxford, and a senior fellow at Stanford University's Hoover Institution.

Praise For…
---
"Service takes the vast literature on the Cold War's end, adds newly available archival sources, and pulls it all together into a single massive history of how 'Washington and Moscow achieved their improbable peace.' … To cover as many elements as Service does requires very tight writing, even in a big book such as this one: as a result, he settles for sentences rather than paragraphs to cover the necessary ground."
—Foreign Affairs
"The great nonfiction book of the year… As a serious and fascinating dive into the events that shaped our world it cannot be bettered."
—Justin Webb, The Times [UK]
"Authoritative and scholarly…
The End of the Cold War
gets all the big questions right. The world was fortunate to have leaders who brought a half-century nightmare to a peaceful conclusion, and his readers will be grateful for Robert Service's clear explanation of how and why it happened."
—Claremont Review of Books
"[Robert] Service's book is a great investigative achievement…[he] has given us an account, unsurpassable in its detail…"
—Bookforum
"A riveting read."
—The Telegraph (UK)
A Times [UK] Book of the Year 2015

"The denouement is well known and well told in pointillist detail… [an] admirably even-handed account, which offers a compendium of the expired secrets of the White House and Kremlin." —Wall Street Journal

"The End of the Cold War [is] a massive new study of the last days of the Soviet empire… British historian Robert Service examines newly released Politburo minutes, recently available unpublished diaries, and minutely detailed negotiation records." —Boston Globe

"The End of the Cold War, 1985-1991 [is] a detailed, authoritative, and illuminating account of the end of the competition that defined world politics for more than four decades." —Christian Science Monitor

"The End of the Cold War: 1985-1991 serves as a reminder that the hawks' memory of Reagan's Soviet diplomacy is selective and, ultimately, just plain inaccurate…Service succeed[s] in giving the reader a comprehensive account of the meetings and debates in the years leading up to the Soviet collapse." —Washington Post