The Book of Delights: Essays (Hardcover)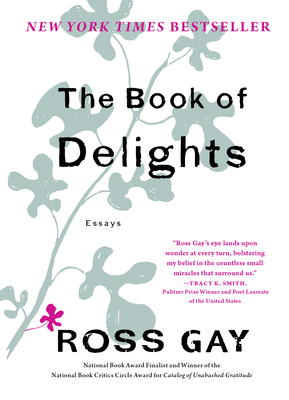 Staff Reviews
---
This collection of essays reminds us that there's much to be grateful for despite the struggles we may face on earth. Ross Gay asks us to celebrate. Marvel at the hummingbird that crosses your path and stays a while. Meditate to Donny Hathaway's memorable voice singing truths about life, love, and death. Take pride in the broken things you fix with your will and your hands. The list goes on. Gay speaks to the reader as he would to a friend. He does so with care, humor, and grace.
— From
Nadia
March 2019 Indie Next List
---
"For those of you having a rough year, take comfort and inspiration from Ross Gay's aptly titled The Book of Delights. After going through a bumpy patch himself, Gay tasked himself with a year's worth of essays, each day focusing on something delightful. What resulted is a warm, thoughtful range of reflections on tomato plants, high fives, and airport security. The Book of Delights is a companion to keep with you, whether on your nightstand, in the bathtub, or on the subway, for a brief moment of emotional respite. Definitely one of my first delights of 2019."
— Molly Gillespie, Joseph-Beth Booksellers, Cincinnati, OH
Description
---
As Heard on NPR's This American Life

"Ross Gay's eye lands upon wonder at every turn, bolstering my belief in the countless small miracles that surround us." —Tracy K. Smith, Pulitzer Prize winner and U.S. Poet Laureate

The winner of the NBCC Award for Poetry offers up a spirited collection of short lyric essays, written daily over a tumultuous year, reminding us of the purpose and pleasure of praising, extolling, and celebrating ordinary wonders.

In The Book of Delights, one of today's most original literary voices offers up a genre-defying volume of lyric essays written over one tumultuous year. The first nonfiction book from award-winning poet Ross Gay is a record of the small joys we often overlook in our busy lives. Among Gay's funny, poetic, philosophical delights: a friend's unabashed use of air quotes, cradling a tomato seedling aboard an airplane, the silent nod of acknowledgment between the only two black people in a room. But Gay never dismisses the complexities, even the terrors, of living in America as a black man or the ecological and psychic violence of our consumer culture or the loss of those he loves. More than anything other subject, though, Gay celebrates the beauty of the natural world--his garden, the flowers peeking out of the sidewalk, the hypnotic movements of a praying mantis.

The Book of Delights is about our shared bonds, and the rewards that come from a life closely observed. These remarkable pieces serve as a powerful and necessary reminder that we can, and should, stake out a space in our lives for delight.
About the Author
---
In addition to The Book of Delights: Essays, Ross Gay is the author of three books of poetry, including Catalog of Unabashed Gratitude, winner of the 2015 National Book Critics Circle Award and the 2016 Kingsley Tufts Poetry Award. Catalog was also a finalist for the 2015 National Book Award in Poetry, the Ohioana Book Award, the Balcones Poetry Prize, the Hurston-Wright Legacy Award, and it was nominated for an NAACP Image Award. He is a founding board member of the Bloomington Community Orchard, a non-profit, free-fruit-for-all food justice and joy project. Gay has received fellowships from Cave Canem, the Bread Loaf Writer's Conference, and the Guggenheim Foundation. He teaches at Indiana University.
Praise For…
---
"The delights he extols here (music, laughter, generosity, poetry, lots of nature) are bulwarks against casual cruelties. As such they feel purposeful and imperative as well as contagious in their joy."
—The New York Times Book Review

"These charming, digressive 'essayettes,' in the manner of Montaigne, surprise and challenge . . . Gay, an award-winning poet, knows the value of formal constraint: his experiences of 'delight,' recorded daily for a year, vary widely but yield revealing patterns through insights about everything from nature and the body to race and masculinity. The fruits of this experiment—for which gardens and gardening provide a frequent, apt metaphor—attest to an imagination cultivated in hostile conditions. Gay's optimism is as easy as it is improbable, his 'heart cooing like a pigeon nestled on a windowsill where the spikes rusted off.'"
—The New Yorker

"What emerges is not a ledger of delights passively logged but a radiant lens actively searching for and magnifying them, not just with the mind but with the body as an instrument of wonder-stricken presence."
—Brain Pickings, Favorite Books of 2019

"Ross Gay's poems are little celebrations of joy, and this book of mini-essays—each centering around a particular 'delight,' from sleeping in your clothes to planting tomato seedlings to the nod of greeting between the only two black people in a room—is a pure balm for your soul. Savor one at a time every morning, this summer, or wolf them all down en masse on a gorgeous sunny day."
—Celeste Ng for GoodMorningAmerica.com

 
"The shock of Gay's writing . . . is his seamless shift from breezy, affable observation to sober (and admittedly still affable) profundity . . .  I want to say that Gay's writing is magical because that's the way it feels when I read it. But . . . calling it magic undercuts Gay's craft, the effort that goes into producing literature that feels as fluent and familiar as a chat with a close friend. His voice has integrity, in both senses of the word: a completeness or consistency, true to itself; and an honesty and compassion so frankly subjective that it produces an incorruptible vision. Gay's loose-limbed sentences diagram his delight, partaking in numerous asides—some as paragraph-long parentheticals—and equally numerous asides within asides, as well as nested subordinate clauses that are the purview of intimate conversation, not written prose. They are clauses and asides in which, as Gay writes them, you feel his hand on your arm, you feel him lean in toward you, conspiratorially or simply to emphasize his meaning."
—The New York Review of Books

"Everyone could use a bit more delight in their days . . . Gay, who is the winner of the NBCC Award for Poetry, is here to provide just that, with essays celebrating everything from air quotes to candy wrappers to pickup basketball games."
—New York Post

"The Book of Delights is both practice and perfection in an unassuming package . . . These pieces reflect and examine the natural world, masculinity, racism, and other topics with vibrancy. Most essays are a few paragraphs, a page or two at maximum, but it's not the width or length of the pieces that ultimately grabbed my attention. It was the heart and intelligence found within his daily introspections."
—The Rumpus

"A reminder of what the personal essay is best at: finding the profound in the mundane . . . his delight is infectious. It's hard to read Gay and not to be won over."
—Seattle Times

"This collection proves is that delight is infectious and demands to be shared, and, most importantly, 'our delight grows as we share it.'&