The Perfume Burned His Eyes (Hardcover)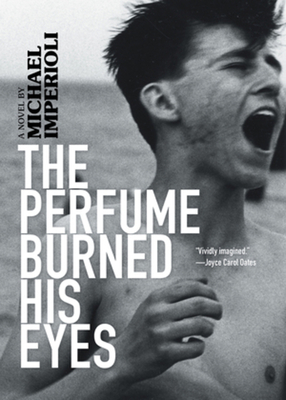 $25.95

Usually Arrives in Store in 1-5 Days
Staff Reviews
---
Woohoo—Christopher Moltisanti from The Sopranos writes a novel! Imperioli's story begins in the late Seventies, when Matthew, a teenager from Queens who has lost his father and grandfather, is taken under the wing of Lou Reed, who draws him into the artsy Manhattan trinity of sex, drugs, and rock and roll. I can't describe the novel better than its fans: "a rare and welcome breeze of imagination and wit,"—Nick Tosches. "raw truthfulness, stunning surprises, thrills, poetic writing"—Richard Lewis. "It's a streetwise romp through an underworld of bizarre characters"—Lenny Kaye. "Touching, hilarious, heartfelt"—Lydia Lunch. Irresistible!
— From
Lisa
Description
---
"An edgy coming-of-age romp set in New York City."
--Parade
"Screenwriter and Emmy-winning actor Imperioli's first novel is the atmospheric coming-of-age story of 17-year-old Matthew, whose mother moves them from Queens to a posh apartment in Manhattan in 1976...Matt is not an atypical teenager--think Holden Caulfield without the cynicism--but, often afraid and awkward, he is a reactor, not an actor, until the end of the novel, which, without foreshadowing, comes as a harrowing surprise...Imperioli can definitely write, and he gets high marks for the verisimilitude and empathy that he evokes in this fine crossover novel."
--Booklist, Starred Review
"Imperioli's book follows a Queens teen named Matthew as his shattered family moves from Jackson Heights to Manhattan, where he finds an unlikely mentor in a drug-addled Lou Reed."
--New York Post
"A coming-of-age tale dashed with relatable angst and humor."
--EW.com
"A restless Queens teenager becomes the prot g of music legend Lou Reed in Imperioli's energetic debut novel...Matthew's first-person narrative is full of endearing vulnerability, immediacy, and authenticity. This is a sweet and nostalgic coming-of-age novel."
--Publishers Weekly
"Imperioli's lived-in details about the city help make the world feel realistic... The novel] is an immersive trip into its narrator's memories of a turbulent time. Some fictional trips into 1970s New York abound with nostalgia; this novel memorably opts for grit and heartbreak."
--Kirkus Reviews
"Imperioli delivers a spot-on coming-of-age novel...A winner."
--Library Journal
"Even though Lou] Reed looms large throughout--the novel even takes its title from Reed's 'Romeo Had Juliette, ' from his 1989 solo album New York--the book is much less about him and more about Matthew's own journey through adolescence in the seedier corners of 1970s New York."
--Stereogum
"Compelling...Lou Reed appears as a major character; he's an unlikely father figure to the teenage protagonist, Matthew, who's trying to find himself in 1976 Manhattan. The iconoclastic--and at the time, troubled--rocker inspires Matthew artistically, even as he coaxes him to walk on the wild side."
--Maclean's
" Imperioli's] debut novel, The Perfume Burned His Eyes, not only deserves an award for best title, but has garnered praise from Joyce Carol Oates...This should come as no surprise...Bravo "
--Santa Barbara Magazine
Matthew is a sixteen-year-old living in Jackson Heights, Queens, in 1976. After he loses his two most important male role models, his father and grandfather, his mother uses her inheritance to uproot Matthew and herself to a posh apartment building in Manhattan. Although only three miles away from his boyhood home, "the city" is a completely new and strange world to Matthew.
Matthew soon befriends (and becomes a quasi-assistant to) Lou Reed, who lives with his transgender girlfriend Rachel in the same building. The drug-addled, artistic/shamanic musician eventually becomes an unorthodox father figure to Matthew, who finds himself head over heels for the mysterious Veronica, a wise-beyond-her-years girl he meets at his new school.
Written from the point of view of Matthew at age eighteen, two years after the story begins, the novel concludes with an epilogue in the year 2013, three days after Lou Reed's death, with Matthew in his fifties.
About the Author
---
Michael Imperioli is best known for his starring role as Christopher Moltisanti in the acclaimed TV series The Sopranos, which earned him a Best Supporting Actor Emmy Award. He also wrote five episodes of the show and was co-screenwriter of the film Summer of Sam, directed by Spike Lee. Imperioli has appeared in six of Lee's films and has also acted in films by Martin Scorsese, Abel Ferrara, Walter Hill, Peter Jackson, and the Hughes Brothers. Upcoming projects include Bruno de Almeida's Cabaret Maxime, The Last Full Measure alongside Peter Fonda, Christopher Plummer, and William Hurt, and ABC's Alex, Inc.