The Garden of Burning Sand (Hardcover)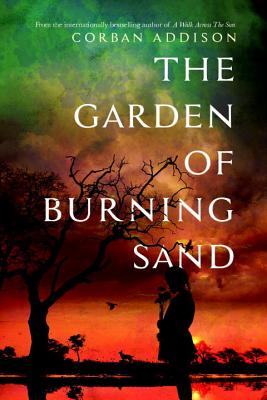 $26.99
Email or call for price.
May 2014 Indie Next List
---
"This is a captivating thriller that combines page-turning suspense with a social conscience. In contemporary Zambia, an American lawyer who is seeking justice fights entrenched power as well as her own family demons when her father, an influential senator, becomes a candidate for president. Addison's tale is a fantastic read for literary novel lovers and thriller readers alike, as it provides both suspense and the exploration of important global issues in a credible and convincing style."
— Ed Conklin, Chaucer's Books, Santa Barbara, CA
Description
---
The New York Times bestselling author John Hart raved that "If you like stories of good people struggling to do right in the world's forgotten places, there is no one better suited than Corban Addison to take you on the ride of your life." In The Garden of Burning Sand, Addison, the bestselling author of A Walk Across the Sun, creates a powerful and poignant novel that takes the reader from the red light areas of Lusaka, Zambia, to the gilded chambers of the Washington, D.C. elite, to the splendor of Victoria Falls and Cape Town.

Zoe Fleming, an accomplished young human rights attorney, has made a life for herself in Zambia, far from her estranged father--an American business mogul with presidential aspirations--and from the devastating betrayals of her past.

When a young girl with Down syndrome is sexually assaulted in a Lusaka slum, Zoe joins Zambian police officer Joseph Kabuta in investigating the rape. Piecing together clues from the victim's past, they discover an unsettling connection between the girl--Kuyeya--and a powerful Zambian family who will stop at nothing to bury the truth.

As they are drawn deeper into the complex web of characters behind this appalling crime, Zoe and Joseph forge a bond of trust and friendship that slowly transforms into love. Opposed on all sides, they find themselves caught in a dangerous clash between the forces of justice and power. To successfully prosecute Kuyeya's attacker and build a future with Joseph, Zoe must risk her life and her heart--and confront the dark past she thought she had left behind.
About the Author
---
Corban Addison is the author of the international bestselling novels, A Walk Across the Sun and The Garden of Burning Sand, which address international human rights issues within the framework of deeply researched and compelling human stories. An attorney, activist, and world traveler, he is a supporter of numerous humanitarian causes, including the abolition of modern slavery, gender-based violence, and HIV/AIDS. He lives with his wife and children in Virginia.
Praise For…
---
"The Garden of Burning Sand is a face-paced thriller that authentically captures the plight of young women in much of Africa today and clearly lays out the complexity of combating HIV on the continent. It was a thoroughly enjoyable novel."—Andrew Fullem, Director of the John Snow, Inc. and World Education Center for HIV

"A John Grisham-like page-turner that will make you read deep into the night, for Addison is a master storyteller. . . he will blaze a trail across the world with books that twist your heart as they inform your thinking."—Business Day Live

"A compelling novel with a conscience and a heart, gripping in its drama and unique in its insights into a hidden and dangerous world. Resonant with authenticity, The Garden of Burning Sand rewards the reader on every level."—Richard North Patterson, author of Eden in Winter

"In dealing bluntly with crucial issues such as rape, AIDS, superstition, and poverty, he effectively touches the consciousness of his readers."—Stephanie Zvirin, Booklist

"Addison delivers another compelling novel exposing human rights violations.... A sense of urgency will keep readers engrossed, and, despite the tragedy depicted, they will also find comforting themes connected to love and family. Fans of Addison's first novel and readers who enjoy socially conscious fiction will want this."—Andrea Brooks, Library Journal

"Compelling. . . chock full of suspense and emotion"—Pride

"Corban Addison is a rare find in the world of thriller writers. Timely, topical, and impeccably researched, his novels embrace the full sweep of the human experience. Depravity. Destruction. Heroism. Love. If you like stories of good people struggling to do right in the world's forgotten places, there is no one better suited to take you on the ride of your life."—John Hart, Edgar-award-winning author of The New York Times bestseller The Last Child

"A hauntingly good read. The Garden of Burning Sand is a powerful and moving novel..this fast-paced, engaging story...make it deserving of reader's complete attention. This one's an absolute must-read."—Romantic Times Book Review Magazine- TOP PICK!

"Addison's debut novel, A Walk Across the Sun, was an international best-seller, and The Garden of Burning Sand should build an even larger audience for him. Like John Grisham, the foremost practitioner of the legal thriller, Addison - a Virginia resident and an attorney - understands how to evoke emotion, as well as thrills."—Doug Childers, The Richmond Times-Dispatch

"Author Corban Addison deftly spins out his tale by slowly feeding the reader bits of information. His novel is both a page-turner and a cultural education."
—The Missourian

"Addison's second novel is both an affecting tale of a tragically abused girl and a convincing plea for humanitarian support in Africa."—Kirkus Reviews

"In dealing bluntly with crucial issues such as rape, AIDS, superstition, and poverty, [Addison] effectively touches the consciousness of his readers."—Stephanie Zvirin, Booklist