Always Happy Hour: Stories (Paperback)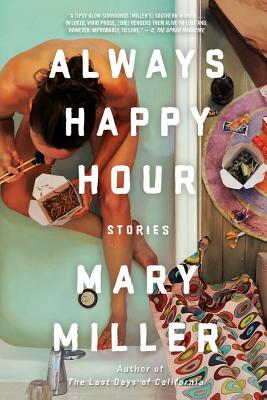 Staff Reviews
---
LOL! Recent UM Grisham writer and Jacksonian Miller writes stories about characters and situations to which the cool, frenchy expressions apply: ennui, malaise, je ne sais quoi. Her young women slouch through their days with men who in one way or another seem not up to snuff, but what exactly is the right snuff they're looking for? Even when her ladies care, they don't. Perceptive and hilarious. Hail Mary!
— From
Lisa
Mary Miller apparently used her time well while here as the Grisham visiting writer, 2014 – 15, for now, following Small World and The Last Days of California, she has given us a new book of smart, compelling stories. These stories simmer with love, trouble, and sex. As Amelia Gray said, "For anyone who's ever looked for love in all the wrong places, this shoebox full of beating hearts is for you."
— From
Richard's 2017 Picks
Description
---
"Sleek, sexy, slyly funny." —Tom Franklin, author of Crooked Letter, Crooked Letter
A "bracingly strong" (Kirkus Reviews, starred review) collection brimming with savage Southern charm, Always Happy Hour propels Mary Miller to new heights. Claustrophobic and lonesome, acerbic and magnetic, her characters seek understanding in the most unlikely places—a dilapidated foster home where love is a liability, a trailer park laden with a history of bad decisions, and the empty corners of a dream home bought after a bitter divorce. "Full of wit, bite, and the boundless intelligence of their author" (Kevin Powers, author of The Yellow Birds), these stories evoke the particular gritty comfort found in bad habits as hope turns to dust, and they prove yet again Miller's essential role in American fiction.
About the Author
---
Mary Miller is the author of three previous books, including the story collection Always Happy Hour and the novel The Last Days of California. She is a former James A. Michener Fellow and John and Renée Grisham Writer-in-Residence. She lives in Oxford, Mississippi.

Praise For…
---
In Miller's new collection, a tipsy glow surrounds her Southern women as they trawl for cocktails, honk-tonk music, and men while nursing an inner ache they can't booze away. In lucid, vivid prose, Miller renders them alive to lust and, however improbably, to love.

Enjoyable…a meditation on the stories a person tells herself.
— Hilary Moss

Deftly crafted.
— Joyce Carol Oates

Somewhere between the old trope of the fallen woman and the unctuousness of the likable heroine, the young narrators of Miller's searching stories inhabit the middle space known as reality. . . . Anyone who's faltered on the way to success and contentment might find solace in the do-gooder in "Big Bad Love," or the boozy, boyfriend-enabled composition teacher in the title story.
— Boris Kachka

Each of these stories has its own pulse. For anyone who's ever looked for love in all the wrong places, this shoebox full of beating hearts is for you.
— Amelia Gray, author of Gutshot: Stories

Stunning.
— Elizabeth Taylor

Taken as a whole, this harrowing yet ultimately enjoyable collection is less about the conventions of storytelling—exposition, climax, denouement—and more of a meditation on the stories a person tells herself.
— Martha Sheridan

Readers will find themselves riveted…The 16 stories in this collection…feel both homey and exotic, limning lives at once familiar and distinctly their own. Like a two-for-one drink special or a boxful of beer, this bracingly strong collection may prove intoxicating.

Some of the women in this collection of short stories are spiraling; some are simply stuck. But they all have one thing in common: relationships in varying degrees of WTF? We can relate.

The stories in Mary Miller's Always Happy Hour are full of wit, bite, and the boundless intelligence of their author. This book is further evidence for what I felt after reading her brilliant debut novel, The Last Days of California, that Mary Miller is an astonishingly gifted writer. Her next one can't come soon enough.

— Kevin Powers, author of The Yellow Birds

Stellar.

The proximity to [Miller's] characters that her crystalline, unfiltered prose allows…will draw readers in immediately, and entirely.

Reading Always Happy Hour is like drinking an Old Fashioned. It's strong with a sweet burn, and after each taste you immediately want more. Reminiscent of Pam Houston's Cowboys Are My Weakness, Mary Miller writes well about sex, drugs and white bikinis.

— Helen Ellis, author of American Housewife

I fell into this book like it was a night of drinking. I sipped, I laughed, I had some more, I got lonely, I danced a little, I downed the rest, I wanted to cry, I stayed up late closing it out and I'm a wreck and I regret nothing.
— Daniel Handler, author of We Are Pirates and Why We Broke Up

Stories of self-defeat and loneliness, of bad decisions or maybe worse, the inability to make decisions. Stories of treading water—where you know you should move towards shore but instead you let yourself drift farther out. Big World introduced us to the power of Mary Miller's short stories, and Always Happy Hour solidifies her as a major voice in Southern Literature.

— Willy Vlautin, author of The Free