Tangles and Plaques: A Mother and Daughter Face Alzheimer's (Paperback)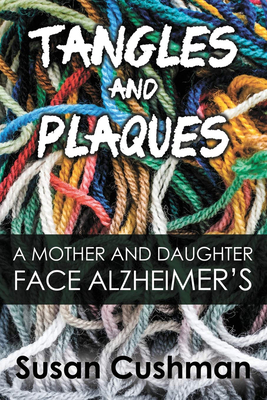 $15.99

Usually Arrives in Store in 1-5 Days
Description
---
Culled from sixty blog posts spanning eight years, Tangles and Plaques is a candid account of a mother and daughter's changing relationship as they face the progressive landscape of Alzheimer's Disease together. As the twisted fibers (tangles) build up inside the nerve cells in her brain and the protein fragments (plaques) fill the spaces between those cells, Effie Johnson--like millions of others who suffer from Alzheimer's--loses her memory, the stories that make up the fabric of her life.
Blending humor ("I Can't Find My Panties") with pathos ("Disappearing Stories") and hope with despair, Susan Johnson Cushman captures the personal within the universal in a story that reveals a complicated relationship between an often verbally abusive mother and a daughter hungry for her mother's unconditional love. Part Polaroid, part cautionary tale, the reality woven throughout these records of long-distance caregiving is that the tangles and plaques aren't only in our brains, but often in our relationships.
"Susan Cushman is not only an accomplished writer, but she tackles a brutal topic with candor and honesty. Madness awaits us all. I pray I can confront it with equal faith and vulnerability."
Neil White, author of In the Sanctuary of Outcasts
"Cushman has written a new kind of love story, one that speaks to the very real concerns of a generation. In this true story of a daughter's love for her aging mother within the daily trials of caregiving, we read ourselves, our families, and the ways that our losses shape who we become and how we choose to remember."
Jessica Handler, author of
Invisible Sisters: A Memoir and
Braving the Fire: A Guide to Writing About Grief and Loss