Every Penguin in the World: A Quest to See Them All (Hardcover)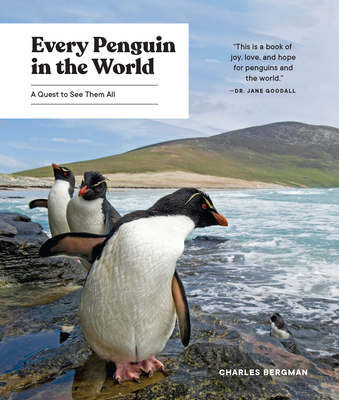 $22.95
Email or call for price.
Description
---
"Through powerful stories and beautiful photographs, Every Penguin in the World is a celebration of these delightful birds and a call for their conservation. This is a book of joy, love, and hope for penguins and the world."
—Dr. Jane Goodall, DBE, Founder of the Jane Goodall Institute & UN Messenger of Peace


Both a love letter and a call to action, this narrative and photographic book chronicles the author and his wife in their quest to see every penguin species on the planet. In the process, he muses about adventure, conservation, and what it is about penguins that captures our hearts.

Every Penguin in the World tracks author-photographer Charles Bergman's forays around the southern hemisphere--from the Galapagos to South Africa to the Antarctic--in his quest to see all 18 species of penguins in the world. The sections of the book are organized around themes of adventure, science and conservation, and pilgrimage--in which stories of each penguin species will be touched upon.

This endearing and thought-provoking book beautifully combines narrative and photography to capture the plight and the experience of penguins worldwide. The author and his wife developed a passion after seeing their first penguin species and have since spent years traveling far and wide to see each variety of penguin in its natural habitat.
About the Author
---
Award-winning author and photographer Charles Bergman teaches English at Pacific Lutheran University. He's the author of four books, including Wild Echoes: Encounters with the Most Endangered Animals in North America. He's written extensively on wildlife and animals, including a 2009 cover story in Smithsonian magazine on wildlife trafficking in Latin America. He has a weak spot for the southern hemisphere, has completed two Fulbright fellowships in Latin America, and has led six classes on study tours of Antarctica.
Praise For…
---
Washington State Book Award Finalist

Silver Nautilus Book Award Winner

"Through powerful stories and beautiful photographs, Every Penguin in the World is a celebration of these delightful birds and a call for their conservation. This is a book of joy, love, and hope for penguins and the world."
—Dr. Jane Goodall, DBE, Founder of the Jane Goodall Institute & UN Messenger of Peace

"It's SO good! [...] Chuck Bergman's writing, photography, and vulnerability is so kick-ass!"
—Brené Brown, podcast host and bestselling author of Dare to Lead

"[A] visually impressive volume...Readers will enjoy Bergman's enthusiastic recollections of his jaunts around the world and be astonished by his vivid photos."
—Publishers Weekly

"With his new book Every Penguin in the World, Professor Charles Bergman has lovingly collated his 17-year obsession with these endlessly fascinating flightless birds."
—Outdoor Photographer

"Having written books about nature and numerous wildlife-magazine articles, Bergman is practiced in the skills required for providing armchair naturalists with information and images that will spark their interest...the photographs are extraordinary and unforgettable."
—Booklist

"Part travelog, part conservation, part philosophical musing, the book supplies ample, frequently adorable photos of every species, along with tales of wet, often cold, and occasionally uncomfortable adventures."
—Library Journal

"Intensely personal, [Bergman's] quest is full of adventure, challenges, serious medical issues, danger, and descriptions of some of the most remote areas anywhere."
—American Birding Association

"What a wonderful book. Bergman is an apt ambassador to the southern ocean's most charismatic inhabitants, and his quest celebrates the spirit of rugged wilderness." 
—Noah Strycker, author of Birding Without Borders

"Rarely have I read a bird book of such devoted science, spirit, and what Bergman calls 'awakened wonder.' Every Penguin in the Worldinspires the inner longing of our species for another with its majestic and tender photos and the intimate, often soaring prose of a seeker after that 'penguin glow.' Like Bergman, we are 'reborn again and again in being with animals we love.'"
—Brenda Peterson, author of Wolf Nation

"Charles' passion for the natural world's most endearing inhabitants shines out from every page, both in his words and his images. The natural world needs passionate advocates like Charles, and images that capture your attention and make you want to make a difference. Charles has done just that."
—Sue Flood, wildlife photographer and author of Emperor: The Perfect Penguin