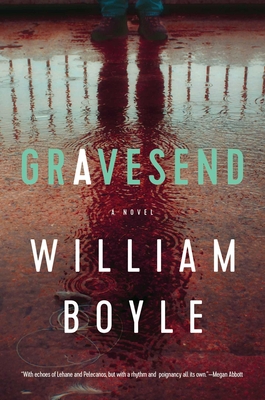 Description
---
In this masterful work of neo-noir, William Boyle expertly captures the grit and desperation of a neighborhood in flux, and spotlights the neighbors who find themselves caught up in the crimes of the past.

It's been sixteen years since "Ray Boy" Calabrese's actions led to the death of a young man. The victim's brother, Conway D'Innocenzio, is now a 29-year-old Brooklynite wasting away at a local Rite Aid, stuck in the past and drawn into a darker side of himself when he hears that Ray Boy's has been released. But even with the perfect plan in place, Conway can't bring himself to take the ultimate revenge.Meanwhile, failed actress Alessandra returns to her native Gravesend after the death of her mother, torn between a desperate need to escape immediately back to LA and the ease with which she sinks back into neighborhood life. Alessandra and Conway are walking eerily similar paths—staring down the rest of their lives, caring for their aging fathers, lost in the youths they squandered—and each must decide what comes next.In the tradition of American noir authors like Dennis Lehane and James Ellroy, William Boyle's Gravesend brings the titular neighborhood to life in this story of revenge, desperation, and escape.
About the Author
---
William Boyle is from Brooklyn, New York. His books include: Gravesend, which was nominated for the Grand Prix de Littérature Policière in France and shortlisted for the John Creasey (New Blood) Dagger in the UK; The Lonely Witness, which is nominated for the Hammett Prize; and, most recently, A Friend Is a Gift You Give Yourself. He lives in Oxford, Mississippi.
Praise For…
---
"Boyle chews the local dialect like a Nathan's hot dog, biting into the juices of pure Brooklynese and savoring the mustardy aftertaste."
— Marilyn Stasio

"An adrenaline-charged debut in the Elmore Leonard vein: blue-collar Brooklyn setting, idiomatic dialogue, no detective figure. Bristling with energy, Gravesend marks Boyle out as a new name to watch."
— The Guardian (UK)

"A moving debut. The characters are swept into a downward spiral of desperation as they grapple with the weight of the past and the pull that the neighborhood has on them. Fans of classic noir will find a lot to like."
— Publishers Weekly

"A simply riveting and deftly crafted novel of revenge, desperation, and escape, Gravesend showcases author William Boyle's genuine flair as a novelist for character and narrative driven storytelling."
— Midwest Book Review

"This a powerful novel, with realistic, complex characters. In fact, I would say (if this isn't self-contradictory) they are 'complex' in their 'simplicity.' If that is a puzzling statement, I should mention that Boyle (in an interview that appends the novel) expresses admiration for Flannery O'Connor, and I would describe many of her characters the same way."
— Popular Culture Association

"A bruiser and a heartbreaker of a debut. With echoes of Lehane and Pelecanos but with a rhythm and poignancy all its own, it's a gripping tale of family, revenge, the strains of the past and the losses that never leave us."
— Megan Abbott, author of You Will Know Me and The Fever

"Gravesend is a taut exploration of the ways we hurt and save (or try to save) one another. With unforgettable characters, a fist for a plot and a deeply evocative setting, Boyle navigates alleys and streets with the best of them, Lehane, Price, and Pelecanos."
— Tom Franklin, author of Poachers and Crooked Letter, Crooked Letter

"Gravesend kicks ass! An irresistible combo of an insider's tour of Brooklyn and true and authentic 21st Century Noir. Boyle is one to watch."
— Ace Atkins, New York Times bestselling author of The Fallen and Robert B. Parker's Little White Lies

"Gravesend is a book that hits you in the guts the same way David Goodis or Charles Willeford's books do. Boyle's mining that dark edge of America where no one is safe, not even from themselves. A dark ride but a seriously great ride."
— Willy Vlautin, author of The Motel Life and The Free

"William Boyle has written a terrific novel for the new millennium of Noir. A beautiful actress returns to her Brooklyn neighborhood where she finds the dark world she left has gotten worse. Peopled by ex-cons and ex-cops, teenage gangsters and Russian mobsters, Gravesend creates a claustrophobic intimacy as it moves swiftly to its shocking end. I finished the book grateful for release from its relentless grip, and admiring the guts it took to write such a brutal story."
— Chris Offutt, author of Kentucky Straight and Out of the Woods