Lupe Wong Won't Dance (Hardcover)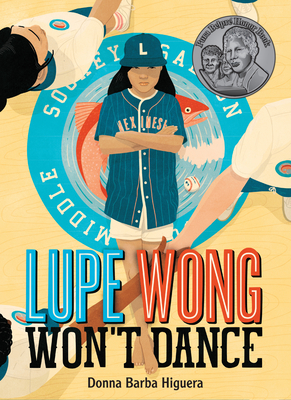 Description
---
My gym shorts burrow into my butt crack like a frightened groundhog.

Don't you want to read a book that starts like that??

Lupe Wong is going to be the first female pitcher in the Major Leagues.

She's also championed causes her whole young life. Some worthy…like expanding the options for race on school tests beyond just a few bubbles. And some not so much…like complaining to the BBC about the length between Doctor Who seasons.

Lupe needs an A in all her classes in order to meet her favorite pitcher, Fu Li Hernandez, who's Chinacan/Mexinese just like her. So when the horror that is square dancing rears its head in gym? Obviously she's not gonna let that slide.

Not since Millicent Min, Girl Genius has a debut novel introduced a character so memorably, with such humor and emotional insight. Even square dancing fans will agree…
About the Author
---
Donna Barba Higuera grew up dodging dust devils in the oilfields of Central California. She has spent her entire life blending folklore with her experiences into stories that fill her imagination. Now she weaves them to write picture books and novels.

Donna eventually traded the dust of Central California for the mists of the Pacific Northwest. She lives there with her husband, four children, three dogs and three two frogs. She is currently working on her debut picture book and next middle grade novel.

You can find her online at www.dbhiguera.com.
Praise For…
---
"Higuera's debut is a home run, with a plot as multifaceted and compelling as her characters, whose nuanced voices and varied range of interests ring wholly true." -Publisher Weekly, starred review