The Lonely Witness (Hardcover)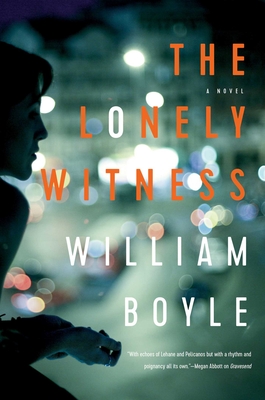 Staff Reviews
---
After a traumatizing adolescence and self-destructive young adulthood, Amy resolves to lead a quiet life helping through the simple austerity of the neighborhood Catholic Church. It's in the midst of this stewardship that she finds herself witness to an act of what seems to be random violence. Though horrified, the thrill and danger of the act draw Amy further and further back into a world of moral ambivalence, desperation, and horizons that extend beyond a few blocks in Brooklyn. Faced with old lovers, estranged relatives, and an unreliable potential partner in crime, Amy finds herself at a crossroads between who she was, who she wishes to be, and perhaps something altogether different from either. Boyle's slow burn and twisty mystery delivers a clever spin on the woman-in-peril trope giving us a complicated but always sympathetic heroine and makes for an engrossing and honest read about the shaping and portrayal of self and the frightening (or is it freeing?) mutability of our destinies.
— From
Katelyn
Description
---

Amy's brief interaction with Vincent in the apartment that day sets off warning bells, so she assures Mrs. E that she'll find out what's really going on with both him and his mother. She tails Vincent through Brooklyn, eventually following him and a mysterious man out of a local dive bar. At first, the men are only talking as they walk, but then, almost before Amy can register what has happened, Vincent is dead.

For reasons she can't quite understand, Amy finds herself captivated by both the crime she witnessed and the murderer himself. She doesn't call the cops to report what she's seen. Instead, she collects the murder weapon from the sidewalk and soon finds herself on the trail of a killer.

Character-driven and evocative, The Lonely Witness brings Brooklyn to life in a way only a native can, and opens readers' eyes to the harsh realities of crime and punishment on the city streets.