Rocky Boyer's War: An Unvarnished History of the Air Blitz That Won the War in the Southwest Pacific (Hardcover)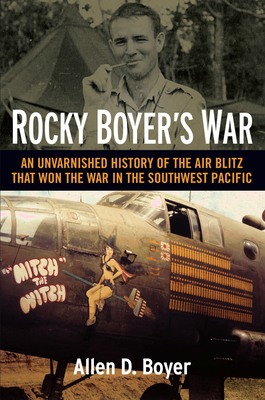 Description
---
In Rocky Boyer's War,
Allen Boyer offers a wry, keen-eyed, and occasionally disgruntled counterpoint history of the hard-fought, brilliant campaign that won World War II in the Southwest Pacific. Based in part on an unauthorized diary kept by the author's father, 1st Lt. Roscoe Rocky Boyer, this narrative history offers the reader an account of Allied air commander Gen. George Kenney's air blitz offensive as it was lived both in the cockpit and on the ground.
During 1944, as Gen. Douglas MacArthur's forces fought their way from New Guinea to the Philippines, Kenney, discarding pre-war doctrine, planned and ran an air blitz offensive. His 5th Air Force drove forward like a tank army, crash-landing in open country, seizing terrain, bulldozing new airfields, winning air control, and moving forward. At airfields on the front line, Rocky kept the radios working for the 71st Tactical Reconnaissance Group, a fighter-bomber unit.
Diaries were forbidden, but Rocky kept one--full of casualties, accidents, off-duty shenanigans, and rear-area snafus. He had friends killed when they shot it out with Japanese anti-aircraft gunners, or when their bombers vanished in bad weather. He wrote about wartime camp life at Nadzab, New Guinea, the largest air base in the world, part Scout camp and part frontier boomtown. He knew characters worthy of Catch-22: combat flyers who played contract bridge, military brass who played office politics, black quartermasters, and chaplains who stood up to colonels when a promotion party ended with drunken gunplay and dynamite.
This is a narrative of the war as airmen lived it. Rocky's experience of life on the front line gives from-the-bottom-up detail to the framework of Kenney's air blitz. The author uses Rocky's story as a jumping-off point from which to understand the daily life, pranks, mishaps, and casualties, of the men who in 1944 fought their way over the two thousand miles from New Guinea to the Philippines.