Poor Little Mixed Girl (Paperback)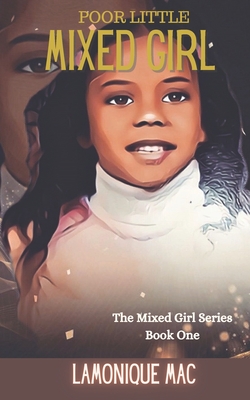 $13.99
Usually Arrives in Store in 1-5 Days
(This book cannot be returned.)
Description
---
Based on a true life story: As if growing up in the hood wasn't hard enough, as a biracial half White, half Black girl, LaMonica Powers has to also navigate finding her identity (whatever that means). She's not accepted in the suburban White schools her mama carts her off to and she's not fully accepted by the Black community either.

Add in a heaping of undiagnosed ADHD, a cup of discipline dealt out "southern style," throw in some seeds of God given talent and intellect - and you've got yourself a recipe for a pretty, hot, ghetto surprise. It would be a miracle if she didn't fall prey to the statistical forces pulling at her from all sides.

This coming of age tale is a cross between "A Hero Ain't Nothin' But A Sandwich" and "A Child Called It."

If you love banned books then you'll love this

Trigger warnings: Racial overtones acted out through politically incorrect speech, alcohol abuse, emotional abuse, child abuse, rape, and very mild profanity.

Praise For Poor Little Mixed Girl

VERY GOOD READ ANTICIPATION WITH EVERY PAGE, FELT AS IF I WERE THERE...CAN'T WAIT TO READ THE NEXT BOOK WHEN IT'S RELEASED.
BILLIE SHEFFIELD

SO ENLIGHTENING ENJOYED EVERY MINUTE OF THIS BOOK VERY ENLIGHTENING ON SO MANY LEVELS THIS BOOK GAVE ME THE OPPORTUNITY TO WALK IN LA MONICA'S SHOES FOR A WHILE AND I FEEL I AM BETTER OFF BECAUSE OF IT. I THINK THIS IS DEFINITELY A MUST READ FOR EVERYBODY LET'S KNOW BETTER SO WE CAN DO BETTER WITH OUR KIDS. GOD BLESS AND PROTECT ALL THE LA MONICA'S AND LORD OPEN OUR EYE'S TO SEE THEM AND HELP THEM. IN JESUS NAME
JENNIFER JO DANKERT
WOW AUTHOR LAMONIQUE MAC'S NEW MEMOIR IS SO REAL, SO COURAGEOUS, SO INSIGHTFUL, HER VOICE LITERALLY BECOMES THE READER'S INTERNAL VOICE AS PAGES ARE TURNED. THE READER IS LEFT WITH THE FEELING THIS IS THE REAL STUFF. HER REAL LIFE AS SHE HAS EXPERIENCED IT. LIFE AS AN ADOPTED CRACK BABY. A MUST FOR ANY WORKING WITH DISENFRANCHISED CHILDREN AND YOUTH.
CAROL BRECKINRIDGE

SUCH AN AMAZING STORY. YOU SEE MIXED RACES QUITE FREQUENTLY NOWADAYS, BUT DID YOU EVER WONDER WHAT LIFE WAS LIKE FOR THEM? THIS BOOK GIVES YOU INSIGHT ON HOW A BEAUTIFUL CHILD WAS TREATED FOR SOMETHING SHE HAD NO CONTROL OF.. HER RACE. THE AUTHOR GAVE GREAT DETAIL ABOUT HER LIFE AND IT'S SO EMOTIONAL YOU CAN'T HELP BUT TO FEEL COMPASSION. GREAT BOOK AND I CAN'T WAIT TO READ TO PART 2
SUELYNN VARGAS

Excerpt from Poor Little Mixed Girl - Chapter 5. The Babysitter
"Hey young man, is your name Randall?"
"Yes ma'am."
"Well, I'm Ms. Demona. I'm helping Mrs. Powers out with LaMonica."
"Oh yes. I'm friends with LaMonica."
"Yes. That's what I'm here to talk to you about. LaMonica doesn't need any friends at this time. Especially not any friends that are boys. I'm working with Mrs. Powers to help get LaMonica under control. She comes from a rough background."
"A rough background?" Randall asked.
"Yes. She actually was one of those drug babies."

THE MIXED GIRL SERIES READING ORDER:
Book 1: Poor Little Mixed Girl
Book 2: Mixed Out (releasing March 7th 2021 & available for preorder)
Book 3: Snakes in The Mix (releasing July 4th 2021 & available for preorder)